Spanish Gay Porn Star, Adam Risso
Known Aliases:
Years Active: 2014
TWITTER @AdamR_JaviM
FUCKERMATE INFO:
Adam has been together with Javi for 5 years, they are both proper Spanish country boys who live in the Catalonian countryside. They are no strangers to the camera and have been making hot videos for years. They work for a famous webcam webmaster and we knew they are exactly the type of guys that we want to show. They fuck with a lot of chemistry and passion, they both love animals and each other which is why we have welcomed them both to fuckermate.com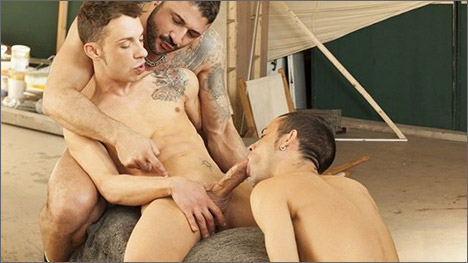 RAW THREESOME: ADAM RISSO, JAVI MENDEZ & MAX TORO
If you trespass then you better be prepared for the consequences. When Javi and Adam crossed over into Max's land they didn't realize what was in store for them. This is a hot raw encounter, rough and sweaty. Javi was forced to share his boyfriend Adam with Max. Pure bareback passion followed. A raw encounter not to be missed.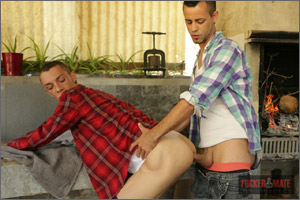 ADAM RISSO & JAVI MENDEZ OUTDOORS BAREBACK
When your door is open and you are using the toilet, all you are really looking for is a distraction. Antonio left his door open and knew what he wanted. His cheeky flatmate Eddie came back horned up and ready to go. These two guys don't just share a flat, they have an unquenchable thirst for sex. This scene is amazing. Only hardcore sex, Antonio used and dominated Eddie, a hard session of real hot sex, these guys are real hard Fuckermates.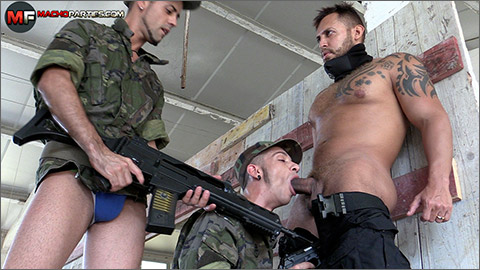 GUERILLEROS X
Some wars need no guns, a big dick will do just fine as these two naughty guards know very well as they catch an intruder who turns out to have a fat heavy dick.