Beefcake Sean Cody Power Top Amateur Gay Porn Star, Brodie
Years Active: 2010 – 2015
SEAN CODY INFO:
Brodie is the kind of guy you want to hang out with at a party. He's a big, strapping construction worker by day and a drummer in a rock band at night. It turns out he's engaged to a fiancée that has no problem with him jerking off on film.
   "You're not the one that had the idea of doing this, somebody else convinced you… who was it?"
   "That would be my fiancée."
   "Why does she want you to do porn?"
   "It turns her on, you know. It turns me on. It doesn't matter if I do guy-guy, guy-girl, solo, guy-couch, it doesn't matter. So, anything will turn her on and it turns me on more than anything."
   Well, that's certainly promising!
   Brodie's body is thick, muscled and slightly hairy in all the right places. He has a boyishly handsome face, and he's very masculine in presence and demeanor.
   "What's your favorite part of your body?"
   "My favorite part of my body would have to be either my bubble butt or my erected penis."
   I'd have to add perfect chest and nipples, too!
   And, he's not afraid to experiment with his round hairy ass, either. He and his fiancée play with toys and he's even had some of them in his butt!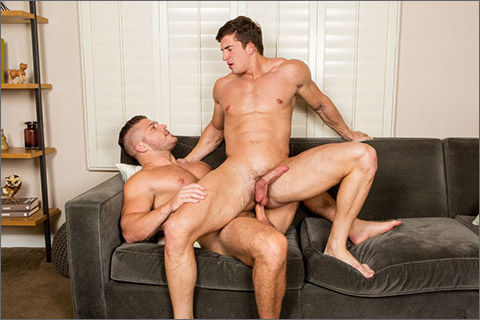 JOEY & BRODIE BAREBACK
After trying his hand as a top, Joey called us up and said he really wanted to go back to bottoming. "It was fun and all…but I really like bottoming better. It feels good and its waaaay more fun." I agreed, it was great to see all those muscles in action but I am glad Joey returned to take a dick. Brodie and Joey really hit it off and we actually had some trouble filming the riding position. "What's wrong Joey? I asked. "Every time he shoves his dick in me it makes me want to shoot my load. I'm not sure I can get through the whole take." Sure enough Joey ends up coming without even touching himself while Brodie shoots a load deep in his ass.
JOEY & BRODIE BAREBACK
NEWCOMER JASPER & BRODIE BAREBACK
LANE & BRODIE BAREBACK
BRODIE & CURTIS BAREBACK
BRODIE & DUSTY BAREBACK
BRODIE & BRENDAN BAREBACK
JAYDEN & BRODIE & DEAN BAREBACK THREEWAY
BRODIE TOPS OLLIE BAREBACK
FORREST & BRODIE: BAREBACK
BRODIE & BLAKE: BAREBACK
BRODIE FUCKS PHILLIP
BRODIE FUCKS JASON
JAMIE FUCKS BRODIE + BEHIND THE SCENES
BRODIE FUCKS DOUGLAS
RICHARD FUCKS BRODIE
BRODIE FUCKS JORDAN
BRODIE FUCKS RYAN
BRODIE FUCKS JAKE
BRODIE FUCKS JEFFREY
AMOS & BRODIE
SANDER & BRODIE
CHRIS & BRODIE
BRODIE & STEVEN
EMILIO & BRODIE
BRODIE & CALVIN
BRODIE & JESS
BRODIE
CLICK HERE TO GO TO HIS SEAN CODY DETAILS