Corbin Fisher Amateur College Man, Brayden
Years Active: 2013 – 2015
CORBIN FISHER INFO:
Age: 23
Waist: 30
Eyes: Hazel
Height: 5′ 10″
Weight: 140 lbs
Hair: Brown
Build: Slim
Cock: 6.0″ cut
Shoe: 9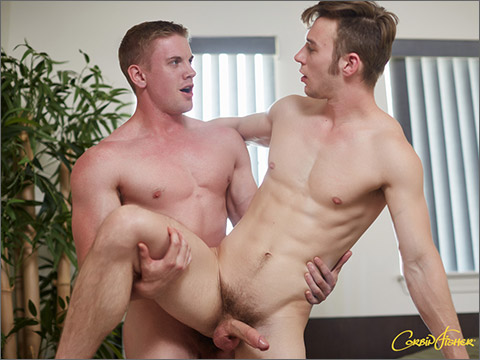 KENT CREAMPIES BRAYDEN
There's no mistaking that Kent's one of the hottest and most sexual guys at CF- of course Brayden wanted a go at the hot stud's dick first thing in the morning!
   Once Brayden get's ahold of Kent's juicy cock, it's hard for him to let go! Kent has to basically throw him off and pull his underwear down in order to suck some dick himself!
   Then Kent gives it to Brayden. His skin flushes red as he gets the first sensations of Brayden's hot ass squeezing around his cock. They guys look into each other's eyes and makeout while Kent slowly thrusts away at Brayden. They switch to Brayden riding, then they stand, Brayden's leg in the air, to go at it. Kent cries out, "take that dick" and Brayden certainly does- then he takes Kent's cum for a creampie that leaves Kent's jizz dripping out of his hole!