Corbin Fisher Amateur College Man, Colt
Years Active: 2013 – 2015
CORBIN FISHER INFO:
Age: 19
Waist: 30
Eyes: Hazel
Height: 5′ 8″
Weight: 150 lbs
Hair: Brown
Build: Athletic
Cock: 7.0″ cut
Shoe: 12
There is no mistaking or missing Colt. He's impossibly good looking – the kind of guy you can't take your eyes off of. He has a youthful face with a boyish smile that makes him look both angelic and mischievous. Indeed, when your eyes gaze over the rest of his body, you hope for any kind of mischief that this young stud could bring!
Colt's drive to succeed and the effort he puts into everything he does has helped him surpass his fellow freshmen and be catapulted on to the Dean's List as The Star Freshman.
   Looking at the work he's put into his body since he's arrived, toning and growing each and every muscle to perfection, makes clear the level of dedication that he has to better himself in every way he can – though there are some natural talents that have definitely helped him along the way, including that gorgeously large cock!
   The faces his partners make when he penetrates them are telling of how amazing he is in the bedroom. He's a humble guy in most respects, except when it comes to sex. Whether he's fucking or getting fucked, he aims to rock his partner's world. Sure, he's mischievous enough to get in to some fun trouble along the way, but Colt always manages to succeed in the end.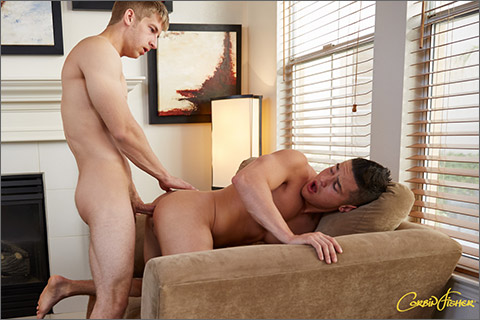 COLT SWALLOWS BRANT
Now that Colt's become a member of the dean's list, he's not holding anything back to prove just how much he deserves to be there!
   Going up against Brant's big dick is no easy feat, buy carrying a massive cock himself, Colt knows just how to cater to his needs. Colt looks up at Brant as he deep throats his cock. Meanwhile Brant's balls are jumping and flexing, anxious to unload in Colt's mouth.
   It's so hot to see Brant choke on Colt's dick when he's sucking him off. His girth looks even more impressive when it's stretching out Brant's sexy little mouth. Brant tosses Colt's salad and follows it up with a good fucking. Colt's face and moans relay the sensations he's feeling from Brant's fucking. He loves it! He puts that dick to work before he lets himself cum- but when he does it's well worth the wait as he jumps down and wait's for Brant's thick load to spray him in the face before licking each drop off his cock!
BRETT GETS USED
COLT SWALLOWS BRANT
COLT & QUINN'S DOUBLE CREAMPIE
ERIC BOTTOMS UP
COLT TAKES ALLEN'S DICK
COLT POUNDS KELLAN
KANSAS CITY: COLT RIDES KENNEDY
KANSAS CITY: COLT & BRAYDEN'S FLIP FUCK
KANSAS CITY: COLT TAKES ON CONNOR
TOM SLIDES INTO COLT
KENT & COLT'S POV FUCK
COLT GETS FUCKED
COLT & TRUMAN'S WORK OUT
TAYLOR SWALLOWS COLT'S LOAD
COLT