Corbin Fisher Amateur College Man, Brant
Years Active: 2012 – 2015
CORBIN FISHER INFO:
Age: 20
Waist: 30
Eyes: Blue
Height: 5′ 11″
Weight: 150 lbs
Hair: Brown
Build: Athletic
Cock: 7.5″ cut
Shoe: 10.5
Shy. Quiet. Irresistibly cute. A cut body and boyish face. A youthful demeanor. These are all things you'd notice with Brant the instant you laid eyes on him. Only at CF do you get to see he is all of the above, while also having himself a huge cock and being a total stud in bed!
   When Brant first showed up at CF, we weren't sure he was the right fit. Oh, there was no denying he is incredibly sexy and just one look in to those big, bright eyes of his would make most anyone melt. However, Brant was a bit quiet and seemed like he might never be able to fully open up and get comfortable in front of the cameras, or with the other guys. We greatly underestimated this stud, though, and he had some pleasant surprises for us – the first time he stripped down, he revealed a big, thick, amazingly hot cock; once he got in to his first bit of action with another guy, all of that shyness and restraint went out the window and he was truly in his element.
   I suspect we've all known a guy like Brant before. It could be easy to overlook him, especially when he's surrounded by more outgoing and outspoken young men that would draw our attention to them. He might not be the one we first notice in a crowded room, but once you do spot a guy like Brant you can't help but find them charismatic, appealing, intriguing, and even downright sexy. Further, you'll never overlook such a guy again once you realize they may have a cock like Brant's and be the absolute, most incredible fuck!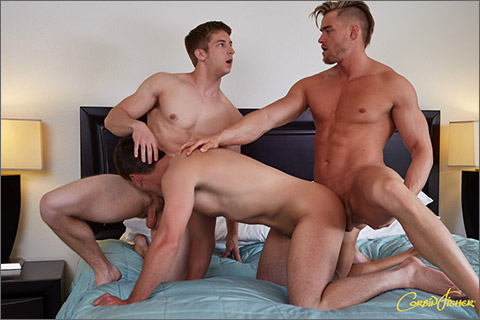 CONNOR & BRANT FUCK TERRY
We are no strangers to requests from fans, but when shy and attractive Terry contacted us to help him fulfill his horny fantasy to be completely owned, used, and fucked by two of the biggest cocked jocks we have on our roster- there was no way we could turn that down! So we brought in Connor and Brant to put their stud skills and massive dicks on full display and give Terry what he wants.
   Being in the presence of the two tall alpha males, Terry finds himself a bit overwhelmed and anxious to become their toy for the afternoon. So first the guys ease him into it by kissing his body down to the toes as they get undressed and get him naked- but that only lasts till their cocks are revealed. Then it's his job to listen to everything they say!
   Connor has him bend over and suck his long cock down to the hilt while Brant toys with his ass to get it ready for the thrashing it's going to get! As he pleasures Connor, Brant takes him Terry from behind. They then switch, and Terry bobs on Brant's shaft as Connor fills his hole. Lying on his back, Terry's takes Connor full on and can't keep his eyes off Connor's dick when Connor unloads on him and passes him on to his friend. Brant finishes Terry off then adds a third layer of cum onto their fun and dirty toy of the afternoon.
BRANT DICKS JON
COLT SWALLOWS BRANT
CONNOR & BRANT FUCK TERRY
BRANT BANGS QUINN
BRANT GIVES IT TO BRAYDEN
BRANT DICKS KELLAN
BRANT TAKES KELLAN'S LOAD
ROWAN SWALLOWS BRANT
BRANT & CLINTON FUCK
EMERSON FEEDS BRANT
BRANT RIDES JACOB
BRAYDEN TOPS BRANT
BRADLEY SWALLOWS BRANT
BRANT FUCKS TOM
BRANT POUNDS RILEY
BRANT'S 3-WAY SUCK FEST
BRANT'S FIRST TIME
BRANT