Handsome Muscle Uncut Horse-Hung Czech Gay Porn Star, Bradley Cook
Known Aliases: Glenn (BelAmi)
Years Active: 2015 – 2018
WILLIAM HIGGINS INFO:
Age: 18
Home Town: Ruzomberok, Slovakia
Height: 182cm/5'11"
Weight: 86kg/189.2lb
Foot Size: EU44/US8.9/UK8.4
Penis Size: 18cm/7.09″
Profession/Student of: High School
Hobbies: Sport
Favorite Sports: Tennis
Active Sports: Fitness
Movie/Music/Sport Stars: Antonio Banderas
Visited Coutries: Scotland
Want to Visit Coutries: Australia
Dream of My Life: I don't know.
Zodiac Sign: Leo (July 23 – August 22)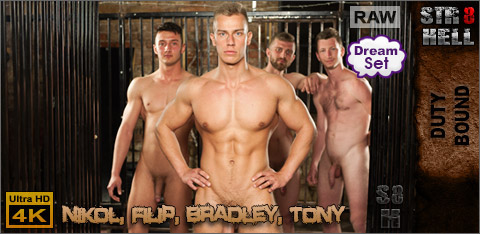 DUTY BOUND: BRADLEY COOK & FILIP VACEK & NIKOL MONAK & TONY MARK
In this Duty Bound Dream Set we find Nikol Monak, Bradley Cook and Tony Mark trapped in a cage. Filip Vacek is outside the cage, but he is shackled by his wrists. Borek Sokol is nearby wielding his night stick. He brings Nikol, Tony and Bradly out of the cage and they remove their underwear as they move Filip, so he naked and bent over. Nikol's rock hard cock soon slips deep into Filip's ass and starts to fuck. But that is not for long as he makes way for Bradley's dick to fill that hot hole. Then Tony has a go at the ass too. In fact they keep taking turns, working Filip's hot hole and making him moan out loud. Having pounded that hot ass for a while they then lay Filip on his back and continue to have their pleasure from his ass. Bradley is the first who needs to cum and pulls out of the ass and dumps his hot cream onto Filip. Nikol is ready too and quickly shoots his cum as well, followed quickly by Tony. Then they crowd around Filip as he sits up and wanks his cock, getting it rock hard and dumping his creamy load.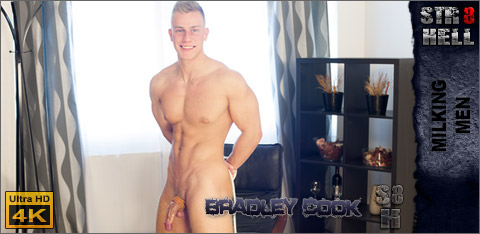 MILKING MEN: BRADLEY COOK
Bradley Cook is one sexy stud. In this Milking Men scene he shows us his bare chest, and what a chest it is too. Then he is joined by his 'milker' who ties Bradley's hands behind his back and then strips him down to his underwear. Water is poured onto the underwear to reveal the outline of his beautiful cock. Then the underwear is cut off and that hot dick is on show. It is teased until it is fully erect and Bradley begs to have it wanked. He gets his wish, but the wankign stops short of allowing him to cum. Then with that dick hard it gets some rope treatment as well, all the time keeping him on edge. His ass gets the treatment too,taking a dildo deep inside as his cock continues to get wanked but with no cumming. Then just when he thinks he may not be allowed to cum at all he is wanked hard and fast until he dumps his hot cream.

EROTIC SOLO: BRADLEY COOK
Bradley Cook is aged 18. He is one very handsome straight guy indeed. A student of high school Bradley enjoys tennis, fitness and sports generally. He really does look good as he sits on the sofa for his interview. Then Bradley gets on with his show, standing and removing his tee shirt to show off his great chest. He opens his very tight jeans and pushes them down, and then sits, to take them off. He leans back on the sofa and slips a hand inside his underwear to grope himself. As he feels his cock he also runs a hand over that hot chest. His cock starts to grow in the underwear making it bulge. Bradley releases the cock from the confines of his underwear and we see what a beauty it is. He takes hold of it and wanks it to a huge erection. His shaved balls are nice too, and tighten against the thick shaft of his cock. Taking off the underwear Bradley continues to wank before kneeling on the sofa, back to camera to show off his ass. He reaches back to pull the hairy ass cheeks wide apart to reveal his tight hole. The soft, downy hair looks splendid lining the ass cheeks as we get a great view of his hole. Next Bradley stands again, wanking on his cock. He releases it and maked the cock bob up and down for us, and swings it from side to side too. As the camera closes in on that big cock we see that the foreskin is fully retracted showing off the shiny cockhead. Once again he sits and leans back, legs wide apart and continues his wanking. His beautiful body looks so hot as he wanks until he releases his hot, creamy cum, milking the cock of every last drop. The shaft is coated with his sticky cum. Then Bradley goes off to the shower, relieving himself once there, to clean up after a very hot video.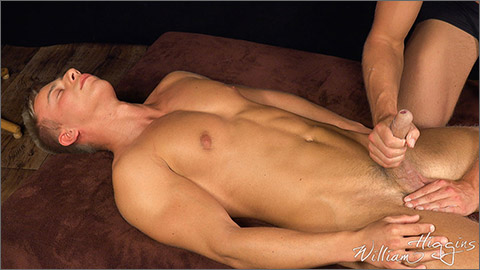 MASSAGE: BRADLEY COOK
Bradley Cook is such a hunk. This hot straight guy was an obvious choice to invite for a massage. As he strips down to his underwear he shows off his magnificent body before laying on the table to await the masseur. The masseur arrives and gets right to work, using some cream, which he massages into Bradley's strong back muscles. Robin Valej is the masseur and he does a good job on Bradley's back, his hands working all over. He pulls Bradley's underwear off his ass and applies cream to the cheeks. That coats the fine, hairs on the sexy ass and Robin's hands expertly work it in to the skin. As he moves onto the legs Robin uses more cream and the camera closes in to show the hairs on the sexy butt. Then hands massage Bradley's thick thighs and down to the calf muscles. Then Bradely removes his underwear, showing his big, soft cock as he does so. He lays on his belly again so that Robin can resume the massage. As his hands massage the sexy ass Robin parts the cheeks to show off Bradley's hot, hairy, hole. He moves Bradley up onto his knees and and takes more cream to rub over his hot hole. As he rubs that sexy hole Robin also reaches for Bradley's cock and balls. He pulls on the balls and reaches under to wank Bradley's big cock. As the cock is wanked and starts to grow the other hand slips a finger into the tight, hairy, hole. Bradley's cock gets rock hard as Robin wanks it, with a finger also fucking into the tight hole. That finger goes in nice and deep, and then is replaced by another finger as Bradley's big dick is wanked hard between his legs.The view of that hot ass being fingered as the cock is wank is just awesome. Then Bradley turns over and lays on his back, with Robin taking hold of that big cock and wank it some more. Bradley lays there, eyes closed, enjoying having his meat wanked. Robin takes some cream and applies it to the thick cock as he wanks it. As he wanks it hard and fast the big dick releases its' cum, shooting out all over the place. Robin continues milking the cock to ensure he gets all that cum out. Then he leaves Bradley to go off to the shower and clean up. This hot stud got a really good massage and delivered up his hot, hairy ass for our enjoyment.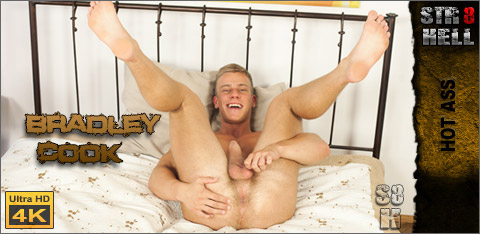 HOT ASS: BRADLEY COOK
What a very hot guy Bradley Cook is. He looks magnificent as he stands, naked, with one foot on the bed and wanking his big cock. Having shown us that beautiful body and big hard cock Bradley then kneels on the bed to let us see his ass. He pulls on the cheeks to really spread them and expose his hole. As he does so a helping hand arrives and drips oil on that hot ass. The hands rub the oil in and all over the hole.The hair on Bradleys ass cheeks swirl over the skin as the oil coats them. The hands keeps rubbing the ass and then slips a finger into Bradley's tight hole. The finger fucks in and out of Bradley's hot, tight hole. Then it is replaced by a vibrator that slides in nice and deep. Bradley moans as the vibrator fucks his tight hole. He turns over onto his back, legs in the air, so that hole is still on show. The hands wank on his big cock some and then take another toy to push into that sexy hole. Bradley keeps moaning as his hole gets stretched. We get a good close look at that tight hole, with the toy sliding in and opening it up so well. Bradley moves again, but still with that hot, hairy ass on show, his legs up over his head, so the hole can still be seen. Then he drops his legs and wanks on that big cock, moaning all the while, until he releases his cum. Then we end with a lovely close up of his handsome face.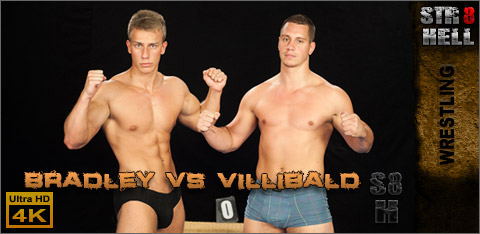 WRESTLING: VILIBALD vs BRADLEY
You can't find two hotter and more handsome guys that Vilibald Athlon and Bradley Cook. We brought them in for a submission wrestling match. They both look so good as they do some warming up, dressed in only they right underwear. Then they start the match. Quickly those hot bodies are closely entwined as they roll on the mats. After both trying legs holds to gain a submission Vilibald is successful with a neck hold. They then remove their underwear, so now we see beautiful naked asses and cocks as they wrestle. Bradley is quick to level the score gaining a submission in round two. As the wrestle, rolling all over the mats we see the asses spread as each guy tries to gain an advantage. We see lots of great holds as they share the rounds quite evenly, taking a break at 6-5 to Bradley, to oil each other's sweaty bodies. When they resume the match it is Bradley who maitains his lead to take the eventual victory. Then we watch as they settle down for a wank off. As they wank they also have a little pull on each other's cocks. Then the wanking begins in earnest, with Bradley being the first to dump his hot cum. Vilibald is not far behind, shooting his cum all over the mats. Then they go off to the shower to help each other clean up after a very good match.
WILLIAM HIGGINS
STR8HELL
BEL AMI
CLICK HERE TO GO TO HIS WILLIAM HIGGINS BIO PAGE