William Higgins Czech Gay Porn Star, Boda Gold
Known Aliases: Czech Hunter 242, Peter Homely, Peter Comely, Lucas Morris, Christian Deam
Years Active: 2016 – 2018
WILLIAM HIGGINS INFO:
Boda Gold is a great looking straight guy aged 18. He is s student who enjoyes sports, athletics and fitness. He looks very impressive as he poses, lifting his tee shirt and showing off some great abs. Then the tee shirt comes off and a very well developed chest is shown. Boda flexes his big biceps too showing how well developed they are. He takes off his pants and turns around to give a ncie back view. He flexes the biceps again as his skin tight underwear hugs his sexy ass. He lowers the underwear and his sexy ass is shown perfectly. Then he turns again, underwear removed, and gives us a good look at his sock cock. He poses some more as we enjoy the cock. He then sits on the sofa, leaning back, and gets his cock nice and hard. With the cock stiff he stands and does some more posing. Then he sits again, and lifts his legs up to show off his sexy ass. His hands spread the ass cheeks to expose his tight hole. He turns around, kneeling of the sofa, and gives another view of that sexy ass. To finish a lovely shoot he gets his cock and gives us a few more poses.
Age (2016): 18
Home Town: Prague
Height: 170cm/5'6″
Weight: 75kg/165lb
Foot Size: EU41/US8.3/UK7.8
Penis Size: 16cm/6.3″
Profession/Student of: High School
Hobbies: Sport
Favorite Sports: Athletics
Active Sports: Fitness
Movie/Music/Sport Stars: Jude Law
Visited Coutries: Croatia
Want to Visit Coutries: RSA
Dream of My Life: I don't know.
Zodiac Sign: Libra (September 23 – October 22)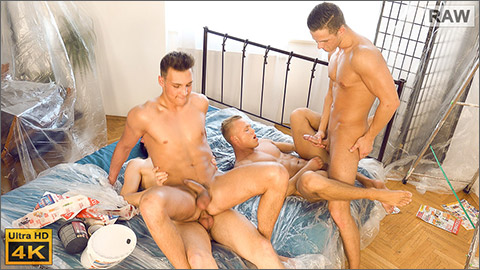 WANK PARTY #80
In Wank Party # 80 we have Laco Meido, Martin Hovar, Boda Gold and Martin Polnak. This first part starts with Martin P getting ready for some decorating. Martin H arrives to help him. They don't even get to start painting as they mess about with the paint and Boda and Laco arrives to join in. Before any work is done they begin kissing each other with Laco groping Martin H and kissing his chest. Boda and Martin P kiss too. Laco licks Martin H's nipples. They keep groping, licking and kissing as Boda and Martin P enjoy each other. Laco pulls down Matin H's pants and his big, hard cock flops out. Laco is straight on it with his hot mouth. Boda does the same to Martin P's throbbing cock. Martin H is soon fucking his rock hard dick into Laco's eager mouth. Boda wanks and sucks on Martin P then he stands so that his jeans can be opened too. Martin P pulls out the stiff dick and quickly gets to work wanking and sucking on it. His head bobs on the cock as Boda moans. Boda grabs Martin's head and pulls it onto his dick. Laco continues his sucking of Martin H, licking up and down the thick shaft too. Martin P is greedy for Boda's big cock taking it all the way in his mouth. Martin H pulls Laco's head onto his cock making sure he really fills the mouth. Martin P takes Boda's dick right down to the balls. Then he comes off the cock and sucks at the balls too. Martin P pushes Laco onto the bed and opens his jeans, pulling them off. Boda lays Martin P down too and starts to suck on his cock. Martin H drops to his knees so that he can work on Laco's stiff cock . Laco fucks it into the hot,waiting, mouth. He and Martin P kiss as the others suck on their dicks. Martin H sucks Laco's dick as Boda keeps up his work on Martin P. Martin H reaches over and wanks Boda who sits up and kisses him. Laco leans over to wank and kiss Martin P. Martin P then takes hold of Laco's cock and wanks it as Martin H goes back down on it. Boda returns to his suck and then lays back and pulls his legs up. Martin P gets between the legs and starts to rim Boda's tight hole. Martin H keeps sucking Laco for a while. Laco wanks Boda as Martin P's tongue still works on his hole. His tongue laps at the hole and then he sucks the cock again. He slides a finger into Boda's ass as well before sucking some more. Martin H wanks Laco's big cock, and then wanks it. Martin P continues to rim Boda's ass and suck his cock before moving on top of him to enjoy some kissing.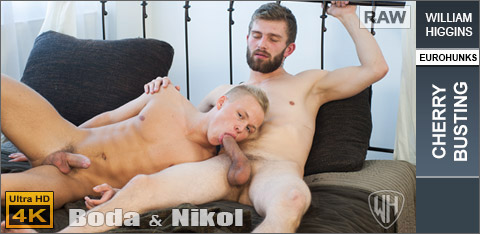 CHERRY BUSTING: BODA GOLD & NIKOL MONAK
We have Nikol Monak getting his cherry well and truly busted today. We have seen Nikol many time, and he is a great top. But in this seen he gives up his ass to Boda Gold. The guys start off on the bed, kissing each other. Then Boda works his way down Nikol's body and opens his pants. Soon Nikol's big cock is out and being sucked by Boda, who does a great job on it. His hot mouth works that cock so well. Then it is Nikol's turn and Boda kneels and pulls his hard cock out. Nikol gets straight to work on the big cock before then get fully naked and move to 69. With Boda on top they suck each other's throbbing cocks. Then Boda move to lay next to Nikol as they continue sucking each other. Nikol then presents his hot, unused, ass and Boda's tongue laps at it rimming the hole real good. With the hole prepared he kneels behind Nikol and slides his big cock deep into the waiting hole. Boda fucks that hot ass deep with long thrusts as Nikol's face shows that he is feeling it. Boda continues to fuck the tight ass, moving to spoon. Nikol moans as he feels the dick deep in his ass. He grabs his own cock and wanks it hard until he shoots his hot cum. Then Boda continues to fuck until he pulls out to shoot his load too.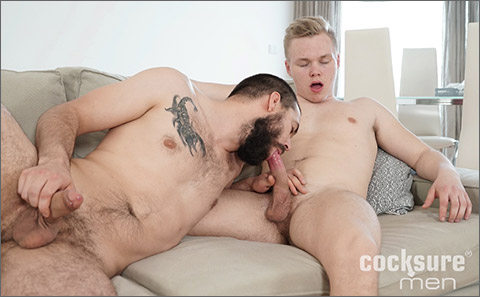 PETER COMELY BAREBACKS MARTIN DAJNAR
Blond jock Peter Comely and bearded cub Martin Dajnar meet and kiss. Martin's shirt flies off and Peter licks his nipple, then pulls out Martin's cock. Martin gets fully nude as Peter sits on the couch, his cock in his own hand. He sucks Martin while he strokes himself. Peter's clothes come off revealing his milky-white skin. Martin sucks on Peter's pole as they lay on the couch. Peter gets Martin to kneel and explores his hole. Peter's hard raw cock slides in and he pounds Martin bareback doggy-style. Peter sits on the couch and Martin sits on Peter. As Martin straddles, Peter drills him bareback from below. Martin lays on his back, his left leg over Peter's right shoulder, and Peter rams his raw cock in deep. With Peter pummeling his hole bareback, Martin shots a big load all over his chest, arms and belly. Peter pulls his raw cock out and strokes a stream of cum onto Martin's balls. Peter bends over and they kiss.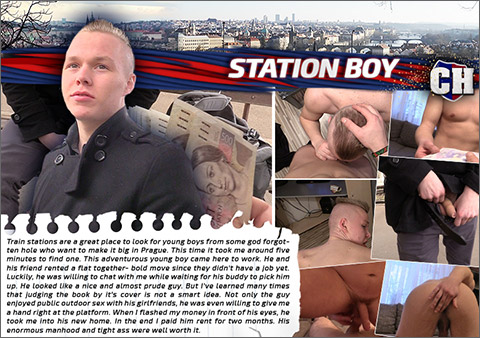 CZECH HUNTER 242
Train stations are a great place to look for young boys from some god forgotten hole who want to make it big in Prague. This time it took me around five minutes to find one. This adventurous young boy came here to work. He and his friend rented a flat together – bold move since they didn't have a job yet. Luckily, he was willing to chat with me while waiting for his buddy to pick him up. He looked like a nice and almost prude guy. But I've learned many times that judging the book by it's cover is not a smart idea. Not only the guy enjoyed public outdoor sex with his girlfriends, he was even willing to give me a hand right at the platform. When I flashed my money in front of his eyes, he took me into his new home. His enormous manhood and tight ass were well worth it.
WILLIAM HIGGINS
STR8HELL
BADPUPPY
JAKE CRUISE'S COCKSURE MEN
CZECH HUNTER
BOY FUN COLLECTION
CLICK HERE TO GO TO HIS WILLIAM HIGGINS BIO PAGE