Blond Czech Gay Porn Star Twink, Milan Hornik / Arthur Kral
Known Aliases: Standa Toth
Years Active: 2013 – 2015
STAXUS INFO:
Date of birth: 3rd January 1991
Height: 5′ 9″ / 176 cm
Cock size: 6.7″ / 17 cm
Ethnicity: Czech
Role: Top
Interesting Fact:
Kral means King in Czech, so his name is actually King Arthur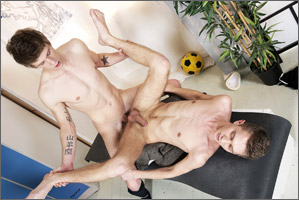 ARTHUR KRAL QUITS HIS KIT TO GIVE HIS SOCCER-MAD PAL A HARD FUCK!
What is it about a man in a football strip that makes him so utterly irresistible? We're not exactly sure, but there's no denying the fact that STAXUS exclusive, Arthur Kral, is even more gorgeous than ever when dolled up in his kit – a fact that clearly doesn't escape young Ian Ross when he walks into the locker room. As a result, it barely takes more than a few moments before the two lads are lip-to-lip in an energetic smooch, signalling the start of a terrific duo that we just know you're gonna love!
   Ross for his part can't wait to get his own hungry mouth around his buddy's ramrod, promptly falling to his knees and feasting on the handsome shaft; before both fellows engage in a lively 69-session down on the floor. It's the prelude to what soon turns into an investigative exploration on Ross' ass-hole by Kral, who gives the tight little pucker a real good rimming in anticipation of the inevitable hard, raw pounding to come. But before that magic moment there's just a little time to engage in a little tomfoolery in the form of some kinky sock-play, using a football sock almost like a condom on Kral's meaty, uncut shaft.
   It all serves as a pleasant distraction before the hardcore action that follows – Ross riding his buddy's shaft cowboy-style, prior to Kral banging the lad from behind! The sight of these two blond boys mating away like a couple of over-seasoned stags will surely get you off in no time; as will seeing Kral quite literally spray-blasting his pal's face with jizz for the money-shot. In short, a definite must-see for anyone with a fetish for soccer-players!
EROTIC SOLO: MILAN HORNIK
FULL CONTACT: MILAN NEORAL, MILAN HORNIK & ONDRA MATE RAW
FULL CONTACT: FELIX RYHA & MILAN HORNIK
FULL CONTACT: IVAN MRAZ, JARMIL SLADKY & MILAN HORNIK RAW
FULL CONTACT: MILAN HORNIK & VLADIMIR KRUTY
CHRISTMAS WANK PARTY 2013
TWO DIVINE CUTIES ENJOY A RAW DINNER DATE WITH A DIFFERENCE!
ARTHUR KRAL QUITS HIS KIT TO GIVE HIS SOCCER-MAD PAL A HARD FUCK!
DEBT DANDY 47
   STAXUS
   WILLIAM HIGGINS
   WILLIAM HIGGINS STR8HELL
   HAMMER ENTERTAINMENT
   DEBT DANDY
   CLICK HERE TO GO TO HIS STAXUS BIO PAGE
   CLICK HERE TO GO TO HIS WILLIAM HIGGINS BIO PAGE