Cute Czech William Higgins / Staxus Gay Porn Star, Alan Carly / Sam Williams
Known Aliases: Patrik Hruby
Years Active: 2013 – 2015
STAXUS INFO:
This handsome hunk works as a professional bartender in a bar in Prague. This shouldn't come as a surprise, but he gets a lot of attention from boys and girls. He hates going to the gym, but he's a true sportsman. He loves jogging and skateboarding and that seems to work well for him, judging by his fit physique.
Date of birth: 10th October 1990
Height: 6′ 2″ / 190 cm
Cock size: 7.5″ / 19 cm
Ethnicity: Czech
Role: Versatile
Interesting Fact:
Sam is a professional bartender and enjoys active sports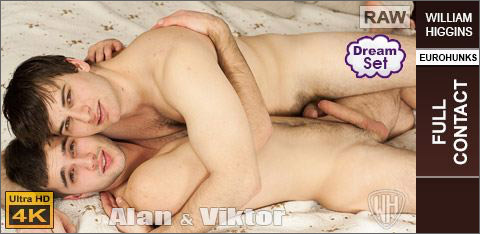 FULL CONTACT: VIKTOR BUREK & ALAN CARLY RAW
In a beautiful Dream Set Viktor Burek is laying face down on the bed, wearing only his underwear, when he is joined by Alan Carly, similarly attired. Alan lays on top of him and they begin to kiss as Alan feels his buddy's hot body. He rubs Viktor's shoulders and dry humps him a little, reaching under to rub his chest too. Viktor turns over, onto his back with Alan astride him. As Alan works his way down Viktor's body he lowers the underwear showing his friend stiff cock. He rubs over the cock and balls and begins to suck. His mouth wraps around the stiff cock sucking as he continues rubbing his hands over the body, cupping the balls. Viktor lifts his legs in the air, exposing his tight hole and Alan quickly slips a finger into the hole. Then he takes a vibrator and uses that on Victor's hole. Viktor wanks himself as the vibrator fucks in and out of his tight ass. A larger vibrator is then used to open that hole up real good, as Viktor moans. His ass takes the toy nicely as Alan works it for him. Then Alan, whose own cock is ready for action takes his underwear off and begins to fuck that eager hole. He fucks hard and fast as Viktor moans. Viktors jands feel Alan's sexu chest as his ass takes the dick deep inside. Alan really fucks well, stretching the hole as he uses long strokes to fuck. He leans over and kisses Viktor as he fucks him. Then Viktor turns over, onto his knees and takes that cock so deep in his hole. Alan fucks deep, his balls tight against that hot ass as they continue kissing each other.As Alan fucks that hot ass he cant hold back and cums deep inside the ass. He pulls out and his hot cum oozes out of Viktor's ass. Then Alan lays, face down, on the bed as Viktor gets to work on him. He turns Alan over and sucks on his cock and kisses over his hot body. Then Alan's legs are in the air, his ass cheeks spread to show off his hole. Viktor fingers that tight hole as Alan wanks himself. Then Viktor uses toys on that ass too. First a vibrator opens the hole and is then replaced by a dildo which fucks it nice and deep. Alan keeps his legs wide apart as his hole gets used. A thicker dildo is then shoved into that hot ass, and goes in nice and deep as Viktor fucks it in and out. Then, with the hole really ready he slides his throbbing cock deep inside and starts to fuck. He fucks Alan so well, making him moan with each thrust of the throbbing cock. As he takes the dick deep in his ass Alan wanks his own meat, faster and faster and he drops another load of cum, over his belly. Viktor continues to fuck that hot ass, turning Alan over onto his knees. His cock works in and out of that ass until Viktor cums inside it. He pulls out and spreads Alan's ass, as his cock still has a pearl drop of cum on it. Then Alan turns over and the two of them lay down and kiss again to end a wonderful scene.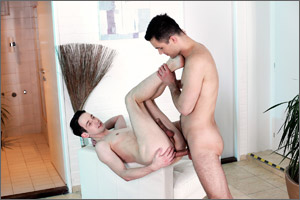 HOT-HOUSE DEEP THROAT SUCK LEADS TO TORRID CUM-&-PISS FINALE!
Is Sam Williams being deliberately provocative when he visits Lukas Leung's sauna? Certainly he seems to go out of his way to openly flaunt his assets as he flits between the toilet and the hot-room – a fact that Leung cannot possibly fail to notice given that at one point Williams runs past the fellow with his meaty, uncut cock displayed over the top of his towel! It's enough to get even a devout celibate in the mood for action – and, as we all know by now, Leung ain't no fucking celibate! Indeed, he's soon marching in on Williams and getting down on his knees to feast on the fellow's ramrod – a move that doesn't seem to bother Williams in the slightest.
   Then again, with the prospect of getting his equipment serviced by this over-experienced cock-whore, why would it? Mind, Leung isn't the only fellow here with a hyper-keen taste for dick given the manner with which Williams proceeds to deep-throat his buddy – literally bringing tears to his eyes – whilst Leung underlines his credentials as a total slut by replicating the show and taking his mate's cock right down to the root! It's a truly terrific act from both buddies; and the performance notches up a further gear when Leung eventually succumbs to temptation and allows Williams to thrust his dick up his ass.
   It's a move that excites the horny bottom big time at least if the gloop of pre-cum that drips from his jap-eye is anything to go by! – and his enjoyment only increases when he then rides Williams cowboy-style, creaming his wad as a result. But it's the finale cum-and-piss-facial that arguably makes this a classic!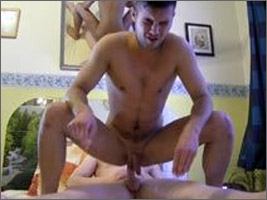 CZECH HUNTER 94
When we started our homepage project we realized how it is possible to talk straight boys into gay sex. Step by step. A little money here, a small bonus there and you can soon put your dick into their virgin asses. But this time I wanted to try something new. I wanted to find a guy who would agree on having sex with me for 25.000 crowns – right on the spot. And to even make the game a little bit more demanding he had to also find another guy from the street willing to join us for the same amount. I was finally able to persuade a guy who really looked like a fashion model. He insisted that he would do it because he was bi-curious. I insist that it was the money ;-).
EROTIC SOLO: ALAN CARLY
FULL CONTACT: ALAN CARLY & MAREK PROHODIL
FULL CONTACT: ONDRA RADNI & ALAN CARLY RAW
FULL CONTACT: ALAN CARLY & PAVEL BOHAN
FULL CONTACT: JIRKA MENDEZ & ALAN CARLY SCREEN TEST
WANK PARTY 2014 #5
CZECH UP: DR. MATTIAS SOLICH EXAMINES ALAN CARLY & ARNY DONAN RAW
HOT-HOUSE DEEP THROAT SUCK LEADS TO TORRID CUM-&-PISS FINALE!
CZECH HUNTER 94
STAXUS
WILLIAM HIGGINS
WILLIAM HIGGINS STR8HELL
HAMMER ENTERTAINMENT
CZECH HUNTER
CLICK HERE TO GO TO HIS STAXUS BIO PAGE
CLICK HERE TO GO TO HIS WILLIAM HIGGINS BIO PAGE
Hot or Not? Let us know.
[Total:

276

Average:

4.7

]