Monster Cock Handsome Black ChaosMen Amateur Gay Porn Guy, Alonso
Known Aliases:
Years Active: 2016
BRIAN OCKERT / CHAOS MEN INFO:
Start Age: 34
Debuted: September 26, 2016
Height: 5′ 8″
Weight: 165 lbs
Cock: 8″ Uncut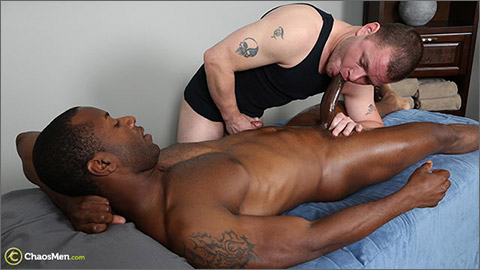 SERVICED: ALONSO & RANSOM
Based on my meeting with Alonso, it sounded like his experience with guys has been mostly jerking-off together, and occasionally swapping oral.
   I figured the massage table theme would feel natural to him, and he sure got into it!
   Ransom oils his amazing body up, and then coaxes his uncut cock until it is fully hard. He gets him doggie-style and licks his hot hole. He jerks his cock, making Alonso groan with pleasure.
   Once Ransom gets Alonso on his back, he strokes and sucks Alonso's big cock until he is writhing around with ecstasy. Ransom does like big cock, so he was super excited to be playing with a big stick!
   Alonso also seemed interested in playing with Ransom, so Ransom loses his shorts and then climbs up on the table so Alonso could suck on him. Alonso clearly is not a beginner! He has some oral skills! They 69 suck each other for a bit, turning Alonso on even more.
   Ransom climbs down and jack-hammers his cock until cum shoots out, jizz flying up into Ransom's mouth and all over the place. Alonso's orgasm is VERY intense!
   Ransom straddles his leg and then adds his own load to Alonso's spent cock!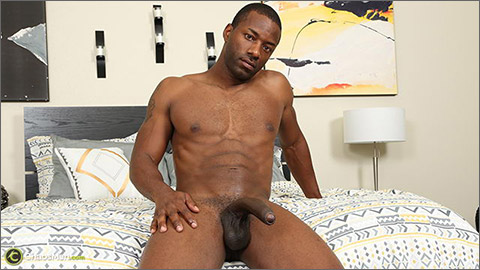 SOLO: ALONSO
Alonso is one of the few models that I ever have approached at the gym.
   We seem to have the same workout schedule, and often ended up changing and showering at the same time. I could clearly see he was very hung, and not shy. I'm not one to chat with a bunch of guys at the gym, and Alonso keeps to himself also so I knew I had to find the right time to talk to him.
   I didn't really know how to approach him, but I decided it was time to get some business cards so that I could actually approach him with something that looked legit.
   We finally had a moment where I didn't think he would feel uncomfortable, and asked him if he thought about doing adult video. He laughed and he said, "Sure!"
   So I gave him my card and figured I would not hear from him. Way back when I first started I would occasionally try to find models this way, but it never seemed to work out.
   But I got a text from him about 45 minutes later, and I spent some time texting him that it was legit. The next day we met at restaurant in the shops that the gym is in, and got some personal history and sold him on the idea of doing a solo and an oral video, possibly more.
   He seems fluid with what he likes. More into girls, but likes stroking or even sucking guys, but has never taken it beyond that. He has been married twice, and has sworn off getting married again, and seems to exploring messing around with guys.
   I had that weekend free, so only a couple days later he was up at the studio busting a nut for us. It is a huge nut and he was very turned on being filmed.
   You will notice a lot of extra photos sets. Since he is local, we spent a morning trying to get some shots outside the studio. Something I rarely have a chance to do and miss terribly.
   I hope you enjoy Alonso. He has a ripped body, and a long thick uncut cock that makes my mouth water!
CLICK HERE TO GO TO HIS CHAOSMEN BIO PAGE