Blond William Higgins Hunky Czech Gay Porn Star, Tomas Decastro
Known Aliases: Radek, Thomas DeCastro (Bromo), Filip Bethsaida (Staxus)
Years Active: 2016
WILLIAM HIGGINS INFO:
Tomas Decastro lives in Prague. He is a very handsome guy. Not only handsome though, as he has a great body which he shows off as he strips for his casting. Fully naked he looks so good with a lovely soft cock and a sexy ass. He gets his cock nice and hard, posing to show it off. Then he gives us a good look as his ass too, with the cheeks spread well to show off his hot, tight, hole.
Age: 32
Home Town: Prague
Height: 186cm/6'1″
Weight: 103kg/226.6lb
Foot Size: EU45/US9.1/UK8.6
Penis Size: 18cm/7.09″
Profession/Student of: Fitness Trainer
Hobbies: Sport
Favorite Sports: Bodybuilding
Active Sports: Athletics
Movie/Music/Sport Stars: Helen Mirren
Visited Coutries: Croatia
Want to Visit Coutries: England
Dream of My Life: I don't know.
Zodiac Sign: Capricorn (December 22 – January 19)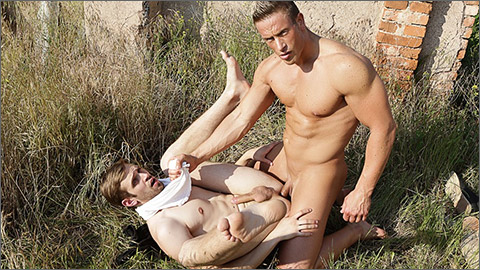 ROADSIDE BAREBACK
When Thomas DeCsatro spots Rami Mickky on the side of a country road, he decides to take him for a ride, whether he wants it or not. Thomas drives his captive to a secluded outdoor location so he can get down to business of using his body for his pleasure. Thomas stuffs all of Rami's holes with his big dick until they both blow massive loads.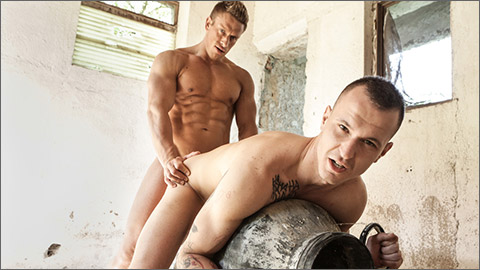 CHASING FAT COCK
Mike is single minded in his mission: find a nice fat cock to suck. Imagine his delight when Thomas DeCastro sneaks up behind him to give him a taste of his meaty piece. Watch these two turn an abandoned building into a den of lust, as Thomas goes to town on Mike's gorgeous ass with his tongue before plunging his hard cock inside that eager hole.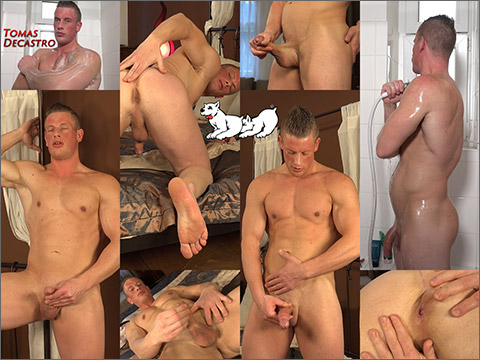 TOMAS DECASTRO SOLO
32 year old Tomas Decastro has never had a sexual experience with a guy; but, has always wanted to get naked and pose for the camera. We offered him a chance to do more than just pose and he took us up on our offer. Tomas slowly undresses, revealing a very hard and chiseled body which he obviously works on quite often. Slowly and intently Tomas massages about every one of his own muscles before he finally puts his hands down his underwear and pulls out the one muscle that we've all been waiting to see. Stripping off his underwear, Tomas lies back on the bed giving a full view of all the assets. He grabs his cock and begins massaging it until it begins to plump up and the more he jerks it, the harder it becomes. Kneeling on the bed our hunky stud pulls his ass cheeks apart not only giving us an up-close view of his sweet hole; but, Tomas begins working it with his fingers. Standing up again by the edge of the bed, Tomas continues to work his cock until it goes over the edge itself and a thick load of creamy jizz splatters all over the floor. Exhausted and relieved Tomas heads off to the shower and we head off to the bedroom for a little fantasy work of our own.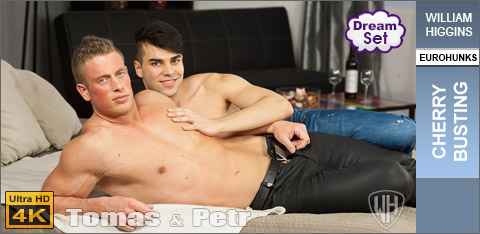 CHERRY BUSTING: PETR ZUSKA & PETR ZUSKA
Tomas Decastro came in to get his cherry busted by Petr Zuska in this wonderfuld dream set. Petr joins Tomas on the bed, and interviews him about sex. Tomas agrees to be massaged, taking off his tee shirt and laying down. Petr kneels next to him and helps him off with his jeans, which reveals a rock hard cock. Petr's hands begin to glide over Tomas' beautiful body. Tomas is nervous, he says, but he lays there enjoying the hands. Petr leans over and kisses Tomas' nipples as he rubs the chest. Then he takes hold of the hard cock and begins to suck it. He licks the head and slides his mouth up and down on the dick. Interspersed with the sucking Petr alos kisses that sexy chest. He takes Tomas' hand and pushes it against his groin as he continues sucking and wanking him. Then Petr gets naked too. Tomas reaches for Petr's cock, wanking it as his own dick receives Petr's best attentions. Petr kisses all over Tomas' hot body as he wanks on the cock. He licks and sucks on the cock and balls, pulling Tomas' legs up to expose his tight ass hole. He rubs fingers over that hot hole and gently begins to probe it. He sucks on Tomas' cock as he fingers his hole. Then two fingers are pushed in, opening it up wide. The fingers fuck in and out of Tomas' virgin hole, going in nice and deep. Then Petr asks if he can fuck that hot ass. Tomas' agrees, if he is gentle. He moves into position, with Petr between his legs. Petr's dick is positioned against the hole and begins to push into it. His cock enters the hole and Tomas' moans as the fucking starts. Petr's throbbing cock fucks the tight ass deep, and gets faster and faster. Tomas says he likes the feeling and Petr continues to fuck him. He grabs Tomas' cock and wanks it as he keeps up the fucking. His cock pounds into that tight hole as Tomas grabs his dick and wanks it. He keeps wanking his rock hard cock as Petr fucks him, and then he dumps his creamy load over his belly as his ass is filled deep with rock hard cock. He moans loudly as the cum shoots out of his cock and Petr continues fucking him hard. Petr is ready to blow too and pulls out to shoot his big load over Tomas' cock, balls and belly. Then he takes him off to the shower to clean up.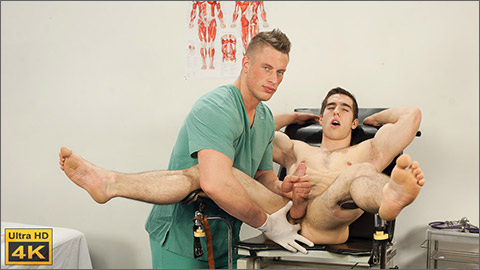 CZECH UP: ERIK DRDA VISITS DR TOMAS DECASTRO
Erik Drda visits Dr Tomas Decastro for a Czech Up. He hasn't been for a while so Tomas decides that he needs everything checked. Erik strips down to his shorts and sits on the table as Tomas starts his examination. Then he lays on his belly as Tomas feels over his back, massaging the muscles. He removes Erik's underwear and massages the case of his spine and his ass. The cheeks part to show Erik's hairy hole. Tomas needs to check the hole, so Erik moves to the exam chairs, legs up. Tomas slides a finger into the tight hole, to check it out. Then as he fingers the hole he also wanks and sucks Erik's rock hard cock. With the ass hole loosened he shoves a fat dildo into it as he keeps sucking on the cock. Then he kisses Erik too. Tomas then gets naked as well and they wank each other as they kiss. Tomas wants to feel Erik's big cock in his ass and tells him to fuck him. Erik is happy to oblige, fucking the ass deep and hard in vatious positions, opening up Tomas real good. Tomas loves the cock in his ass and grabs his dick to wank it to a big, creamy cumshot as he gets fucked. Erik is ready to cum too and pulls out to shoot his cum over Tomas to end his Czech Up.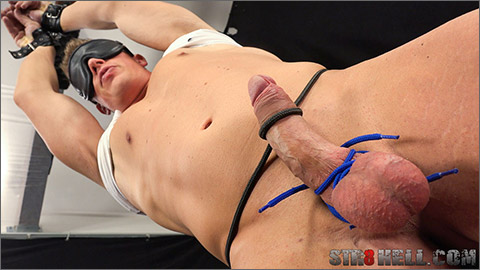 MILKING MEN: TOMAS DECASTRO
Tomas Decastro is one hot and handsome guy. In this Milking Men shoot his wrists are shackled over his head, wearing a tank top and shorts. The 'Milker' arrives and begins to feel Tomas chest, lifting the tank top to show it off. Tomas has a blindfold applied and his shorts are down, revealing his athletic support. As it is untied his cock is gradually exposed as the hand rubs the bulge. The cock is pulled out and wanked has his balls hang down. Petr's cock gets so hard as it is wank, the heading glistening nicely. Then the cock and balls are tied nice and tight. A vibrating toy is appied to the head of the cock, making it throb. Then the cock is wanked some more and further rope is applied to it. Oil is used to lube the beautiful, hard, cock as the balls are untied. Then Petr is bent over so that his ass is exposed. It gets some oil too and then feels a dildo pushed into the tight hole. Petr moans as his ass is fucked by the dildo and his cock is wanked as well. He says that he is cumin and asks to be wanked again. He dildo keeps working his hole and then he is released to have his throbbing cock wanked until he says again that he is cumming. But the hand cums off the cock and Petr begs to be wanked some more. The hand does return to the cock, this time wanking it until it shoots a big, creamy, load all over Petr's hot body.
BROMO
GAY WAR GAMES
WILLIAM HIGGINS
STR8HELL
BADPUPPY
CLICK HERE TO GO TO HIS WILLIAM HIGGINS BIO PAGE