Handsome Blond Czech Gay Porn Star, Jindra Durak / Ryan Cage
Known Aliases: Bryan, Czech Hunter 147
Years Active: 2014 – 2018
WILLIAM HIGGINS INFO:
Jindra Durak is from Ostrava. What a magnificent specimen he is too. They must build them big in Ostrava. With his handsome face and his big, chest he looks great. He does a great casting, showing off a very sexy ass and a decent cock too. I hope he can make some good wood.
Age (2014): 19
Home Town: Ostrava show map
Height: 187cm/6'1″
Weight: 102kg/224.4lb
Foot Size: EU45/US9.1/UK8.6
Penis Size: 18cm/7.09″
Profession/Student of: Unemployed
Hobbies: Sport
Favorite Sports: Fitness
Active Sports: Box
Movie/Music/Sport Stars: Madonna
Visited Coutries: Slovakia
Want to Visit Coutries: Hungary
Dream of My Life: I don't know.
Zodiac Sign: Aries (March 21 – April 19)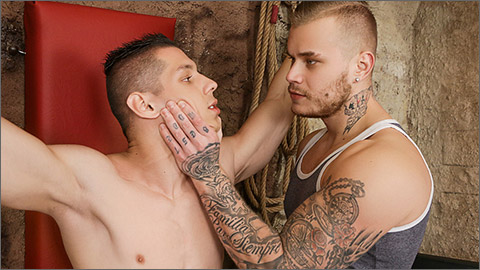 TOP FOR RENT – PART 2
Peter One is at it again! Even while chained up he knows how to get exactly what he wants. Ryan Cage worships Peter's uncut cock before offering his plump ass to this kinky dungeon dweller. Watch them explore each other's bodies in every position imaginable before unleashing their thick loads!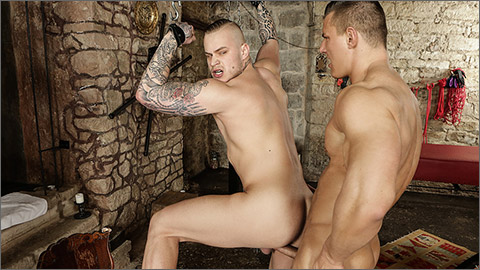 BEGGAR BREEDER
When a Hot and kinky dude begs you to come and fuck him hard, there's nothing else you can do but to oblige, especially when he's already tied up with his perfectly round ass in the air. This epic bareback pounding comes straight from our fantasy dungeon for your pleasure.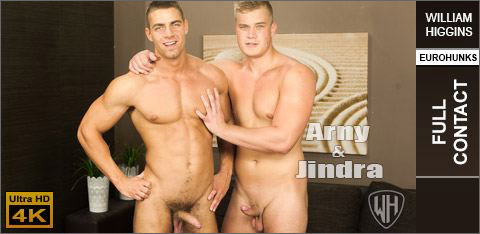 FULL CONTACT: ARNY DONAN & JIDRA DURAK SCREEN TEST
Arny Donan came in to pair up with Jidra Durak who had agreed to a screentest. Arny does a brief nterview with Jindra, complimenting him on his body. Then they get started, by kissing each other. As they kiss each begins to feel the other's body and Arny moves to kiss Jindra's nipples. One hand moves to Jindra's groin and quickly his cock gets hard in his underwear. Jindra stands and his underwear is dropped to reveal his rock hard cock. Arny is quickly on that cock, sucking it hard. His head bobs on Jindra's throbbing cock, making it feel so good. Then Arny stands, lowering his underwear so he can wank both dicks together. Then he sits and Jindra goes down on his cock, showing s that he can suck real good too. From there they move to 69, with Arny on top. Both moves are filled with swollen meat getting the guys all hot and horny. Arny moves, to present his hot ass to Jindra who slides his cock deep into the waiting hole. Arny moans as his hole is filled so well. Jindra thrusts in and out with his cock, stretching the hole well. Then he sits on the sofa so that /arny can ride his beautiful cock. That sexy ass slides up and down on Jindra's dick, util he takes over thrusting deep into that eager ass. Next Arny lays down, legs up with Jindra fucking him nice and deep. He is soon ready to shoot his load. Pulling out of that hot ass he dumps his cum over Arny's sexy body. Then Arny wanks himself to a nice creamy load as well. Jindra leans over and kisses Arny again to end his very successful screentest.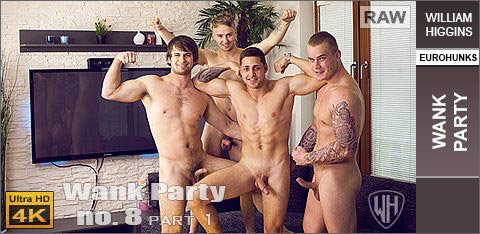 WANK PARTY 2014 #8
In WANK PARTY 2014 #8 we start part 1 with Vlado Tomek and Viktor Burek relaxing as they watch TV. They are then joined by Tomas Hozman and Jindra Durak. Tomas sits next to Viktor, and the two of them are soon rubbing each others' crotches. They begin to kiss and Vlado, seeing that suggests to Jindra that they play too. As Jindra scoots up to join Vlado Viktor removes Tomas' tee-shirt. Vlado does the same with Jindra and returns to kissing him. Then Vlado and Viktor remove their tee-shirts too. Vlado leans over and kisses on Jindra's nipples. Meanwhile Viktor's jeans are open and Tomas begins reaching inside for some cock. Tomas' jeans are soon open with Viktor groping his as Jindra kisses on Vlado's hot chest. Viktor pulls out Tomas' rock hard cock and starts sucking on it. Vlado's big cock is hard too as he jeans come down, and Jindra's mouth quickly closes around it. With Tomas naked Viktor keeps on sucking that throbbing cock. Tomas leans over and kisses Vlado. Jindra sucks Vlado's cock, licking his balls too. Then Jindra gets naked, releasing his own hard cock, which Vlado goes down on, right away. Meanwhile Viktor's dick is up too and Tomas eagerly starts sucking it. Vlado really works his mouth over Jindra's cock, with Tomas sucking on Viktor's, while his own is being wanked. Tomas is hot for cock and his head bobs up and down on Viktor's dick while Jindra wanks Vlado, who sucks on his thick cock. Then Tomas turns and begins sucking on Vlado, with Viktor returning his mouth to work on Tomas'. Then Vlado moves, to sit on the back of the sofa, so that Viktor and Jindra can share his cock. With Jindra on his knees to suck that cock Tomas gets behind him and starts rimming his hot hole. Viktor's mouth wraps tight around Vlado's cock sucking it until it flops out, and Jindra's mouth quickly closes around it again. All this hot sucking and rimming has set things up for more hot action in part 2.
In the second part of WANK PARTY 2014 #8 we rejoin things as Jindra Durak is fucking Tomas Hozman. He is being encouraged by Vlado Tomek whose own cock is rock hard and waiting for a turn. He soon takes Jindra's place, sliding his massive cock deep inside Tomas'eager hole. Tomas is also wanking on Viktor's dick. Vlado really pounds at Tomas's ass for a while then withdraws, to be replaced by Jindra again. Tomas moans as his ass gets it nice and deep. As Vlado and Jindra take turns in that hot ass Tomas leans over and sucks on Viktor's hard cock. Then Vlado sits on the sofa, so that Tomas can take a ride on his big cock. Viktor bends over for Jindra to fuck him as well. His hole gets stretched well by Jindra's dick as Tomas bounces up and down on Vlado's. Moving again Viktor lays down and Jindra continues to really work his ass. Tomas is also on his back, legs in the air as Vlado fucks him. As he takes that cock Viktor wanks himself and shoot a big creamy load over his hot body. Jindra is ready too and pulls out to cum after a hot fuck. Meanwhile Vlado keeps fucking his cock deep in Tomas'ass. He pulls out and quickly shoots his cum as well. Then to end a lovely scene Tomas wanks himself to a nice, creamy conclusion as well.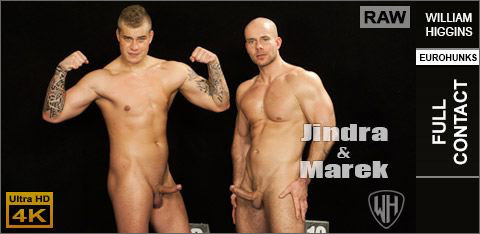 FULL CONTACT: JINDRA DURAK & MAREK BOREK RAW
Jindra Durak and Marek Borek had a very good wrestling match, and a quick reprise of it see Marek gain a very good victory. Then, as Jindra holds Marek's arm aloft, to recognize his victory the two of them begin to kiss. They look so good as their hot, sweaty bodies are in close, naked contact. Their cocks are hard, as Jindra wanks them both together. Then Marek takes hold of Jindra's in his hand and they wank each other. Jindra drops to his knees and takes Marek's throbbing cock into his mouth. He sucks on the cock and licks Marek's tight balls. Marek fucks his cock deep into Jindra's mouth. Jindra wanks himself as he sucks on that big cock. His head bobs on Marek's dick, his mouth stretched wide as he takes the fat dick as deep as he can. Marek pushes Jindra's head onto the cock and really fucks his face. Marek goes onto his knees as well and pushes Jindra onto his back, leaning over him. He kisses Jindra some more as he lays between his legs. Then Marek sucks on Jindra's rock hard cock, doing a great job of it too. After kissing again they move to a 69, with Marek on top. They suck each other with both cocks so very hard. Jindra then stands and bends over, offering up his hot ass. Marek quickly has his dick deep inside that hot hole. He fucks Jindra's ass hard and fast, going as deep as he can. Jindra wanks himself as Marek pounds away at his hole. Jindra's cock stays so hard as Marek fucks him deep. He drops onto his knees, and Marek continues to fuck him from behind. That ass gets worked so well, with that big dick deep inside. They move to spoon position with Jindra wanking hard and Marek fucking deep. As Marek's dick works that hot hole Jindra continues wanking himself and soon shoots a nice sticky load of cum over his belly. Jindra continues to fuck that sexy ass until he is ready to cum too. Then he pulls out and scoots up to Jindra's face and wanks himself as he cums too. Jindra sucks on the spent cock before the two of them go off to the shower to help each other clean up.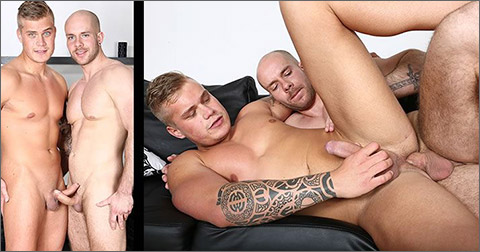 ALEX BACH BAREBACKS RYAN CAGE
Alex Bach and Ryan Cage kiss passionately while feeling each other's muscular bodies. Alex takes Ryan's shirt off and plays with his nipples. Ryan returns the favor. Alex unbuckles Ryan's jeans and pulls his dick out. Ryan follows his lead and does the same. The two studs kiss and jerk their cocks before Alex kneels. Alex makes it down to Ryan's thick uncut cock and sucks hard. They finish taking their jeans off and Ryan blows Alex, deep-throating his pole and massaging his huge sac. Alex lays on the couch with his legs up and Ryan rims his hole. Alex flips Ryan over on the couch with his butt up and licks his tight ass. With Ryan's hole nice and wet, Alex slides his raw cock bareback into Ryan's bubble but, doggy-style. He fucks bareback in the spooning position while Ryan plays with his own prick. They change position and fuck missionary-style revealing Ryan's amazing thighs. Alex smacks Ryan's ass cheek as he pounds him bareback with his raw cock. Ryan Cage jerks his load all over his stomach. Alex pulls out and busts his nut between Ryan's balls and ass. Alex Bach then seeds Ryan's hole bareback.
BROMO
RANDY BLUE
UK NAKED MEN
BUTCH DIXON
WILLIAM HIGGINS
STR8HELL
BADPUPPY
CLICK HERE TO GO TO HIS WILLIAM HIGGINS BIO PAGE