Handsome Hung American Gay Porn Star & Go Go Boy, Sean Zevran
Years Active: 2011 – 2019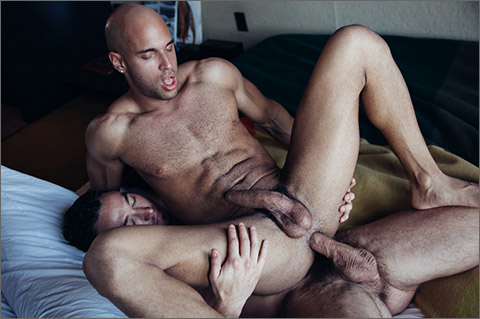 SEAN ZEVRAN BOTTOMS RAW FOR THE FIRST TIME WITH CADE MADDOX
Another first! Sean Zevran in his first condom-free scene with Cade Maddox in his first raw scene here at Cocky Boys! In his own words Sean sets the record straight on his total versatility before getting into his raw scene with sexual powerhouse Cade. This uninhibited duo get naked and make out in bed and go right into sucking each other's big cocks. Cade sensually sucks Sean who in turn goes all in, deep-sucking him and turning Cade's big cock into a huge thick monster.
   Cade excitedly gets Sean into a 69 so he can eat out his big muscular ass and this makes Sean sit up and ride Cade's face. They both want to go all the way and soon dirty-talking Cade had Sean on all fours showing him his hot ass. After a little finger-probing Cade gives Sean a test run of his raw cock, fucking him deep. As Sean lies down Cade pulls out to lovingly kiss his muscular body and hump his ass before resuming fucking his raised up bubble butt. And soon Sean is thrusting his hole on Cade's cock
   Sean continues with unleashed sexual energy when his sits on Cade's thrusting cock. Their uninhibited dynamic keeps going uninterrupted when they shift to a reverse cowboy and when Sean leans back against Cade's hard body. Cade finally gets Sean on his back to fuck his rippling muscle body with furniture rattling energy until he shoots a load of thick cum over himself. A happily spent Sean sits up to make out with Cade as he strokes his cock to a cum eruption over Sean's torso. As they kiss, total satisfaction is written on their lips.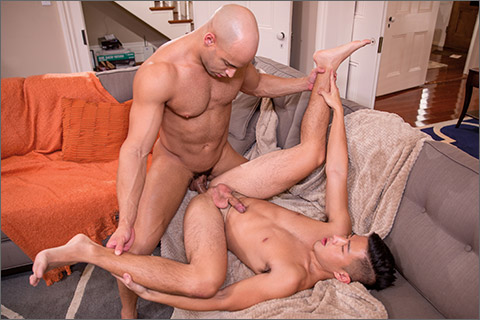 LOVE & LUST IN NEW ORLEANS: Sean Zevran fucks Cooper Dang
Sean Zevran is taking some laps in his New Orleans pool when Cooper Dang offers up a glass of wine on the pool deck. Sean has more than a glass of wine on his mind, and before either of the guys can have a sip, Sean has Cooper on his knees servicing his massive uncut dick. Cooper is good with his tongue and gets Sean throbbing hard and ready for more action. After fucking Cooper's warm mouth with his massive member, Sean decides he needs a taste of the jock's smooth, tight hole. A few licks are all it takes for Cooper to start begging Sean to slip his dick inside of him. Cooper spreads his cheeks wide as the studs kiss passionately. Sean is ready to oblige Cooper all his needs and slips his dick deep inside the young stud to give him exactly what he wants. Sean is unrelenting and pumps a steady rhythm as Cooper moans out with every thrust that Sean doles out. Sean wants to feel Cooper from a deeper perspective and rolls him over onto his back. Sean is as far inside the jock has he can possibly get and hits all the right spots to make Cooper leak a creamy load all over his perfectly toned body. Sean can no longer hold off and pulls out of Cooper to give him his own creamy release that leaves the panting stud wet, sticky, and extremely satisfied.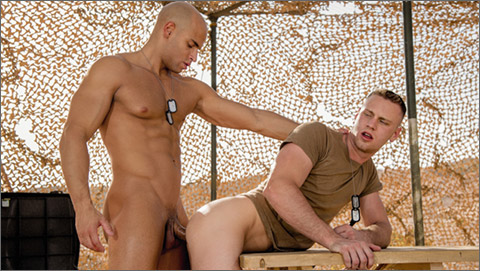 CODE OF SILENCE: Sean Zevran fucks Brandon Evans
Sergeant Sean Zevran comes up behind his subordinate, Brandon Evans, and grabs his ass. Brandon is taken off guard. "I see everything in in this camp," Sean says. "I know you two have been sneaking out in the middle of the night to suck each other off." Sean pulls Brandon's pants off and asks if he likes sucking dick. Brandon denies it once but after a berating from Sean, he finally admits that he does indeed like sucking dick. Sean pushes Brandon to his knees and slides his thick, uncut pole all the way down Brandon's throat. Brandon gets his face reamed and then takes a taste of Sean's big low hanging balls. Brandon loves every second of the impromptu action and takes every inch that Sean has to offer. Sean bends Brandon over a table and rims his hot hole. The sergeant works Brandon's ass and finally asks if he's ready for his dick. Brandon yells out "Yes, Sergeant!" before Sean slips his massive member deep inside. Brandon wants to please his superior officer, and the sergeant isn't going to finish without having his way. He wants one more position to truly feel everything that Brandon has to offer. He gets Brandon on his back and enters the muscle stud to go as deep as he possibly can. The pounding makes Brandon blow his load all over his hot, ripped torso. Sean won't be left out of the action and pulls out to drop his load all over Brandon's well-worked and still heaving body.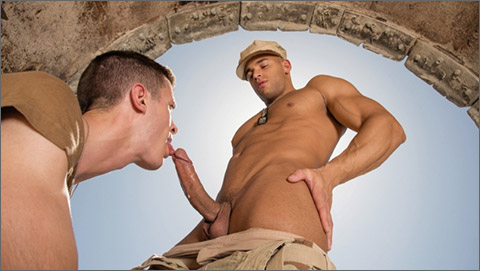 CODE OF SILENCE: Sean Zevran & Kyle McMillan (all oral)
Sean Zevran and Kyle McMillan are on duty at a deserted post in the desert. It's extremely isolated and Sean admits that he brought Kyle out to the middle of nowhere to help him relax. Sean commands Kyle to put down his weapon and open his mouth. Sean is already hard as rock and he slips his big, curved, uncut Marine dick inside his subordinate's warm, wet mouth. Sean gets completely naked as Kyle continues to service the hunky stud in the hot afternoon sun. Beads of sweat form on Sean's shaved head as he focuses all his attention on the amazing blowjob Kyle is providing. Sean needs a bit more relaxation and spreads out on his back. Kyle is into the experience and peels off his shirt to situate himself between his commander's legs. Kyle doesn't want to miss an inch of Sean's nice stiff dick and uses his mouth and tongue to service Kyle's big swollen balls and shaft. He licks and sucks until Sean moans out and unleashes his load. Kyle catches every last drop inside his hungry mouth and spits it back out onto Sean's shuddering body and freshly serviced dick.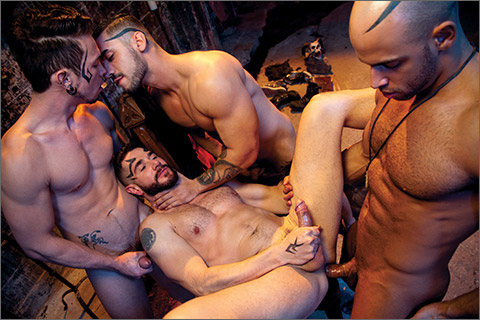 EARTHBOUND – HEAVEN TO HELL 2: Sean Zevran, Arad Winwin & Gabriel Alanzo as Dark Angels fuck Dean Monroe as Devil
"Please me," says the Devil (Dean Monroe) to his Dark Angel servants. Duty-bound to satisfy their master, Dark Angels Sean Zevran, Arad Winwin, and Gabriel Alanzo press their hands on Dean's muscular body. The four menacing demons of the underworld turn to each other and savor the pleasures of their flesh. Gabriel opens his mouth to receive Sean's monster cock, slathering it with spit, as Dean swallows Arad's massive sword. Sean eats Gabriel's ass, and Arad spits into Dean's mouth. Borrowing the Devil's throne, Sean takes a seat as Arad services him orally. The four dirty angels congregate together in a seething, writhing mass of bulging muscles, hard cocks, and open mouths. Sean and Dean tag team Gabriel's cock as Arad face fucks him. As Dean relaxes on his throne and watches, Sean thrusts his cock inside Gabriel's ass and pounds him with all his supernatural strength. Gabriel licks Dean's nipples, always trying to please his master. Dean savors the taste of Arad's spectacular cock as it slides into his gullet. But now it's time for the boss to get what he really wants: his hole pounded. Sean slides in first, stretching out Dean's hole. Arad steps up next and drives his meat deep inside Dean. As Dean strokes his cock, Arad moves up to Dean's face and shoots his load into Dean's open mouth and across his dark beard. Sean pounds Gabriel's load out of him, but he's sure to deliver it directly to his master. Sean sprays his load across Dean's thigh, and Dean shoots off a white-hot load.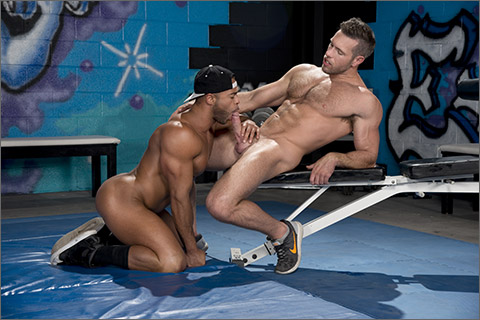 THE TRAINER – NO EXCUSES: Sean Zevran fucks Skyy Knox
http://members.hothouse.com/en/film/The-Trainer-No-Excuses/125799
Ripped stud, Sean Zevran, is training his muscled-up client, Skyy Knox, at the gym. They work their bulging biceps and perfect pecs before they call it a day and hit the locker room. The well-worked, sweaty hunks peel off their dirty gym clothes as Skyy tries to make small talk. Sean knows what he wants and shows off his thick, uncut cock to get Skyy's undivided attention. The massive hardon makes Skyy hard as a rock and the two gym rats start making out. Skyy needs that pulsing pole down his throat so he gets on his knees to service Sean on the bench by the lockers. Sean face fucks his eager-to-please client and cops a feel of his smooth, tight ass while he plows his face. Sean is throbbing hard and ready for more. Before he goes any further, he needs a taste of Skyy's sweet hole. The anticipation of getting Sean inside his body is almost more than the smooth stud can handle. Sean can sense that Skyy is ready for his hearty meat and slips it inside Skyy's open hole. He pounds his client from behind as Skyy's hard cock bounces and flops with every thrust. Skyy wants to feel the giant cock deeper inside him and hops on for a ride. He bounces up and down taking the big dick balls deep as he jacks his own rod. Sean is ready to be in control one last time and flips Skyy over, plowing the tight hole and hitting all the right spots. Skyy hits his limit with the relentless pounding and can't hold back any longer. He sprays his cut abs with a torrent of jizz that leaves him a sticky, wet mess. When Sean sees the giant load, he gives himself the okay to pull out and walk up to Skyy's panting face. He gives his client a massive creamy facial and then kisses up his cum. If this is the reward for a good workout, there's no doubt more people would be hitting the gym every day!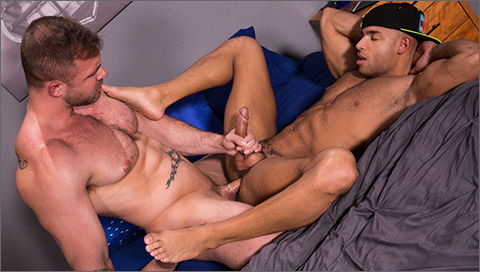 OVERPOWERED: Austin Wolf fucks Sean Zevran
Austin Wolf is getting ready for a night out with his buddies and decides to hop in the shower. While he's lathering up, his roommate, Sean Zevran, enters Austin's bedroom and goes through his nightstand. Sean helps himself to some cash and finds Austin's used jockstrap. He gives it a sniff and throws it in his other pocket just as Austin comes back from getting clean. Austin can't believe his eyes and is livid with what he's just witnessed. Sean knows he's in trouble and without lodging a protest, gets on his knees. Austin drops his towel to reveal an already rock hard dick that he shoves inside his roommate's face. Sean sucks on Austin's big dick and gags as Austin rams it down his throat. The ripped stud bends Sean over the bed and licks his smooth asshole to get him nice and opened up. Austin slips his fingers inside the dark skinned muscle jock before he slides his throbbing cock deep inside. He fucks the hell out of a moaning Sean, who is loving every inch of Austin's big pole. They go from doggy to missionary, and as Austin pumps away, Sean's big balls pull tight to his body and he unleashes squirt after squirt of creamy white jizz. The sight of Sean spraying his own tight abs makes Austin ready to blow. He pulls out and blasts his DNA all over Sean's dripping wet cock, mixing their cum together in a sticky pool of gooey goodness. Austin thinks Sean has learned his lesson, but if that's the punishment for a bad deed, then Sean will be back in to steal more of Austin's stuff very soon!

DEPTHS OF FOCUS: Sean Zevran fucks Micah Brandt
Micah Brandt sits down next to Sean Zevran in the sauna. Sean, eyes closed, glistens with sweat across his smooth, broad, muscular frame. Micah reaches over to grab a handful of Sean's massive cock, and Sean returns the favor. Bending over, Micah wraps his lips around Sean's throbbing meat and somehow manages to fit it inside his throat. As Micah stimulates the sensitive tip of Sean's cock with his tongue, Sean reaches around to play with Micah's ass. Sean's huge nuts hang loose in the hot, humid air of the sauna. Standing up on the sauna's second level, Micah feeds his rock hard cock to Sean, then spins around so that Sean can rim his ass. With Micah's hole lubed and ready, Sean slides his cock in doggy style. Micah's gorgeous ass ripples with every thrust. Sean's eager to get fucked too, so he spreads his legs and enjoys a sloppy rim job from Micah. Rolling his body, Micah delivers powerful, sensual thrusting that makes Sean moan with pleasure. As drops of sweat drip across Micah's huge chest, Sean strokes his cock until an explosion of hot, white semen splatters across his washboard abs. Ever the ass hound, Micah licks Sean's hole while stroking himself, then stands up to deliver his thick load directly to Sean's heavy nut sack. After using his cock to rub his load into Sean's balls, Micah bends over to share another passionate kiss.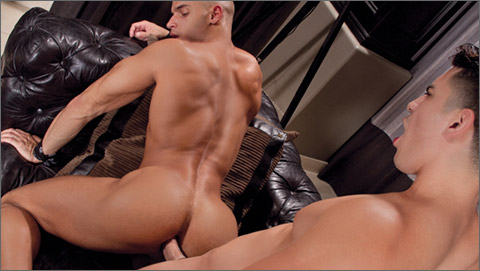 COCKSTAR: Lance Luciano fucks Sean Zevran
The sight of Sean Zevran triggers Lance Luciano's bulging hard on. This situation calls for an impromptu fuck session. They strip bare while kissing, revealing Lance's smooth skin and Sean's bristling fur. Taking it to the next level, Sean strokes himself, prods Lance's taint and gives an expert blowjob. When Lance slaps Sean's ass, the glutes barely move: they're solid muscle. The only soft part is between the cheeks, where Lance dives in with his tongue. Rearing up, he spears Sean's hole with his cock, doggy style. Sean arches his back to get the fullest effect of Lance's lunging. They all but tie each other in knots, jousting from one position to another until their cocks explode cum together.

TKO TOTAL KNOCKOUTS: Sean Zevran fucks Micky Jr
Sean Zevran has the muscle and the size advantage, but sneaky Micky Jr can dodge and weave to stay one step ahead. Who will be the winner? Sean's dominance serves him well as he takes down his agile opponent, and Micky rewards Sean's victory with a wet, sloppy blowjob. But Sean's eager to taste Micky's ass, so he makes Micky do a handstand to get his ass right in Sean's face! After getting Micky all lubed up, Sean shoves his fat cock into Micky's hole and lets him have it even harder than before when they were fighting in the ring. Gripping the cage for support, Micky takes Sean's pounding like a champ. Sean raises Micky's left leg into the air, forcing him to stand on one leg as he's getting fucked! Then it's back down on the mat for Micky as he puts his legs in the air and jerks his cock with Sean deep inside him. Micky blows his hot, white load across his tight stomach. Sean kneels right above Micky's face and jerks his thick cum right into Micky's open mouth. Cum splatters across Micky's lips and down his scruffy chin as he sucks Sean's massive cock clean. Clearly this match was a TKO and a win-win scenario.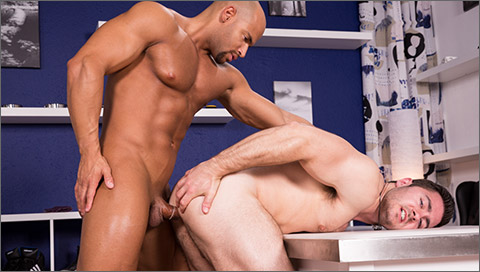 DEPTHS OF FOCUS: Sean Zevran fucks Derek Bolt
With a big shoot coming up, Sean Zevran pays a visit to his top-notch tailor, Derek Bolt. Of course, to get the most accurate fit, Sean must take everything off. Sean's been making eyes at Derek since he walked in the door, and as soon as his pants come off, Sean's massive cock begins to swell and rise. Derek goes in to measure Sean's inseam, and with all that thick meat just hanging there in his face, Derek can't resist getting a taste. Derek's cock sucking skills are awe-inspiring as he makes Sean's massive tool disappear down his throat. Sean thrusts his hips as Derek strips off his shirt. Spinning around in front of the mirror, Derek spreads his ass for Sean. Diving in tongue first, Sean lubes up Derek's tight, pink hole with plenty of spit. Mounting Derek in doggy style, Sean beings to pound Derek's hole with powerful thrusts. To feel Sean even deeper inside him, Derek braces himself against a table, encouraging Sean to let loose. Their muscles bulge and flex as they work up a sweat. When Sean reaches his climax, he pulls out and blows a huge load right on Derek's muscular ass. Sean plays with Derek's nipples, which sends him over the edge, shooting his thick, white load onto his stomach. They press their lips and bodies together, relishing the moment of spontaneous sexual release.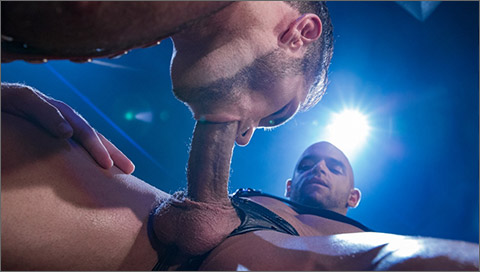 SKUFF: ROUGH TRADE 2: Alex Mecum fucks Sean Zevran
Hairy-chested Alex Mecum, clad in red and black leather, presses his ripped body against Sean Zevran. Sean, wearing all black, kisses Alex passionately. Their beefy muscles and bulging jockstraps prove that these two studs are intent on intense, connected sex. Getting down on his knees, Alex rips the codpiece off Sean's jock and inhales Sean's hard, stiff cock. The oral worship gets Sean in the mood to reciprocate, and he expertly tongues the tip of Alex's swollen mushroom head. Bending Sean over, Alex shoves his scruffy face into the crack of Sean's perfect bubble butt, coating it with thick spit.
   With Sean's ass slick and slippery, Alex drives his cock deep into Sean's prepped hole. Sean takes Alex's cock doggy style, and the muscles in his body flex as he submits to Alex's drilling. Sweat glistens on their ripped bodies as they pick up speed and intensity. After getting his hole stretched, Sean trades places with Alex for round two. Resting on his back, Alex throws his right leg over Sean's shoulder, opening himself up to maximum penetration from Sean's powerful dick. Sean moves to sit down and Alex stands over him as they both work their cocks. Sean shoots first, spewing thick, white cum onto his ripped abs. The sight of Sean's load pushes Alex over the edge, and he jerks out a gushing stream of cum that splatters across Sean's muscled torso.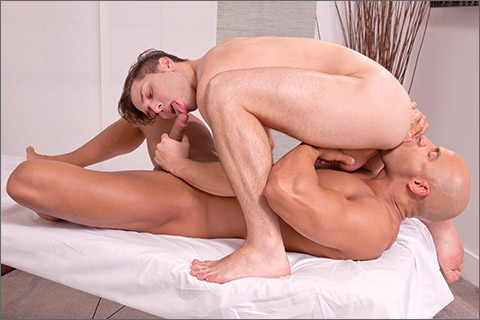 DEEP RELEASE (FVP-265): Sean Zevran fucks Brandon Rivers
Laying facedown on the massage table in a tranquil, white room, Sean Zevran awaits the expert touch of Brandon Rivers. Brandon slicks up Sean's back with massage oil, working his way from Sean's muscled shoulders down to his perfect, round ass. Flipping over, Sean reveals his massive, throbbing erection. Without hesitation, Brandon reaches down and strokes Sean's hot, hard meat. Opening his mouth, Brandon takes Sean's cock inside his mouth, then slides up to stimulate the sensitive head with his tongue. Wrapping his hand around the base of Sean's cock, Brandon combines his sucking and stroking for a potent oral servicing. Loosening Brandon's pants, Sean reaches around and probes Brandon's tight ass. Brandon climbs up and sits on Sean's face, and Sean eagerly drives his tongue into the dark recesses of Brandon's inviting ass. As Sean thrusts his cock up into Brandon's mouth, Brandon jerks his hard cock. Brandon is eager to get fucked, so he sits down on Sean's huge cock for an intensely deep ride. Stretching Brandon's ass cheeks apart, Sean thrusts upwards, driving his tool faster and faster into Brandon's hole. Switching to missionary position, Sean ramps up speed and intensity with long, powerful pumps. The intense penetration brings Brandon to the point of no return, and he blasts a huge, white load across his abs. Kneeling above Brandon, Sean jerks out his thick load directly into Brandon's mouth, with one final, massive rope pooling right in the middle of Brandon's tongue.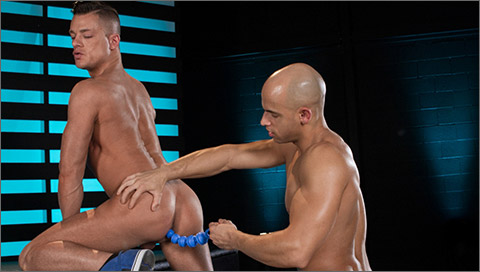 PUSHING LIMITS: SEAN ZEVRAN FUCKS REX CAMERON
Ripped muscle-hunks Sean Zevran and Rex Cameron sport tight blue jockstraps as they swap spit. The intensity builds as Sean feeds Rex his long, uncut cock pounding the back of his throat. To warm up Rex's eager ass, Sean uses multiple toys to dilate Rex's smooth hole. 'Pushing Limits' Sean replaces the dildo with huge, hard cock, and Rex takes every inch of Sean's doggie-style. Switching positions, Rex lays back to get plowed by Sean until he shoots his load onto his washboard abs. Sean whips out his hole-crushing cock and spews his load onto Rex.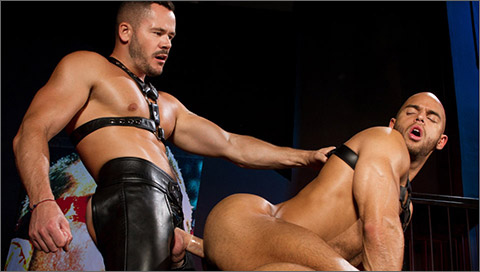 THE URGE – POUND THAT BUTT: Valentin Petrov fucks Sean Zevran
Sean Zevran is on his knees blindfolded and locked in a cage hidden in the shadows of the seedy sex club. Super hung Valentin Petrov takes advantage of Sean's vulnerability and thrusts his hefty bulge into Sean's face. Not knowing who's on the other side of the cage, Sean caresses and appreciates Valentin's ripped physique before taking his fat uncut cock down his throat. Sean swallows Valentin's cock whole and gives him a sopping wet hummer. Still locked in the cage, Sean surrenders the key that releases him to Valentin. Valentin opens the cage door and pulls Sean out by his harness only so Sean can worship his massive meat even more. Valentin returns the favor and goes down on Sean's uncut cock then pushes his legs back to eat his scruffy hole. Once Sean's hole is lubed up and relaxed, he gets on all fours while Valentin eases his hole-stretching dick into Sean's muscle butt. Switching positions, Sean is on his back again with Valentin going full force drilling into Sean's asshole. Valentin keeps pounding until Sean shoots his warm thick load all over his burly abs and chest. Valentin pulls out and unloads on Sean leaving him completely covered in both of their cum.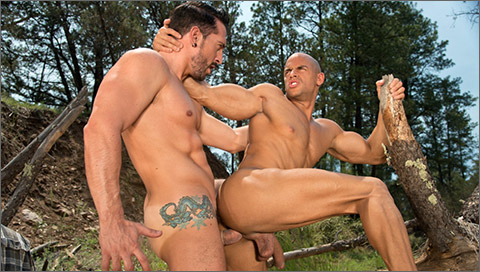 TOTAL EXPOSURE 2: Jimmy Durano fucks Sean Zevran
RAGING STALLION
FALCON STUDIOS
HOT HOUSE
HOT HOUSE CLUB INFERNO
RANDY BLUE
RANDY BLUE LIVE CHAT & PRIVATE SHOWS
CLICK HERE TO GO TO HIS COCKYBOYS DETAILS
VIDEO ON-DEMAND: Sean Zevran @ AEBN SMUTJUNKIES THEATER
DVDs & ON-DEMAND: Sean Zevran @ TLA VIDEO