Blond Power Bottom American Gayporn Star, Johnny V
Years Active: 2013 – 2018
TWITTER @johnnyv_muscle
RAGING STALLION INFO:
Hair Color : Blonde
Eye Color : Blue
Height : 5'11"
Position : Bottom
Body Type : Body Builder
Body Hair : Shaved
Cock : 7.5″ cut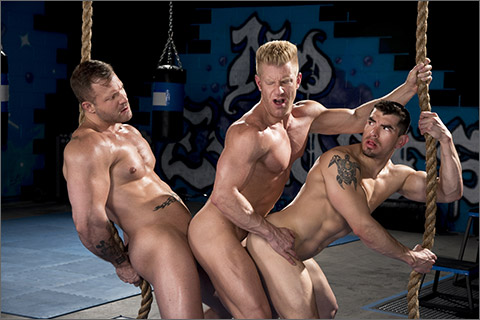 THE TRAINER: NO EXCUSES: Austin Wolf fucks Johnny V fucks Jeremy Spreadums
Austin Wolf is training Johnny V and Jeremy Spreadums at the gym. He has them doing all the regular things to stay in shape like climbing rope, doing chin-ups and lifting weights. Austin pats them on the ass with every good rep. All the physical contact and exposed muscles gets the threesome ready for fun and they peel off their shirts as they kiss and feel each other's boners through their gym shorts. Jeremy can't take the suspense of what the other cocks must taste like and he gets on his knees to suck off his two gym buddies. He takes turns slurping on each of their growing cocks and gets the guys ready for more action. Austin is horny as hell and wants to explore more of what Jeremy has to offer. Austin has Jeremy bend over, and like a true trainer, tells Jeremy what to do as he fingers and licks his client's fuzzy hole. Jeremy gets on the ground and spreads his legs wide open to let both Johnny and Austin rim his ass. Once the guys have Jeremy's hole nice and opened up with their tongues and fingers, Austin crams his thick cock inside Jeremy's back door. Johnny doesn't want to be left out of the fun and takes his turn with Jeremy when Austin steps aside to let him have a turn. The muscle studs tag team Jeremy's asshole as they pile drive the young jock. Johnny hops in the middle of the sandwich to fuck Jeremy as he gets his hole plunged from his trainer. The three horndogs form a chain with Johnny in the middle getting the best of both worlds until all three are ready to blow. Jeremy lies on the ground with the two other studs above him. Johnny lets loose and drains his balls all over his buddy, slathering his nipples with cum. The trainer is the next to go and lets loose all over Jeremy's face before Jeremy finally gives himself the go ahead to get the relief he needs all over his own muscled-up body. The three spent hunks writhe on the floor with their cocks dripping as they kiss and bask in the afterglow of the benefits of a healthy workout.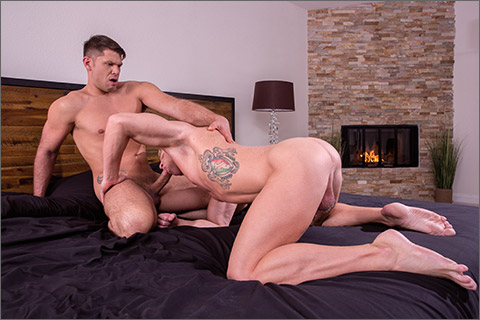 SERVICE ME!: Tyler Roberts fucks Johnny V
Tyler Roberts rings the doorbell to deliver a package to Johnny V's house. It's been raining and Johnny invites Tyler in to dry off. Johnny asks, "is that package for me?" and reaches for Tyler's bulge in his shorts. It's not long before Johnny has Tyler's shorts around his ankles and sucking his thick cock down to his balls. Tyler likes the service Johnny is performing on him and moves him to the bedroom for more oral action. With the taste of Tyler's cock on his lips, Johnny bends over and lets Tyler lick his way in and around Johnny's hairless hole. Tyler can tell he likes it and brings things up with a couple fingers in Johnny's ass. Tyler wants that ass and positions himself behind Johnny and drills him deep. Johnny takes it from behind before getting on his back to take a prostate pounding so hard it makes him shoot thick ropes of cum onto his ripped abs. When it's Tyler's turn to release, he delivers one last gift of cum into Johnny's open mouth.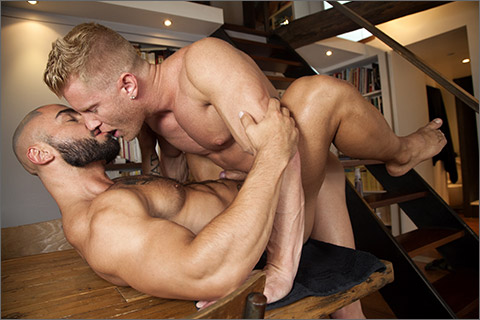 PARIS PERFECT – AN AMERICAN IN FRANCOIS: Johnny V. & Francois Sagat flip-fuck
Dumped and disillusioned with San Francisco, Colton Grey convinces his best friend Johnny V. to join him on an all-expense paid trip to Paris. Fourteen hours later the young Americans land only to discover that the card Colton swiped from his Ex can't be used to rent a hotel room. While Johnny cruises Grindr, Colton tries to figure out what to do next, and "voila" his problem is solved! A handsome Driver/Valet (Theo Ford) approaches Colton and addresses him as "Mr. Ferrand," explaining that his limo is waiting to take them to his Penthouse. Ready for anything, Colton plays along, promising to text Johnny the address so Johnny can go make his first French connection. Using his phone to navigate the twisted streets of Paris, Johnny finds his trick's apartment. The door opens and SCORE! The guy (Francois Sagat) is even hotter than his pic. In minutes they are naked, tongues exploring ripped abs and thick cocks. After a furious flip-flop-fuck Johnny returns to the foreign streets only to have a French thug race by and swipe his phone right out of his hands, leaving him lost and stranded. Merde!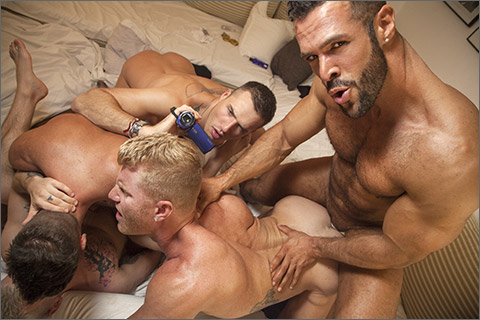 PARIS PERFECT – INTERNATIONAL GANG BANG: Colton Grey, Johnny V., Theo Ford, Dani Robles & Denis Vega
Johnny V. and Theo Ford return to the house and the case of the mistaken identity is solved but the 24-hour debt is due. Johnny and Colton Grey offer to pay up but Theo Ford explains it's not money the Spaniards are after. In order to settle the debt, Dani Robles and Denis Vega must fuck Mr. Ferrand's tight virgin hole – and it must be filmed. When Ferrand flatly refuses all eyes turns to his doppelgänger, Colton. Ready for anything Colton and Johnny are all in! Passionate tongues dive down hungry throats as clothes fly off revealing chiseled, muscular bodies, perfect round asses, and giant rock hard cocks. Americans Colton and Johnny take one for the team while the Spanish studs fuck their faces and asses leaving no hole unfilled. Loads fly and are greedily licked up as the International fuck-fest comes to an end. Everyone gets laid, debts are paid, and dreams are made. Paris really is Perfect! There's just one more mystery for Colton to solve… who is this "Boss?" You might be surprised!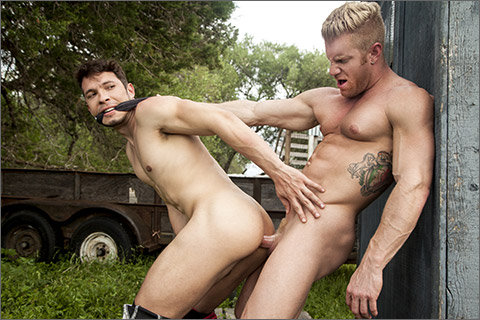 MXXX THE HARDEST RIDE: Johnny V fucks Gabriel Alanzo
The guys decide to stir up some trouble and take off speeding through the streets of Leander, Texas. Tom Faulk and Gabriel Alanzo cut through the Texas mini-mart parking lot and see their parole officer, Johnny V, enjoying a cup of coffee. Wise guy Tom zooms by and knocks the coffee cup out of the officer's hand – and its on! "Mr. Johnny" jumps in his generic government issued car and starts chasing the boys on their bikes. Tom ditches him but Johnny's on Gabriel's ass – literally. Gabriel tries to ditch him on private property but his bike stalls, giving Johnny enough time to jump out of the car and knock him off his bike. Officer Johnny strong-arms Gabriel on the hood of his car then drag him behind a shed where he teaches him a lesson – a lesson on eating ass and sucking cock. Johnny sniffles Gabriel's cries as he shoves his dick in his ass and fucks him then pulls out and shoots his load all over the sexy motocross rider's face. Nobody makes a fool out of "Mr. Johnny!"

ROUTE 69: Nate Stetson fucks Johnny V
Fane Roberts and Dustin Holloway have been riding on fumes, luckily the happen upon and lone gas station in the middle of the desert on Route 66. The smoking hot gas attendant equipped with his very own 70s handle bar mustache, Nate Stetson offers to fill them up, the pair eagerly agree. When Nate notices that the car is running a little hot, he has the guys pop the hood where he and the mechanic, Johnny V, take a look at what's wrong. After discovering that the dip stick is missing, Johnny drives the car into the garage where all the suggestive car talk gets Nate revved up. The two studs start making out and getting naked as Fane and Dustin look on in amazement. Nate is hard as a rock and can't wait to get some full service from Johnny's eager mouth. Johnny is hungry for what Nate has to offer and gets down on his knees to suck on the thick stick in front of him. Nate loves all the attention he's getting but doesn't want to be left out of the dick licking action. After sucking on the nice hard dick, Nate throws down the hood and bends Johnny over to give him a rim. When Nate senses that Johnny is ready to take him on, Nate shifts gears and pops his crank shaft deep inside Johnny's tight cylinder. It's a perfect fit and Johnny moans out in approval with every thrust that Nate doles out. After throttling Johnny over the car, Nate decides to go a little deeper inside Johnny's trunk and lays him out on the garage floor. Nate slips his dick deep inside and pumps away until Johnny blows a gasket and leaks a load all over his rock-hard body. That's all it takes for Nate to go with the flow as he pulls out and covers Johnny's ripped abs with a load of fresh, warm fluid.

EARTHBOUND – HEAVEN TO HELL 2: Andre Donovan as Dark Angel fucks Johnny V as Barfly
The Devil's Dark Angels have been sent to a sinful nightclub to capture and return Rogue who abandoned their master. In his quest for information, one of the Devil's Dark Angels, Andre Donovan, encounters a bar patron, Barfly. After learning what he needs to know, Andre decides to have some fun with Barfly. A single kiss snowballs into writhing and groping, which then turns into Barfly sucking Andre's massive cock. Moistening his fingers with spit, Andre probes Barfly's hungry hole, eager to sample its pleasures. Spreading Barfly's ass wide, Andre dives in tongue first and delivers a frantic rim job. Removing all his clothing, Andre slaps his huge cock across Barfly's ass, then presses it inside. As sweat glistens on their bodies, Andre picks up speed, pounding the hell out of Barfly. After doing it doggy style, Andre positions Johnny in a seated position, using gravity to bounce him up and down. Barfly's huge balls flop up and down as he rides Andre's thick fuck stick. When he climaxes, Barfly shoots a hot, white load across Andre's muscular thighs. Kneeling before Andre, Barfly eagerly licks the Dark Angel's cock and balls. His reward is a blast of cum to the face, and he gratefully uses his tongue to clean Andre's throbbing cock.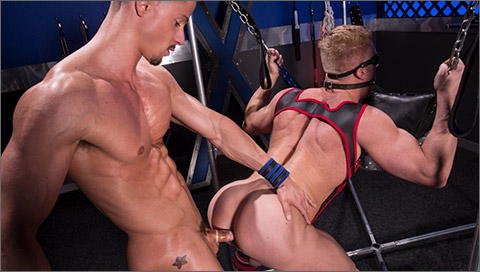 BLINDFOLDED: Skyy Knox fucks Johnny V
Skyy Knox and Johnny V make out passionately until Skyy takes control and throws Johnny in a sling with a blindfold on. Johnny hoists his legs in the straps with the help from Skyy giving him easy access to Johnny's awaiting hole. Finger, tongue, finger, tongue is the tease for this unknowing bottom. After a rigorous bow and rimjob, Skyy instantly shoves his thick tool deep inside Johnny. Moans and screams echo from Johnny as Skyy's thrusts get faster and harder. Skyy wants more so he rips Johnny from the sling and ball gags him before bending him over and slamming Johnny's lossened fuck hole. Unable to see or speak, Johnny jacks and shoots thick ropes of hard earned cum. Skyy empties his balls all over Johnny's face and chest and licks it off. Eventually, Johnny's blindfold and gag are removed and the two share a sweaty, cummy kiss.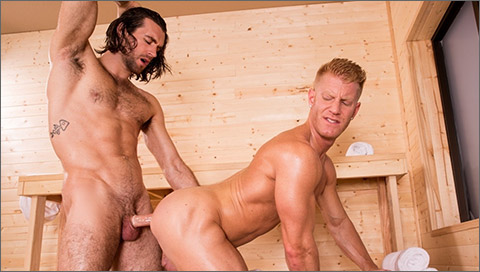 DEPTHS OF FOCUS: Woody Fox fucks Johnny V
With beads of sweat across their chests, things are heating up with Woody Fox and Johnny V in the sauna. Pulling the towel off his hairy, muscled body, Woody Fox reveals his enormous, throbbing boner. Eager to show himself off, ginger-haired muscle man Johnny V reveals his own enormous manhood as he leans over to swallow Woody's cock.
   As Woody's cock massages the back of Johnny's throat, Johnny's cock starts leaking precum in a long, dangling strand. Eager to get a taste of that, Woody goes down and wraps his lips around Johnny's cock while stroking himself. Thick spit lubes the shaft of Johnny's thick cock as Woody sucks, and Woody uses some of that spit to lube up Johnny's ass. Bending over, Johnny gives Woody full access for a slobbering rim job as even more precum drips out of Johnny's cock. Sitting down on the bench, Woody invites Johnny to go for a ride on his cock, and Johnny uses his thick, muscular legs to raise and lower himself on Woody's enormous dick. Switching to doggy style let's Woody show off his athletic thrusting as Johnny's hard meat swings through the air. As Woody fucks faster and faster, Johnny strokes his cock and shoots a massive, spurting load. Woody grabs his cock and blasts an enormous cumshot onto Johnny's firm ass cheek. With their session complete, Johnny heads off to hit the showers as Woody catches his breath in the sauna.

DEPTHS OF FOCUS: Micah Brandt fucks Johnny V
The photographer shoots action shots of muscle hunks Johnny V and Micah Brandt as they pose together on set. After the photographer calls 'that's a wrap', Johnny and Micah head back to wardrobe and get undressed. While stripping down, the two sneak glances at one another until they're both naked and rock hard, running their hands around each other's bodies. Micah is first to sink to his knees and slurp on Johnny's swollen member. When it comes time for Johnny to return the favor, he's left gagging and hurling strings of spit onto Micah's cock and balls. With Johnny's cock at attention, Micah switches his focus to Johnny's hairless hole. Slinking his tongue in and around Johnny's eager ass, lubing it up for the pounding to come. Once Johnny's hole is primed with spit, Micah mounts him from behind and pummels Johnny's butt while they're leaning against a mirror. Things get hotter when Micah throws Johnny on his back and pounds his prostate hard. Johnny takes every last thrust from Micah until he blows a massive wad all over his ripped physique. Micah whips his tool out of Johnny and adds his spunk to the collection of cum on Johnny.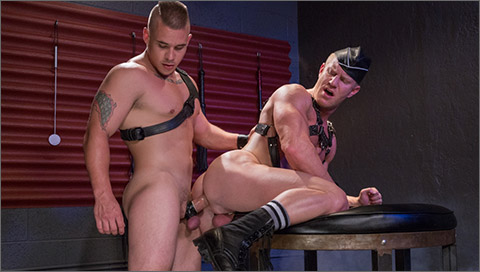 SKUFF: ROUGH TRADE 2: Adam Bryant fucks Johnny V
Muscly barber Johnny V is strapped in leather, and he's shaving tatted hunk, Adam Bryant's head as he strokes his cock in the barber chair. Adam's cock and balls bulge through his constricting cock ring during the haircut. Johnny checks his work, ditches his jock and hits his knees to polish Adam's boots and dick. Johnny lowers his wet mouth onto Adam's hard cock as he polishes his boots. Once Adam's cock and nutsack are coated in Johnny's spit, Adam bends Johnny over a padded Lazy-Susan and spreads his ass open wide to slink his tongue into. Licking from the tip of Johnny's cock, all the way up to his winking hole, Adam buries his face in between Johnny's cheeks. With Johnny's hole lubed up in spit, Adam glides his meat rod into Johnny's pink center with one swift thrust. Pounding from behind, Adam holds Johnny in place by his leather harness. Johnny switches to his back and gives Adam direct access to drill his prostate. Johnny's screams intensify until he loses control and explodes thick ropes of pearly white cum onto his washboard abs. Seeing Johnny climax sends Adam over the edge and he bursts his hot load all over the inside of Johnny's thigh.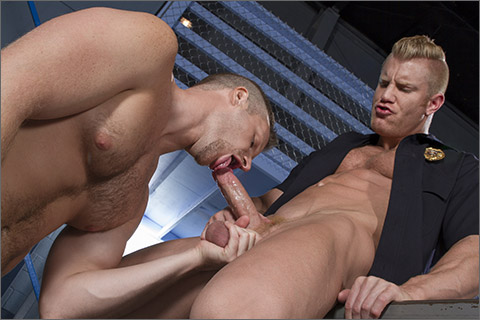 STIFF SENTENCE: Johnny V & Brian Bonds flip-fuck
While on the late-night shift, horned up officers Johnny V and Brian Bonds take some down time to watch some porn on the job. As Officer Johnny starts to stroke his cock, Office Bonds takes notice and wraps his warm mouth around Johnny's swollen member. The sex-hungry cops take turns gagging and choking on each other's meat. Officer Bonds bends over his desk and spreads his ass wide open for Johnny. Wasting no time, Johnny loosens up Brian's hole with his talented tongue. Officer Bonds desires something thicker, so Officer Johnny stiffs him with his rod. After pounding Officer Bonds' hole, Johnny's wants the same treatment. He positions himself to have his colleague eat his hot hole and fuck his ass with the same intensity. Officer Johnny rockets his spunk all over his ripped abs and Office Bonds adds his creamy load to the mix.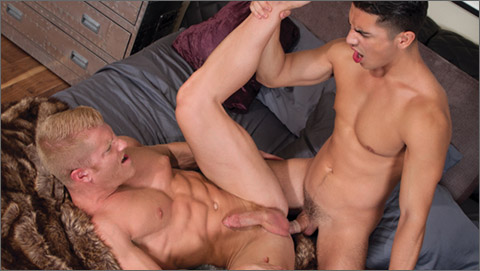 COCKSTAR: Lance Luciano fucks Johnny V
Lance Luciano is lounging in bed when his sexual desire walks into the room. Lance commands him to stop and strip, all the way down to his huge boner. Lance brings out his own manhood to stroke. Only then is Johnny V's face finally revealed. Their hot throats envelope each other's hard cocks. Johnny throws a leg across Lance's body like he's mounting a horse and lowers his hole onto Lance's fat waiting cock. Lance bucks and thrusts. Then he flips Johnny on his shoulders stand and plows him from above, his cock plunging vertically all the way in and out. When Lance finds the perfect angle and depth, Johnny's cock spurts thick ropes of jizz across his washboard abs, causing Lance to add his own giant load to Johnny's cum-spattered torso.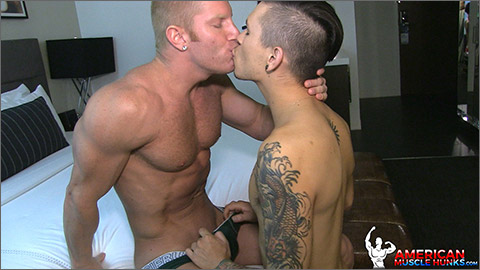 SETH KNIGHT FUCKS JOHNNY V
The HUNKS welcome Seth Knight into the ranks this week and he does not waste any time before pouncing on Johnny V's ass. They make out for a bit until Johnny cannot wait any longer to devour Seth's hot cock. Giving Seth head like only Johnny can do, Seth finds it difficult to resist Johnny's ass and bends him over the bed. Pounding his hole gets Seth close to blowing his load so he flips Johnny over and finishes Johnny off by making him blow a huge load all over himself and Seth follows with a massive load himself.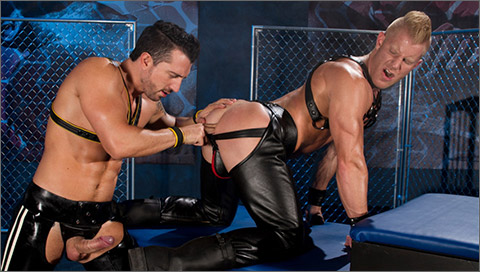 THE URGE – HUNTIN' FOR ASS: Jimmy Durano fucks Johnny V
Big-dicked Jimmy Durano paces the fence clenching his cock and biting his lip while he stares at blond, beefy Johnny V who is teasing his nipples and anxiously awaiting a playmate. Johnny abandons his lookout and rushes over to suck on Jimmy's thick uncut meat through the holes of the metal fence. Jimmy feeds Johnny his cock until it is sopping wet with spit. After Johnny is finished choking on Jimmy's dick, he bends over to let Jimmy finger his smooth, muscled ass. Jimmy pries Johnny's hole open and licks his fingers to get a taste. Eager to fuck, Jimmy gets behind Johnny and plows him doggy style shoving his cock in deep making Johnny scream 'fuck yeah' repeatedly. Jimmy spanks Johnny's perfect muscle ass as he thrusts harder and harder with each pump. To gain more leverage, Jimmy hooks his leg over Johnny's and digs balls deep. Johnny flips on his back and holds his legs in the air while Jimmy pounds away. Johnny finally releases his cock out of his jock and strokes it vigorously until he cums so hard he shoots his load on his face leaving Jimmy to spurt his load onto Johnny's flexing six pack.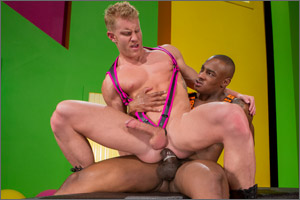 AFTER GLOW
SCENE 4: Tyson Tyler dildo-fucks / fucks Johnny V
With his godlike physique and his tight, willing hole, Johnny V is one of the hottest power bottoms ever, and he's giving top stud Tyson Tyler full access! With a giant yellow dildo – ribbed for his pleasure! – Tyson makes sure that Johnny's hole gets a good workout. If there's anything Johnny likes as much as bottoming, it's sucking dick, and he gives Tyson a blowjob for the ages! Tyson returns the favor, and spit drips like a waterfall off Johnny's huge cock and balls. The foreplay has both of them craving the ultimate sexual satisfaction, and Tyson delivers his ramrod to Johnny's clenching hole for a pummeling doggy style fuck. Sweat shines on Tyson's washboard abs and his muscular pecs as he delivers his spectacular cock to Johnny's ass. Craving even deeper penetration, Johnny squats down and rides Tyson's big, meaty cock while jerking himself off. Johnny shoots his huge load while he's still getting fucked, and after Tyson empties his balls they exchange a final, passionate kiss.
RON LLOYD'S LEGEND MEN
AMERICAN MUSCLE HUNKS
FALCON STUDIOS
RAGING STALLION
HOT HOUSE
NAKEDSWORD
CLICK HERE TO GO TO HIS RAGING STALLION BIO PAGE
JOHNNY V LEGENDMEN SOLO 3
JOHNNY V LEGENDMEN SOLO 2
JOHNNY V LEGENDMEN SOLO 1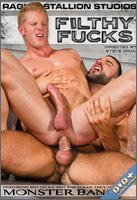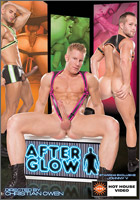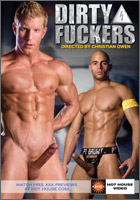 FUCK HOLE
SIDEWINDER
TOTAL EXPOSURE 1
AUTO EROTIC – PART 1
BANG ON!
FILTHY FUCKS
AMERICA'S FINEST
TAHOE: KEEP ME WARM (FVP-253)
NAUGHTY PINES – PART 2 (FVP-247)
TAHOE – COZY UP (FVP-252)
AFTER GLOW
DIRTY FUCKERS