Smooth Handsome American Gay Porn Star, Josh Conners
Years Active: 2012 – 2017
TWITTER @JoshConnersXXX
RANDY BLUE INFO:
Josh Conners is such an adorable guy. He falls into our Caleb Strong and Brett Swanson category. Youthful, handsome, and with a great body. He's got a very natural worked out kind of look, like you know he isn't in the gym every day. His sun kissed body shows a guy who is outdoors often and with the light musculature of his frame you can tell if he's outside he's probably playing sports or hiking. We shot him in his element, out in the sunshine surrounded by nature. He loved being naked in the woods and one gets the feeling that when he's alone and in an isolated area like this he's probably been naked like that before. Josh loves his body and knows how to make himself feel good. Letting his hands roam over this smooth skin, slippery with sweat and sunscreen, tweaking a nipple while his other hand slides effortlessly up and down the shaft of his hard cock. He flips around and takes a few minutes to finger his fuzzy hole. He's smooth almost all over, except for where it counts. And when the heat of the moment grew to fevered pitch he shoot long ropes of gooey cum all over that smooth chest of his.

PRIMAL: Bruce Beckham & FX Rios spit-roast fuck Josh Conners
Naked except for their black leather boots, three horny men indulge their primal urges. Hairy bodybuilder Bruce Beckham and tatted FX Rijos stand over smooth Josh Conners, who is crouching with his spread ass cheeks in the air. Bruce and FX take turns rimming Josh's perfect hole. Sweat glistens on their bodies, and Josh's balls hang low in the heat. Jumping up on the table, FX offers his massive meat for Josh to suck as Bruce begins to pound Josh's ass. Picking up speed, Bruce and FX spit roast Josh from both ends. Switching places, FX shoves his massive cock into Josh's stretched hole while Bruce strokes his girthy meat right above Josh's face. Bruce encourages FX to fuck Josh faster and harder, and FX reaches the point of no return. Pulling out, he strokes his shaft and blows a thick load on Josh's cock and balls. Bruce unleashes thick jets that splash across Josh's chest. Josh erupts with thick jizz that explodes on his torso, and Bruce and FX lean in once more above him for a kiss, their primal needs finally satisfied.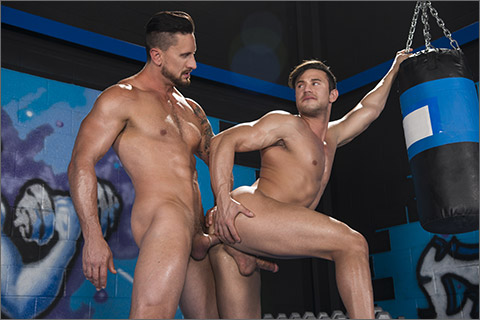 THE TRAINER: NO EXCUSES: Dakota Rivers fucks Josh Conners
Muscle hunk, Josh Conners, is training for boxing as he hits the bag and punch pads while Dakota Rivers eggs him on to go harder. It doesn't take long before they're both shirtless and making out with Josh running his mouth down Dakota's hot body and feeling his protruding cock. They both pull out their raging hard-ons and jack each other off before Josh drops to his knees to slurp up what Dakota has to offer. Josh goes deep to train his throat with loads of stringy spit and precum to lube it all up. Dakota has an agenda and is ready to get his new boxing client's asshole opened up with his tongue. He bends the hot boxer over with the boxing bag for support as he gets Josh primed and ready for some hardcore fucking. Without words, the hunks instinctively know what they both want next and Dakota takes the reins by slipping his thick, dripping cock deep inside Josh's open and throbbing hole. He pumps away as Josh's cock and balls dangle and swing between his legs with each thrust from his trainer's hard cock. Josh wants maximum penetration and lies back with his legs in the air to let Dakota plunge him even deeper. Josh remains hard all the way through the ass reaming and is ready to blow at any second. He wants to enjoy the full treatment and holds off as long as he possibly can. That's a tall order, and finally, with all the constant pounding, Josh's cock lets loose a torrent of cum that covers his heaving muscles and glistening body. Josh letting go of all his inhibitions is the cue that Dakota needs to follow suit. Dakota pulls out and blasts Josh's tight pecs with all the cum he can muster and the two kiss as both of their warm, white loads drip down Josh's ripped body and onto the floor.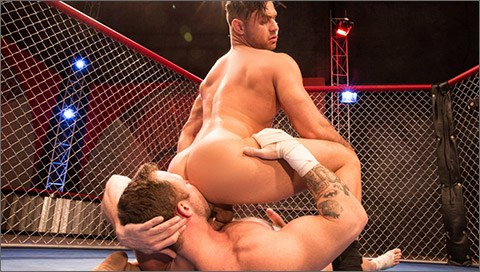 TKO TOTAL KNOCKOUTS: Austin Wolf fucks Josh Conners
Austin Wolf and Josh Conners face off in a fight of ultimate sexual conquest. In three rounds, Austin Wolf's imposing physique gives him the edge over Josh Conners, pinning him to the mat. When Austin wins the fight, he asserts his dominance with some breath play, controlling Josh's air with a hand against his throat. Claiming his prize, Austin plays with his nipples as Josh swallows Austin's massive cock. Bending down, Austin uses his finger to work his spit into Josh's ass. When Austin lies down on the mat, Josh sits on his face while sucking Austin's cock. Spreading Josh's cheeks wide, Austin saturates the tight pink center with spit. With Josh's hole ready, it's time to fuck! Getting down on all fours, Josh takes Austin's cock doggy style. Austin grabs both of Josh's arms and bends them behind Josh's back, pinning him to the mat. Austin then leans forward, bearing down on Josh's hole with the full weight of his body. Turning Josh over, Austin fucks him deep and hard until they're about to blow. Josh explodes with a thick load that puddles on his stomach. Kneeling over Josh's face, Austin aims his load right at Josh's lips and hits the bullseye. TKO scored.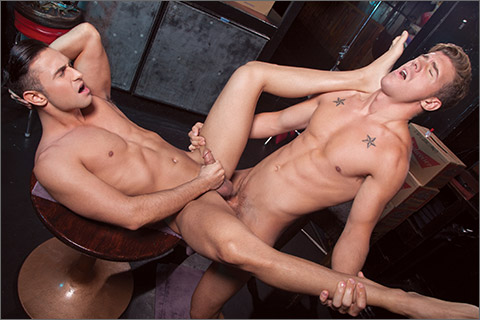 WILD WEEKEND: JJ Knight fucks Josh Conners
At the gay bar near their Russian River vacation house, JJ Knight and Wesley Woods are gossiping about their friends' hookups. So far JJ hasn't gotten any action during the weekend, but as Wesley reminds him, "The night's still young!" After taking a piss, JJ exits the bathroom and finds Josh Conners cruising the hallway. They lock eyes and retreat to a dark corner, where Josh slips off JJ's shorts and inhales his massive boner. Eager to explore Josh's ass, JJ bends him over, spreads his cheeks, and dives face-first into Josh's eager hole. After an intense tongue-fucking session, JJ stands up and thrusts his massive cock in doggy style, using a bit of spit for lube. Josh's sexy bubble butt ripples with every impact of JJ's energetic fucking. Flipping over to missionary position, Josh jerks his cock as JJ pounds relentlessly. As they approach orgasm, Josh kneels on the floor, making himself the target for JJ's load. With massive spurts, JJ launches his cum and coats Josh's neck with drippy semen. The epic cumshot sends Josh over the edge, and he splashes his load onto the floor of the bar. After trading their final kisses, JJ makes his way back to hang out with his friends. "You smell like sex!" exclaims Wesley boozily. JJ notices his cousin, Brute, hanging off of Ryan Rose, who was JJ's best friend and roommate in college. JJ asks Wesley, "What's up with them?" "While we were asleep earlier, they fucked!" slurs Wesley. "Can you believe that?" JJ doesn't take the news well; he slams his beer down and storms out, leaving his best friends stranded at the bar!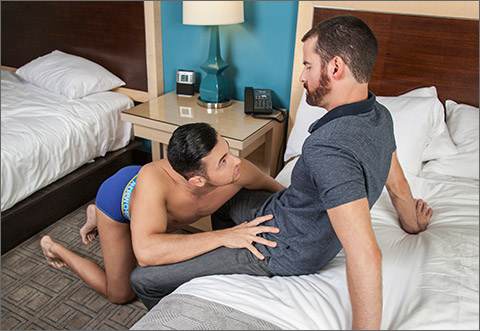 BRENDAN PATRICK DUMPS A LOAD INSIDE OF JOSH CONNERS
Brendan Patrick is alone in his hotel room and starts perusing the websites for some "fun". He decides that he wants to get a lap dance. Just him and a dancer. He orders Josh and soon Mr. Conners is knocking on his door. Josh enters expecting to see a party, and is surprised to see just Brendan there. Josh tells him that he is not a hooker. Brendan tells him hat he only wants a dance. The music turns on and the seduction begins. But who is seducing who? As Josh gets naked, he starts to get aroused by Patrick and his hot scruffy muscles. He gets hard and soon Brendan is licking his cock through his underwear. Josh breaks his rules, and starts taking the clothes off of Brendan too. The next thing he knows, Brendan is sucking his cock. This is no longer a dance, but a fuck. And after rimming that bubble butt of Josh, Brendan asks to fuck him. Josh just sits on him. And they have some hot bareback fucking. Going from bed to bed and position to position until finally Brendan breeds him full of his cum. Be sure to check out he full gay porn trailer of the hot bareback action here at Randy Blue.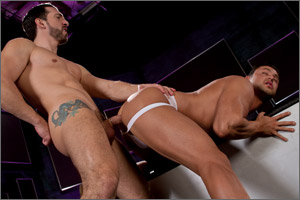 DOUBLE KROSS (FEG-007)
SCENE 1: Jimmy Durano fucks Josh Conners
Handsome muscle-stud Jimmy Durano is sporting a full, black beard. Handsome Josh Conners erotically slides his torso up against Jimmy. While they rub their jock strap-covered cocks together, Jimmy spits in Josh's mouth. Using Jimmy's own spit, Josh wets Jimmy's nipples and pits with a stimulating tongue bath. The pouch of Jimmy jock looks ready to burst, but Josh doesn't give it the chance to. He yanks it down and dive-bombs full on to Jimmy's cock with his wet mouth. Josh's tan buns beg for attention, showcased in the white elastic of his jock strap, and they look better when Jimmy plants his tongue between them. They both straddle the back of a bench for Jimmy to give Josh the massive shaft. In a change-up, Josh lands on his back, displaying his hard cock as he takes Jimmy's slamming dick. Jimmy keeps thrusting until Josh squirts across the inside of his thigh. Then Jimmy grabs Josh by the scruff of the neck and feeds him his spunky load.
CLICK HERE TO GO TO HIS HOT HOUSE DETAILS
CLICK HERE TO GO TO HIS RANDY BLUE DETAILS