American Fetish & Fisting Gay Porn Star, Preston Johnson
Years Active: 2013 – 2017
BREED ME RAW INFO:
Age: 25
Height:
Cock Size: 7″
Sexual Orientation: Gay
Nationality: American
Prefers: Bottom
Likes:
WOOF!! That is all I can say with Preston Johnson. I got a hot one here let me tell you. This hot Midwestern muscle boy, tattooed and a total slut bottom. This fucker is one in a million. He loves sucking cock and can actually deep throat pretty good. I know cause I tested his mouth on my cock first thing! Flip him over and he has a sweet muscle boy butt that loves to have his cheeks spread and just spit and shove your raw cock into his hole and make this slut hurt. He loves being gang banged too. Even better you can blind fold him and let me him take any huge cock. Trust me he still won't be satisfied!!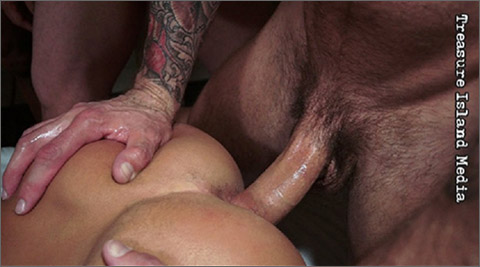 BAD SEED: THREE MEN & A SIDEKICK FUCK A VEGAS WHORE
Wanna watch a true manwhore take a roomful of studs? Here you are.
   Preston Johnson has done a good amount of porn, but his real claim to fame is as a "yeah, I'll do that" whore in Sin City. There's nothing—literally nothing that this whore-hole hasn't taken.
   We teamed up three big ol' buckaroo studs, Drew Sebastian, Jerry Stearns and Niko. Drew brought along his tagalong sidekick, adorable boy-man, Max to give him a chance to sample what a world-class whore can put out.
   The fucking is wild, wanton and wooly. There's plenty of tag-team, massive double-penetration, ass-to-mouth filthy fuck action. And after all the big boys have jizzed to their dicks' delight, Max, the sidekick, gets to climb on top of the whore and pump 'n' dump while the big guys egg him on.
   Incidentally, this is Niko's first appearance in a porn vid. He's been wanting to be in a TIM video for a good while but it never worked out. When Pony told him about this gang bang, the guy literally hopped on a late-night Greyhound bus and slept outside our office until we opened up. He doesn't speak a word of English, but his big dick and solid fuck-talent made him a true blue-ribbon side of beef.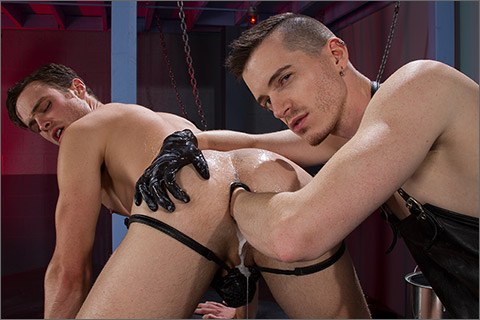 O.F.D. – OBSESSIVE FISTING DISORDER – PART 2: Brandon Moore fists Axel Abysse
Axel Abysse crouches on a fisting bench with his ass in the air, showing off his Prince Albert, his pierced taint, and his heavy metal cock ring. Brandon Moore gloves up and starts hole-punching Axel, alternating quickly between hands. As Brandon picks up speed, flashes of Axel's red guts start to appear in his gaping man cave. Suddenly Axel pushes out his blooming rosebud, and Brandon smears it with lube. His sphincter stretching wide, Axel grinds his piggy hole even deeper around Brandon's fist. Flipping on his back, Axel reaches down and uses both hands to stretch open his bowels and massage his giant rosebud with his fingers.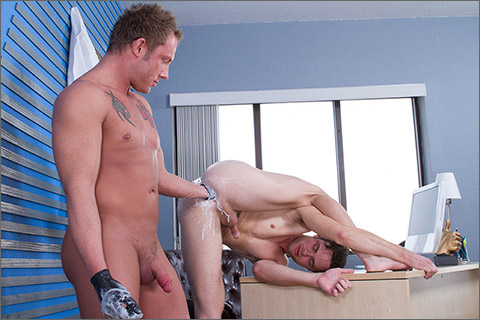 O.F.D. – OBSESSIVE FISTING DISORDER – PART 2: Preston Johnson fists Brandon Moore
Brandon Moore obsessively fondles Preston Johnson's hands. They tell Dr. Strangeglove that they are finally happy now that they've found each other, since each can keep up with the other's obsessive need for fisting. 'Well, this case of 'Obsessive Fisting Disorder' is closed,' proclaims Dr. Strangeglove, slipping away to allow Brandon and Preston some privacy. Brandon greedily opens Preston's trousers and gives him a nice slurping blowjob. Preston tongue-fucks Brandon's ass as Brandon bends over the desk. Slipping on his gloves and lubing up his hands, Preston gut punches Brandon's hole all the way to the wrist. Brandon's eyes roll back in his head as he gets opened up, putting one leg up on the desk to give Preston total control. Preston starts going faster, alternating hands. Rolling on his back, Brandon starts jerking his cock. With one hand fully inserted, Preston teases Brandon's rear end with his other finger. Brandon's sphincter stretches wide open, showing his hot red guts.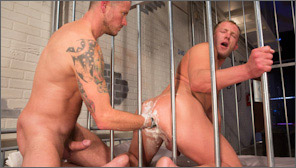 LONG ARM OF THE LAW 1: Max Cameron fists Preston Johnson
There's nothing subtle about Preston Johnson. He's cut a hole in the ass of his orange jumpsuit and pushed his big bubble butt up against the bars of his cell directly next to Max Cameron. Max takes the bait by sticking his fingers up Preston's hole, prompting the young inmate to turn around and suck Max's huge cock right through the bars. Max feeds Preston his thick dick while he fingers his hungry hole. Preston pulls a bag of lube and rubber gloves out from under his bunk and begs Max to shove his hand up his ass. Max greases up and works one hand in, then the other, until he's massaging Preston's prostate with both hands. He continues to give Preston a ride on his forearm until it's time for inspection. Max pulls off the rubber gloves and shoves them entirely up Preston's sweet hole, until next time.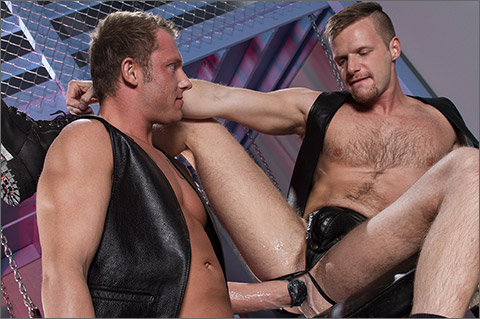 O.F.D. – OBSESSIVE FISTING DISORDER: Preston Johnson fists & fucks Brian Bonds
Brian Bonds goes to Dr. Strangeglove's office with his boyfriend Preston Johnson for a session to get help with his O.F.D. – Obsessive Fisting Disorder. As part of Brian's therapy, the doctor puts them in a dungeon and turns them loose. Brian is first to get on his knees and suck Preston's cock to the base. After choking on his boyfriend's fuck-stick, Brian mounts up on a sexual Lazy Susan and gets rimmed and finger-fucked by Preston. Brian's hole quickly falls victim to Preston's fat fist plunging in and out of him. To get a better angle, Brian gets on his back and lets Preston reach in deeply.
ENDLESS STREAMING MEMBERSHIP: TREASURE ISLAND MEDIA @ NAKEDSWORD