American Fetish & Fisting Gay Porn Star, Preston Johnson
Years Active: 2013 – 2016
TWITTER @PrestonJohnsonX
BREED ME RAW INFO:
Age: 25
Height:
Cock Size: 7″
Sexual Orientation: Gay
Nationality: American
Prefers: Bottom
Likes:
WOOF!! That is all I can say with Preston Johnson. I got a hot one here let me tell you. This hot Midwestern muscle boy, tattooed and a total slut bottom. This fucker is one in a million. He loves sucking cock and can actually deep throat pretty good. I know cause I tested his mouth on my cock first thing! Flip him over and he has a sweet muscle boy butt that loves to have his cheeks spread and just spit and shove your raw cock into his hole and make this slut hurt. He loves being gang banged too. Even better you can blind fold him and let me him take any huge cock. Trust me he still won't be satisfied!!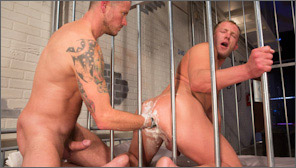 LONG ARM OF THE LAW 1: Max Cameron fists Preston Johnson
There's nothing subtle about Preston Johnson. He's cut a hole in the ass of his orange jumpsuit and pushed his big bubble butt up against the bars of his cell directly next to Max Cameron. Max takes the bait by sticking his fingers up Preston's hole, prompting the young inmate to turn around and suck Max's huge cock right through the bars. Max feeds Preston his thick dick while he fingers his hungry hole. Preston pulls a bag of lube and rubber gloves out from under his bunk and begs Max to shove his hand up his ass. Max greases up and works one hand in, then the other, until he's massaging Preston's prostate with both hands. He continues to give Preston a ride on his forearm until it's time for inspection. Max pulls off the rubber gloves and shoves them entirely up Preston's sweet hole, until next time.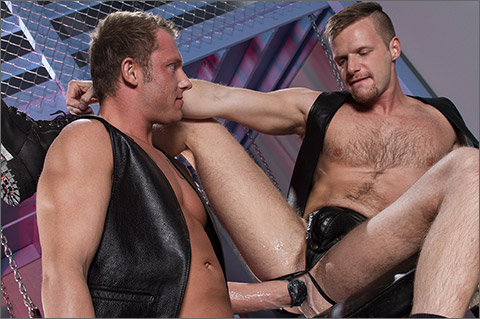 O.F.D. – OBSESSIVE FISTING DISORDER: Preston Johnson fists & fucks Brian Bonds
Brian Bonds goes to Dr. Strangeglove's office with his boyfriend Preston Johnson for a session to get help with his O.F.D. – Obsessive Fisting Disorder. As part of Brian's therapy, the doctor puts them in a dungeon and turns them loose. Brian is first to get on his knees and suck Preston's cock to the base. After choking on his boyfriend's fuck-stick, Brian mounts up on a sexual Lazy Susan and gets rimmed and finger-fucked by Preston. Brian's hole quickly falls victim to Preston's fat fist plunging in and out of him. To get a better angle, Brian gets on his back and lets Preston reach in deeply.
HOT HOUSE
HOT HOUSE CLUB INFERNO
BREED ME RAW
DARK ALLEY XT
TREASURE ISLAND MEDIA
SX VIDEO
HOT BAREBACKING