Handsome Bubble Butt GoGo Dancer and Gay Porn Star, Dann Grey
Known Aliases:
Years Active: 2019 – 2020
KRISTEN BJORN INFO:
Nationality: Paraguay
Height: 5'7?
Weight: 165 lbs
Dick: 7" (17.78 cms) uncut
Position: Bottom
Dann Grey is very the very handsome real life partner of Klein Kerr. He is polite, soft spoken, and very sexy.?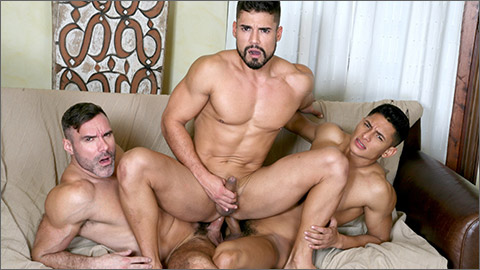 3 AMIGOS: MANUEL SKYE, DANN GREY, SANTIAGO RODRIGUEZ
Behind the simple, unidentified yellow door lies a man with a deep desire to bring his 2 friends together, that man is Manuel Skye and his friends Dann Grey and Santiago Rodriguez. Manuel has fantasized about getting together with Dann and Santiago for a very long time and today that fantasy becomes his reality. When the guys meet up it is very evident that their jeans are working overtime to restrain their bulging cocks. As their cock's serge into freedom they are greeted by welcoming friends. Manuel takes to the high ground as Santiago and Dann build the ladder of cock sucking. Santiago takes Manuel's perfectly chiseled cock into his mouth and begins sucking on it as Dann takes a knee and consumes Santiago's huge cock deep into his mouth. Dann rises and he and Santiago begin getting their mouths fucked simultaneously by Manuel's handsome cock. The guys swap up and Dann finds himself with a very important task and that is to prepare Santiago's ass by giving it a royal rimming and sucking on Manuel's cock to prepare him for total penetration. Manuel steps forward and gently slips his rock-hard cock into Santiago's raw ass. Dann steps in periodically to refresh the spit on Santiago's ass and Manuel's cock to keep the hot fucking wet and raw. Swapping up again, this time the guys find themselves riding the fuck train as Dann is fucked by Manuel and Manuel is fucked by Santiago. This train is pumping a lot of cock into one ass after the other. Manuel slams his cock deep into Dann's ass and can feel Santiago's cock head teasing his ass and as he retracks he feels Santiago's huge cock split his ass open. The ultimate pleasure is unleashed upon Dann's beautiful ass as Manuel and Santiago fuck him in a raw double penetration. The rhythm builds as Dann finds his groove and begins to ride both cocks hard. Dann is unable to resist the intense pressure building in his ass and explodes a huge, thick load of cum as Santiago and Manuel continue their fucking. Dann rises up, scoops up his cum and coats both cocks with it and lowers his ass onto the cum soaked cocks again. Manuel takes his and Santiago's cock into his hand and strokes out both their loads and Dann is right there to lap up both men's loads of cum. Now this is how you gather 3 Amigos together.
CLICK HERE TO GO TO HIS KRISTEN BJORN DETAILS
VIDEO ON-DEMAND: Dann Grey @ AEBN SMUTJUNKIES THEATER
DVDs & ON-DEMAND: Dann Grey @ TLA VIDEO