Blond Hung Firefighter American Next Door Studios Gay Porn Star, Pierce Hartman
Years Active: 2014 – 2016
TWITTER @PierceHartman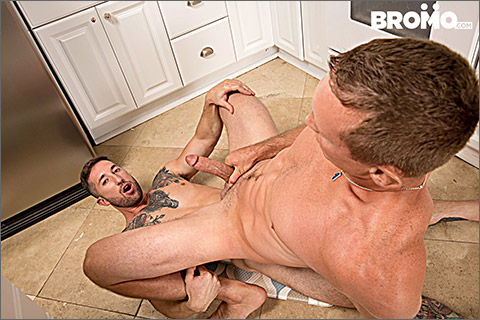 THE INTRUDER: Brad Powers fucks Pierce Hartman
In the first installment of The Indruder series, Pierce Hartman is putting the final touches on his cake when Intruder Brad Powers comes through the backdoor. Pierce offers more than a piece of cake, and soon finds himself face down and filled up by Brad's huge cock.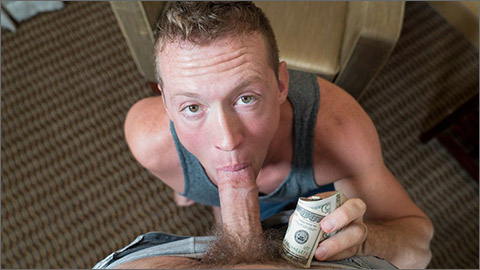 STR8 CHASER: PIERCE
I found Pierce jogging in the park, and his pretty face and muscular physique attracted me to him right away. I knew getting him to do what I wanted would come at a high price but he was worth it. His juicy mouth and plump ass were better than I could imagine. Hope you enjoy as much as I did.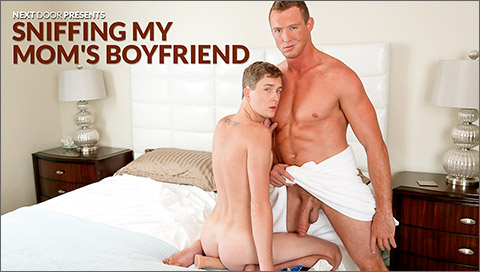 SNIFFING MY MOM'S BOYFRIEND
Preston Burgess is so tired of hearing his mom and her boyfriend fuck! Her room is right next to his and their amorous, nocturnal activities have been keeping him up lately. But it's not only the fact that he can't sleep. You see, Preston has become jealous of his mom. Her boyfriend, Pierce Hartman, is one of the hottest guys Preston has ever seen. He wishes he could get the kind of hard pounding he hears his mom taking every night!
   When Preston wakes up on a weekend morning, he's surprised to happen upon a nude Pierce making coffee in the kitchen. Pierce doesn't see him, so Preston watches quietly, from behind a cracked door. When Pierce finishes and heads off to the master bathroom for a shower, Preston follows. He continues his morning of peeping by watching Pierce in the shower for a little while.
   While Pierce is occupied, Preston takes the opportunity to sneak into his mom's bedroom and sniff all up on Pierce's underwear. Oh, they smell just like he expected! While poking around in there, he also sees a dildo under the bed.
   When Pierce returns to the room, he finds Preston with the underwear on his face and the dildo deep in his ass. As Preston strokes his cock, Pierce hears him saying how he wants Pierce to fuck him. Preston realizes Pierce has returned and is quite startled. 'I didn't hear the shower turn off!' is all he can blurt out.
   Pierce tells him to relax, because he won't tell Preston's mom. Instead, he takes a cue from Preston and gingerly takes Preston's cock in one hand and cautiously continues the dildo banging with the other. Preston can't believe what's happening! But he's not about to stop it, that's for sure.
   From there, the two become engaged in passionate kissing. It's not long before Pierce is sucking on Preston's happy, stiff cock. He goes from enjoying that dick, to licking Preston's tight, Twink hole. After a while, Preston returns the favor by slurping on Pierce's fat dong, the same one he's fantasized about for months!
   Then Pierce has Preston turn around and take Pierce's big dick, right in his tender ass. What happens next is even more than Preston could've dreamed. Check out this cock-hungry Twink getting just what he wished for when his mom's incredibly hot boyfriend decides to take advantage of the perfect situation. It's the good, hard fucking he deserves for putting up with all the late-night noise!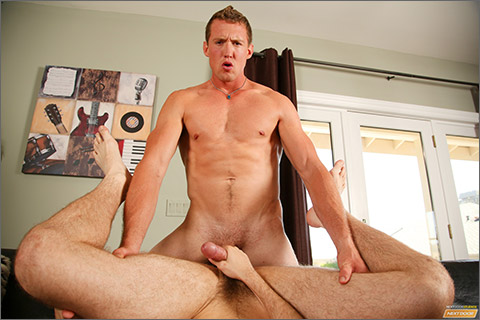 BROTHERLY SECRETS – PART 2
With their parents gone for the day, Pierce Hartman lays around as his step-brother sneaks into his room to poke around. Duncan Black is definitely the mischievous brother, and he's constantly pushing Pierce's buttons to try and get a rise out of him. Today is no different, as Duncan skulks around Pierce, teasing and mocking him. Duncan slowly caresses Pierce's smooth skin and works his way down to his cock, playing with it lightly before taking it all the way into his mouth. Pierce stirs a bit but continues Duncan continues his sultry seduction, working Pierce into a semi-hard state. Pierce's body is already telling him to finish what his brother started, so Pierce pushes Duncan back down to continue the blow job, before pulling Duncan up and letting him sit on his face. Duncan rides Pierce's face like that, as Pierce tongue-fucks his hole, moistening it up for Pierce's big cock, which he plunges deep into his step-brother. Pierce proceeds to fuck Duncan with all the built up tension that can only happen when you are family, and Duncan takes every pounding inch with glee, before losing his load all over himself as Pierce pulls out and wets his step-brother with a well earned load and a promise to keep everything quiet until the next time the parents are away. We'll see if Duncan obliges.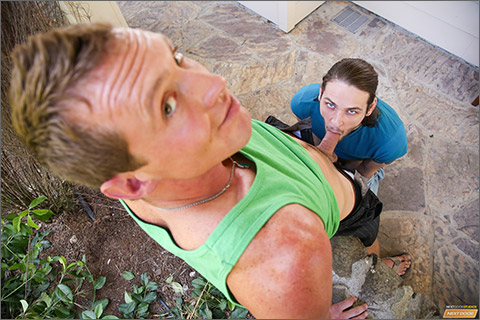 BROTHERLY SECRETS – PART 1
Neither Pierce Hartman nor Duncan Black are particularly thrilled about their parents marrying. Both step-brothers are finding that the arrangement cramping their styles. For Pierce, it's hard enough just trying to find a quiet place to jerk off anymore. So when the parents take off for the day, Pierce decides to take advantage with a little quality personal time. But Duncan catches him as he's heading out, and senses that his step-brother is up to something, so as Pierce creeps around the corner to find some privacy, Duncan lurks not too far behind, stealing a view of Pierce as he whips out his giant cock and begins thumbing through the pages of his mag. Duncan pulls out his cock and he's rock hard just watching, stroking it as he imagines what it would be like to sit on Pierce's chubby.
   Consumed by his desire, Duncan throws caution to the wind, and creeps up on Pierce as he strokes away, eyes closed. Duncan reaches out and grabs Pierce's cock, who is immediately startled and initially freaked out by the whole scene, but Duncan assures him there is no problem, and that it could be mutually beneficial.
   Pierce is so horny that he gets to a point where he doesn't even care anymore, so long as he busts his nut, and seizing on this opportunity, Duncan falls to his knees and immediately begins sucking off his step-brother. Pierce is new to the whole experience, but the better Duncan sucks him off, the more and more he warms up to the idea, so he offers to return the favor on Duncan. Duncan lays out on a stone wall while Pierce goes down on him, eyeing his sweet hole as he fills his mouth with cock. Duncan closes his eyes and grabs the side of the wall as Pierce slobbers all over him, but what he really wants is Pierce's sweet cock inside him, so he bends over and lets Pierce enter from behind. Pierce grabs Duncan by the back of the neck and pounds away at his perfect little bubble butt, before sitting down and letting Duncan ride him. Duncan grinds on Pierce's cock and it fills him up inch by inch, and as Pierce pounds away, Duncan strokes himself feverishly, losing his load as Pierce pulls out and blasts him with his own long-overdue load. As both brothers clean up, they exchange a knowing look that this is one secret they'll both be glad to keep.
COCKTAIL SEDUCTION
BUDDIES AUDITION: PIERCE HARTMAN
BROMO
REALITY DUDES NETWORK
NEXT DOOR STUDIOS
CLICK HERE TO GO TO HIS NEXT DOOR STUDIOS BIO PAGE