Bentley Race Aussie Mate Gay Porn Guy, Matias Toledo
Known Aliases:
Years Active: 2016
BENTLEY RACE COMMENTS / INFO:
Living in one of the largest cities in Australia means I get to meet lots of young guys travelling from all over the world. A couple of weeks ago I got an email from this 25 year old guy called Matias. He sent me a couple of photos of him standing on a Californian beach with a surfboard wearing a pair of board shorts. He looked pretty cute. So I invited him around to my studio for a meet and shoot session. He had never modelled naked before but was very keen to give it a go. It turns out that Matias has South American parents and grew up in Southern California. And as well as having an amazing surfy rock hard body, he's an absolute sweetheart too. This shoot went on for a long time because we were having so much fun taking lots of photos. Eventually I grabbed the video camera to catch my beautiful new mate jerking off. Matias is only in Australia for a few more days. I'm hoping to get one more shoot done with him before he leaves us.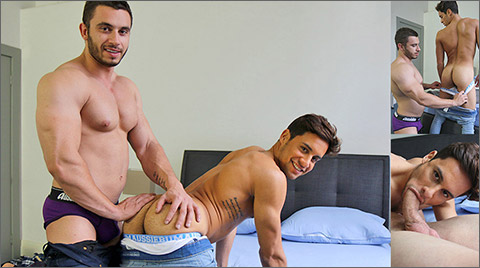 MATIAS GETS A MUSCLE MASSAGE AND MUCH MORE FROM JAMES NOWAK
The very sexy surfer boy Matias gets a full body massage from our hunky mate James. It didn't really matter what these guys did in this video, I knew the action was going to be hot. The guys were already horny for getting each other naked during the photoshoot. It's not long in to his massage when Matias starts pulling out James' big dick from his undies. You can see James is already excited as his fat cock falls out and Matias quickly puts it in his mouth. James returns to the favour, going down on Matias' throbbing cock. The guys eventually move over to the bed where there is lot more kissing and cock sucking. What an amazing hot video between my incredibly fit mates. I could film these guys rolling around on my bed again and again. I will also post the BTS video from this scene very soon. In the meantime you can enjoy all of James and Matias's videos right now.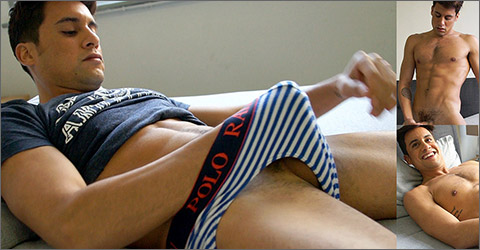 MATIAS TOLEDO'S FIRST PORN VIDEO
Having finished his first nude photoshoot my sexy new mate was ready to put on a hot show for me as I grabbed the video camera. Matias already looked amazing in the photoshoot which i directed. It was time to see what kind of show this hottie would put on while I filmed him. Laying back on the bed Matias begins playing with his cock through his undies while watching porn on the TV. It's not long before he strips completely naked and strokes his cock rock hard. I make sure I film him from every angle as his muscles flex as he wanks. When he's completely name he positions the pillows on the bed and starts humping them giving me a hot bum pumping show. When he rolls back over I can see that his cock has gotten really fat. He's playing with it a lot more now and then starts stroking it a lot faster. It's not much longer before my super fit mate is blowing a hot load of cum across his belly. It's a really nice and hot video from Matias. And a very hot show considering it's the first time for him stroking naked while being filmed.