Bentley Race Aussie Mate Gay Porn Guy, Ben Hart
Known Aliases:
Years Active: 2016
BENTLEY RACE COMMENTS / INFO:
Staying in Australia this year has meant that I have gotten to meet many more Aussie boys to shoot with. The most recent of the new guys I have met here in Melbourne is the beautiful 23 year old Ben Hart. I was actually a little bit awkward with this guy because I was so distracted by his looks. He turned up wearing a tight pair of pants showing off a really perfect bum. I could go on about that a lot. But I really should talk about the shoot. Ben is a 23 year old Aussie living in the outer suburbs of Melbourne. He was a bit shy about being photographed. But he soon settled in to pulling a bunch of poses as I directed him through the shoot. And as I suspected, he has got one seriously hot body. A perfectly clippered chest and tight abs. Of course I got a lot of shots of Ben laying naked on the bed so I could get shots of that bum sticking up in the air. By the time we finished taking the photos I felt really comfortable shooting with Ben. But it turned out that the photos were pretty tame compared to what was about to happen in the video. I will post Ben's first video later this week. In the meantime drop in and check out our newest mate's photos.During Melbourne's winter I found a few alternative venues for the guys to keep warm while still having some horny fun. This was 22 year old Ryan Kai's warm up photo shoot when we met up in the city recently. Ryan had picked out this "tie up" Aussiebum speedo to try out during this shoot. He quickly slipped in to the soapy water to warm up while I grabbed the camera to take some shots. I could tell that he was getting turned on as he started untying the speedo to reveal his stiffening cock. I made sure I got plenty of photos of Ryan's big round bum as well. The shoot was horny as all hell! Eventually I got some full erection shots of my cute mate on the steps up to the hot tub and again on the bed before heading back to the tub to pop some champagne. I told you this was a fun shoot. I could tell that Ryan was ready to get off by now, so we headed back to the couch to film his hot fleshlight fucking and jerk off video. Ryan has quickly become one of our favourite straight mates getting off at Bentley Race.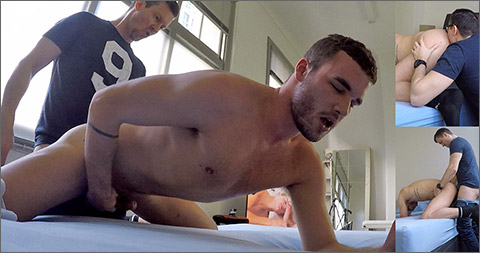 I GOT TO FUCK BEN HART IN HIS VERY FIRST PORN VIDEO
This is the video I made with my handsome new mate Ben Hart. Like all new guys Ben was doing his first video as a solo scene. But things started to get pretty hot between Ben and I and it wasn't long before I was pulling my own cock out for Ben to play with. My beautiful mate has got such a nice arse. So I quickly moved around so I could kiss and tongue fuck his hole. This was really getting Ben turned on. I could tell what was going to happen next. I'm not really in the videos much anymore, but today I was going to make an exception to fuck Ben. I really wanted to fuck him until he cums. This is my favourite thing about fucking guys. So I got busy and slammed that bum again and again until Ben was squirting cum across my bed. I can't think of any better way to finish Ben's first shoot. He was pretty happy too. I like Ben a lot and I'm hoping he will shoot some more hot scenes over this summer.