Hung Blond Czech Gay Porn Star, Lucas Morrison / Julian Fox
Known Aliases: Czech Hunter 266
Years Active: 2016
RANDY BLUE INFO:
Lucas Morrison has a baby face. He has those innocent hazel eyes and scruffy dirty blonde hair. But once you take a gander down to the bulge in his underwear, you will see there is nothing innocent about this kid. He is 18 years old but already knows how to fuck like a champ. And with a monster 9 inch uncut cock, he is a force to be reckoned with. Watch him get down and dirty. Watch him suck dick and deep throat uncut European cock like a pro and shove his cock inside a hungry raw hole until he has to cum.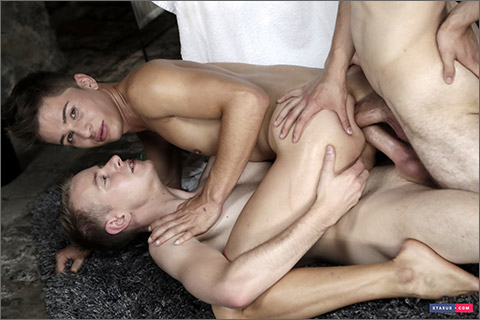 TOUCH MY MEAT: ANGEL LOPEZ GETS TWO COCKS SHOVED UP HIS OVER-MASSAGED HOLE
Most guys only get one fellow to give them a rigorous rubdown; but, as we all know by now, Angel Lopez isn't just your ordinary, run-of-the-mill fellow. Fact is, he's the kind of young man who could very easily have a queue of would-be massagers – and on this occasion it's the all-too-lucky Milan Sharp and Julian Fox who get the honour. What horny gay man wouldn't give their hind teeth to exchange places with them? As it is, however, the rest of us mere mortals must simply marvel at their good fortune; as they oil his sweet, Latino flesh and very slowly make a move on that gorgeous, uncut cock that they know is nestling in his crotch.
   Of course, it isn't too long before any pretence of a normal massage is abandoned; with Sharp producing a big black dildo, which he unmercifully prods into the youngster's all-too-eager ass-hole. That's just a prelude for what it to come, however, given that by this point both Sharp and Fox are quite literally gagging to thrust their own dicks into Lopez's hole; and indeed there's almost a gasp of relief when Sharp finally buries his oversized schlong into its natural resting place.
   Anyone expecting this to be just your average threesome is in for a mighty big surprise, however. For Lopez is a slut extraordinaire; and having enjoyed every inch that Sharp can muster, he's encouraging Fox to join the fun. Cue a truly amazing double-penetration, which will no doubt seriously risk a premature climax from the entire viewing population; before all three lads cream like fury, most notably Sharp into Lopez's now over-worked boy-cunt!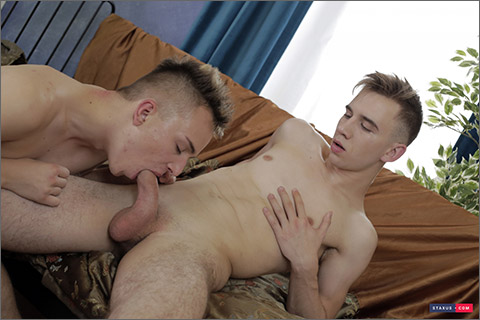 BAREBACK FUCK DATE: HORNY PUPS RELISH A MOUTHFUL OF HARD COCK & A TIGHT FRESH ASS
Fresh-faced contestants don't come any cuter than Julian Fox and newbie, Mark Flynn – and there's no doubt in our mind that audience figures are gonna be heading into the stratosphere when these two beauties begin to get to know each other better at the start of this spunk-inducing set-piece. Fox, in particular, clearly can't get enough of new cock as he dives straight into his buddy's shorts and wraps his tongue around Flynn's swollen head. But there's no denying that Flynn's appetite is equally on the ferocious side – a fact that's underlined when the two lads 69 each other like a couple of horned-up sluts, rimming arse and devouring dick like it's going out of fashion.
   If the sight of these two whores hugged together in a ball, pleasuring each other for all they're worth, doesn't get you into some primeval lather then we genuinely don't know what will. What is more, the intensity of the pairing only seems to increase when Fox eventually takes mastery of the situation and ploughs his meaty shaft deep into Flynn's virgin ass – a move that leaves the newbie wreathing in obvious delight!
   No question about it, folks, this young cock-lover can't get enough of Fox's joystick; taking it in a whole series of positions, before the doe-eyed cherub finally jumps off and both boys work themselves into an ecstatic frenzy. First Fox, who jerks out a terrific wad whilst Flynn blows him off; then Flynn in return, who yanks his aching ramrod to bliss and back, dumping a fine blast of baby-batter all over his belly in the process. Leaving both lads to enjoy a sensuous, sign-off smooch.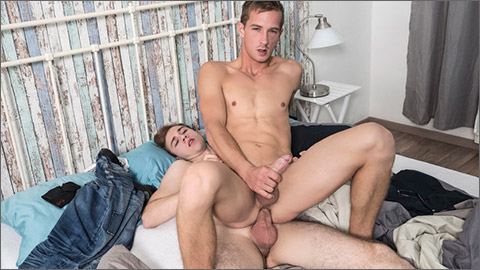 TOMAS ADAMEC GETS FUCKED RAW BY THE MONSTER 18 YEAR OLD COCK OF LUCAS MORRISON
Who needs Grindr when there are hot as fuck guys hanging out at the park? Tomas is sitting on a park bench minding his own business, when sexy 18 year old Lucas Morrison walks by. Lucas gets a look at Tomas and decides he wants him. Lucas sits down next to Tomas and gives him a hard stare. Tomas is confused. Does he know this person? Lucas gets up and motions Tomas to follow. Finally Tomas realizes that he is being lured to fun gay fucking with this hot young teen ager. He follows eagerly and soon they are back in Lucas' bedroom sucking face and getting naked. Once they are fully nude they begin to suck each other off. Both have huge thick uncut cocks that they barely can fit in each other's mouths. Tomas has a better idea. If it can't fit in the mouth, then lets try to sit on it. And he does. Tomas rides Lucas' hard cock bare and raw. They fuck in as many positions as they can before Tomas lets loose ropes of hot cum as Lucas pounds bareback into him. Then Lucas pulls out and cums and shoves the cream back inside giving Tomas a hot creampie.

BRED RAW: Matt Towes fucks Lucas Morrison
Matt Towes and Lucas Morrison suck and fuck bare until they blow their thick loads of jizz.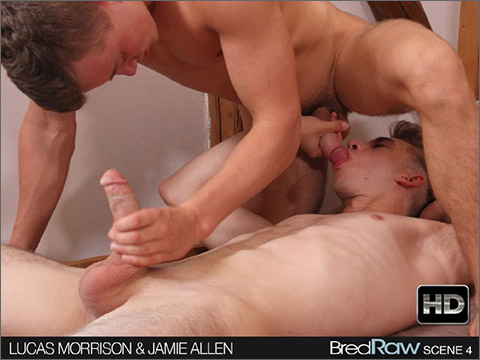 BRED RAW: Lucas Morrison, Jamie Allen
Cum hungry Jamie Allen and Lucas Morrison take it hard with intense cock worshiping and ass-poundings.

CZECH HUNTER 266
In front of a hospital I almost bumped into a guy looking at his cellphone. He had a bandaged arm, which looked like a nice conversation opener. It turned out that he got injured in the warehouse where he worked. In the Czech Republic you don't get sickness benefits for the first three days of the sick leave. Which can be very difficult for some people. Fillip, that was the boy's name, was more than happy to show me some skin to compensate for the lost money. His beautiful chest was worth much more than 500 I paid him. I could say he wasn't gay, he went through a break-up some time ago, so I had to thread carefully. Was this sweet and innocent angel greedy enough to get really dirty?
RANDY BLUE
CHANNEL 1 / RASCAL
CZECH HUNTER
BOY FUN COLLECTION
STAXUS
CLICK HERE TO GO TO HIS RANDY BLUE DETAILS