Staxus Dutch Twink Gay Porn Star, Kris Blent
Years Active: 2015
TWITTER @KrisBlent
STAXUS INFO:
Kris is tall blond Dutch boy, who just loves sex. He's versatile and loves to give it as much as take it. He sees enormous cocks as challenges.
Date of birth: 8th December 1993
Height: 6'5″ / 196 cm
Cock size: 7.5″ / 19 cm
Ethnicity: Dutch
Role: Versatile
Interesting Fact:
Kris is interested in fashion and is in the process of launching his own underwear label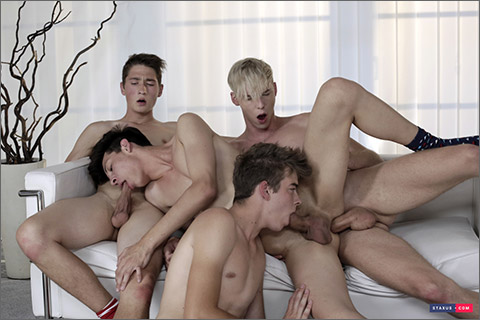 KEEP ON RUNNING: RAUNCHY RUNNERS SUCK, RIM & FUCK TO A GOOEY FACIAL CRESCENDO
Given all the heady amounts of exercise that the handsome trio of Andy Scott, Camil Chaton and Simon Caress display during the opening moments of this terrific set-piece, you'd think that their trainer, Kris Blent, would be more than satisfied. The blond-haired Dutchman is not an easy man to please, however. As he rather brutally informs them, his grandmother could run better than they do – a comment that clearly upsets a few egos in the room given the indignity with which it's received. But it's the remarks about their body-odour that really seems to ignite their fury; and which quickly results in the young trainees taking matters into their own hands by launching a full-on sexual assault on their boss.
   At which point, any fatigue that these hairless beauties may have been feeling is quickly forgotten; with their thick, uncut shafts quickly making an appearance, as Blent teams up with Scott, whilst Chaton and Caress slurp on cock nearby. Not that these two pairings remain independent of each other for very long, it must be said. Indeed, all four boys are soon a veritable chain of ass-rimming, dick-munching fury; before their lusts begin to take further hold of them and they take it in turns to thrust their hard, aching shafts into each other's fuck-holes.
   Given the amount of cock on offer, of course, it's all very understandable; with Scott and Blent arguably proving the main centrepieces of action. In the end, however, it's Scott who wins outright as chief slut – allowing all three of his horned-up mates to spew over his face, before creaming out his own fine load!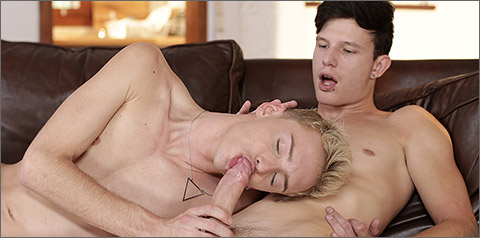 SUN, SANGRIA AND SEX: KRIS BLENT GIVES HIS ASS & MOUTH A FULL-ON FRENCH COCK WORKOUT!
Gabriel Angel clearly thinks he's hit the jackpot when he arrives at the villa to find Kris Blent sat on his sofa – and no fuckin' wonder! After all, whilst the ever-horny, blond-haired Dutch cock-fiend might still be fully clothed at this stage, the young French lad knows the fellow well enough by now to realise that that's not a state of affairs that's going to last for very long. Indeed, it only takes a little bit of smooching to encourage the fellow out of his tee-shirt and shorts – by which time he's already hanging nicely off Angel's cock!
   To be fair, of course, neither of these boys have any particular hang-ups about dick-worship, and suffice it to say that both proceed to take time out to practice their favourite art. But as so often in any scene that Blent appears in, it's the boy from the polders who steals the show here – not least of all when he brazenly plonks himself on Angel's lap, rides that French cock cowboy-style like a complete whore, then steps out of the saddle for a moment to greedily work the shaft with his mouth!
   No question about it, you'd have to go a long, long way to see a demonstration of hardcore cock-adoration like this; and the top-quality show continues as Blent returns to his favourite seat in the house, lovingly impaling himself on his pal's knob again in the process! It's no fucking wonder that the lad is very quickly at the point of no return – spewing his wad all over his belly. If anything, however, this only seems to spur him on all the more – brazenly deep-throating Angel's schlong, before slurping on the erupting crown for a well-deserved pay-cheque!
CLICK HERE TO GO TO HIS STAXUS DETAILS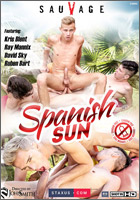 TWINKS DESTROYED 4
TWINKS DESTROYED 5
CAMP OUT
SPANISH SUN
SUN, SANGRIA AND SEX
THE MIRROR