Sexy American Gay Porn Star and Bubble Butt Bottom, Colt Rivers
Known Aliases: Ryan (Sean Cody)
Years Active: 2014 – 2016
TWITTER @fuckcoltrivers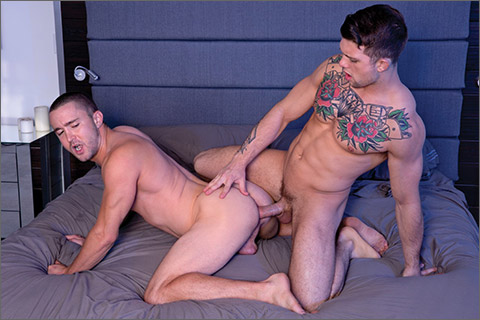 ABOUT LAST NIGHT: Sebastian Kross & Colt Rivers
Sebastian Kross, searching for the bathroom in the packed club, accidentally stumbles into the alley. Click: the door locks behind him. "Fuck!" he exclaims—no chance of getting back in now. He pulls his dick out to piss in the alley when Colt Rivers leaves the club, heading for his car. Seeing Sebastian's thick cock, Colt seizes the opportunity and extends an invite to hang out at his place. Sebastian accepts, and once inside, they waste no time getting down to business. Sebastian strips off his clothes, revealing ripped abs, his colorful chest tattoo, and his rock hard cock. Awed by the display of raw masculinity, Colt eagerly wraps his lips around Sebastian's throbbing tool. But Sebastian wants more than fucking Colt's face. As Colt rolls over on the bed, Sebastian pushes his face deep into the crack of Colt's ass, using his tongue to spread slick saliva. When Colt is lubed and ready, Sebastian slides his dick into Colt's tight hole and commences a fervent pounding. They move to a sit fuck, with Colt using his beefy legs to ride Sebastian's rod. The rim of Colt's ass stretches with each thrust as Sebastian keeps up his anal assault in missionary position. Colt grasps his cock and blows his wad across his chest with Sebastian still inside him. Then, Sebastian unleashes his own massive cumshot, which forms deep puddles on Colt's abs. They rub their slick cocks together and then collapse side by side, reveling in the afterglow.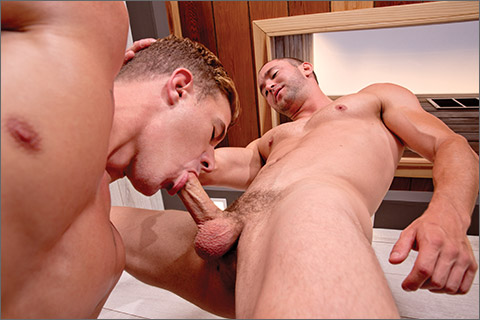 DEEP RELEASE (FVP-265): JJ Knight & Colt Rivers (all oral)
As Colt Rivers soaks his feet in the hot tub, JJ Knight makes himself comfortable on the ledge above. As JJ leans back, the towel wrapped around his waist falls open, revealing his massive cock. Turned on, Colt reaches for his hard cock, and starts stroking to catch JJ's eye. JJ likes what he sees, and his cock swells. Standing up, JJ walks over and offers his enormous cock to Colt's eager mouth. Sucking with his wet lips, licking with his tongue, and stroking with his hands, Colt's expert cock sucking makes JJ shudder with ecstasy. He places his hand at the back of Colt's head, and amplifies the intense oral service. Retreating to the bench, Colt stands over JJ and shoves his own hard meat down JJ's throat. With lots of spit, JJ eagerly gets a taste of Colt's throbbing rod. But the allure of JJ's supersized meat is too much for Colt to ignore for long. He returns to servicing JJ's meat, and brings the smooth, muscled stud to an intense orgasm. As JJ jerks out his load, Colt touches the tip of his tongue to JJ's cockhead, catching as much of JJ's load in his mouth as he can. Standing above JJ's mouth, Colt lets fly blasts of cum that dribble out of JJ's mouth and down JJ's chin. Bending down, Colt makes out with JJ, and his white, frothy cum smears across both their lips.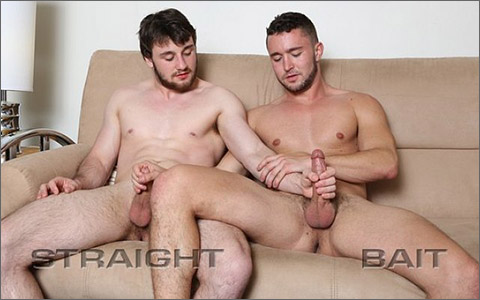 COLT RIVERS BAITS SCOTT HARBOR
Colt Rivers is this week's sexy new bait boy from Boston. He loves nature, camping, and the outdoors and also considers himself bisexual saying "I love fucking girls and boys!". Colt goes on to talk about his fetish for fucking straight guys because their asses are so tight. Just like BaitBuddies, Colt uses straight porn to get his buddies all horned up before making his move on them. This guy has no fear and he won't need any help or training from Caruso to get what he wants. Colt keeps himself in great shape from rock climbing and having sex and loves beefy hard bodied straight guys. Well, today is his lucky day because Caruso has just the stud in mind!
   Caruso pairs Colt up with hot and horny Scott. Scott calls himself a man whore and says he loves sex! As he tells Caruso what all he likes, he can't help but to keep rubbing his cock! After watching some pussy porn, Caruso steps in to deliver the bad news that the girl can't make it. With hard cocks and no other options, Colt convinces Scott to let him suck his cock. When he gets too close to Scott's ass, Scott pulls him back up. Colt says "you never had a chick play with your ass before?" and Scott replies "yeah a chick. Not a guy!" and then pushes Colt back down on his cock! Next it's Scott's turn to suck dick. Colt coaches him through and has Scott gagging on his hard cock! "Watch them teeth newbie" Colt says as he starts to face fuck Scott. After a while Caruso steps in and tells Scott to turn around. Scott is nervous but he listens to the boss and turns around. Colt moves in and shoves his tongue in Scott's tight hole! Colt is so turned on by Scott's sexy bubble butt that he convinces him to let him stick his dick in. Colt puts a condom on and Scott gets in position to sit on it. "Wait, wait wait! You want to lube it up first!" says Colt. Scott lubes up and fingers himself for a bit before sitting down on Colt's hard rod. Scott moans and groans as Colt starts to fuck him. Colt fucks him hard until he can't take it anymore. Colt pulls out and both guys start to jack off until Scott blows his load. Colt bends down and slurps up some straight cum before leaning back while Scott jacks his cock with his manly feet!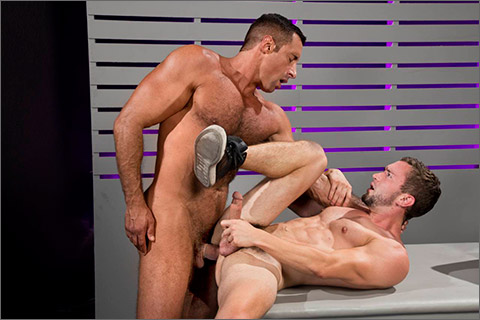 BACKSTAGE PASS: Nick Capra fucks Colt Rivers
Nick Capra and Colt Rivers sneak away backstage for some hole-gaping fun. Athletic Colt can't wait to taste Nick's tasty 9′ cock, so he yanks Nick's shorts to his ankles. Nick tells Colt, 'get it really wet; wax it.' Nick has a broad chest, covered in fur, and he's nearly twice the size of Colt. His nonstop barrage of nasty encouragement keeps Colt grinning and choking himself as he sucks harder. Satisfied with Colt's effort to please, Nick sends Colt up a ladder until his ass is level with Nick's mouth. Colt's balls swing and hang low as he thrusts his bubble butt out to meet Nick's eagerly awaiting tongue. Nick loosens Colt's hole as he swirls his tongue around Colt's tight center, then loosens him a bit more with his finger. Colt shivers with ecstasy and collapses onto Nick's waiting cock, grinning as it stretches him. He bounces himself repeatedly onto Nick's fat rod, each pump going deeper. Colt's glutes spread wider when Nick penetrates him all the way down to his base. Nick hoists Colt up and fucks him harder and faster, as their skin glistens with sweat. Nick takes Colt to the edge of anal endurance, and at the moment of orgasm discharges a huge load in his mouth, then kneels to gobble up Colt's spunk and take one last taste of his hole.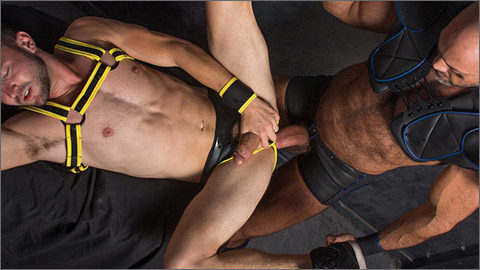 ICONS: Jesse Jackman fucks Colt Rivers
Their contrasting bodies are a stunning visual: short, light-skinned smoothie Colt Rivers worships the tan and hairy muscles of tall Jesse Jackman. Colt's steel shaft pokes Jesse in the leg as he licks the massive man's pit and pec. Colt milks Jesse, the big head of his own dick throbbing as he devours him. Jesse pulls the eager sub up by the harness for a kiss, then sucks him back. Colt grips Jesse by the shoulder pads as he gets serviced, then offers his smooth ass. Jesse tongue fucks him before shoving his cock inside, his hairy balls slamming Colt's hole. The bottom sits down on Jesse, who strokes Colt's hard dick as he bounces up and down. On his back, Colt spreads his cheeks to help Jesse fuck deep. Jesse jacks a load out of the jock—rubbing it into Colt's smooth chest and feeding it to him off his thumb—before dumping his load on Colt.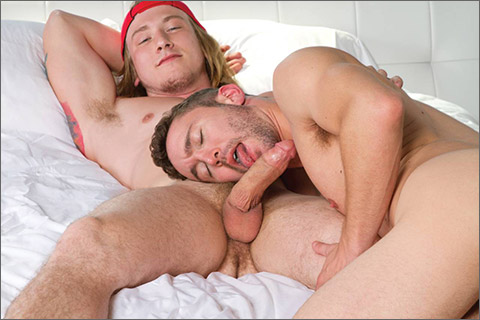 SEX PAD: Tom Faulk fucks Colt Rivers
Colt Rivers brings skater-hunk Tom Faulk to the Sex Pad for a hot fuck. Tom has scruffy facial hair, a shaggy blond mane that cascades to his shoulders and pubes that match his flowing locks. Tom is completely content in letting Colt pig out on his juicy cock. Colt, who's smooth and athletic, swallows the whole fat cylinder expertly. Coming up for air, he lies full-length on Tom, grinding hips to hips and lets Tom suck the cock juices off his tongue. Then, Colt flips Tom onto his belly and attacks his hole with the same oral intensity. The hairiness of Tom's crack contrasts with his smooth chest and back. Colt may be in charge, but Tom's the top, and Colt makes sure his hole gets the pounding he wants. They fuck in doggie variations until Colt collapses face-down on the bed. He saves enough energy to flip over for the home stretch, planting the soles of his feet on the sides of Tom's waist and blasting a load across his abs. Tom says, "I feel your ass grip my cock'" as he pulls out and shoots his creamy load all over Colt's face, shoving his cock in Colt's mouth for the final drops.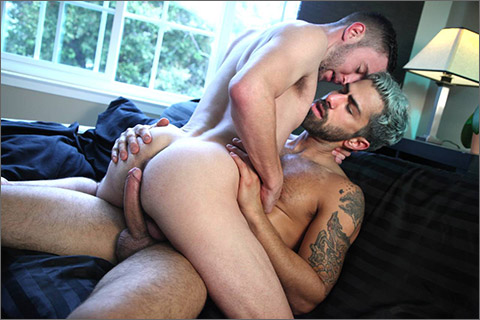 HOOKER STORIES 3 – NEXT TIME, I'M PAYIN': Adam Ramzi fucks Colt Rivers
Adam Ramzi gives him a call. Colt shows up at Adam's apartment and is shocked by his stunning good looks. Colt can't help himself and breaks one of the cardinal rules of escorting by asking Adam why he's paying for sex. Adam explains this is his first time; he's been busy with school, but also reveals that he's considering escorting himself. His training session begins when Colt strips them both out of their clothes and expertly goes down on Adam's fat cock. Adam flips him over and tongue-fucks Colt's fat bubble-butt, then shoves his rod deep in the hooker's ass. They continue to fuck in a wild reverse cowboy and end up missionary with Adam jerking Colt off until he cums. Adam feeds Colt his load and hands him a handful of $100 bills, winning the approval of Colt who says next time he's paying!
TITAN MEN
FALCON STUDIOS
RAGING STALLION
HOT HOUSE
MEN.COM
NEXT DOOR STUDIOS
PRIDE STUDIOS
GUYS IN SWEATPANTS
GAY ROOM
KINK MEN
KINK.COM / BOUND GODS
CLICK HERE TO GO TO HIS TITAN MEN DETAILS