Twink MormonBoyz American Gay Porn Star, Elder Xanders
Known Aliases: Austin Xanders, Austin Lock at BareTwinks.com
Years Active: 2017
TWITTER @AustinLXanders
MORMONBOYZ INFO:
Being the son of a Stake President and the youngest of three brothers, his path in life was more or less prescribed. As he got older, independence and freedom became more and more appealing.
   As a missionary, the other boys have given him a nickname. They call him "little brother." But their teasing isn't meant to be mean. They adore him. But this just means he still isn't getting the respect and independence that he craves.
   But now that the Order has set sights on him, it won't be long before the boy learns to love obedience and submission.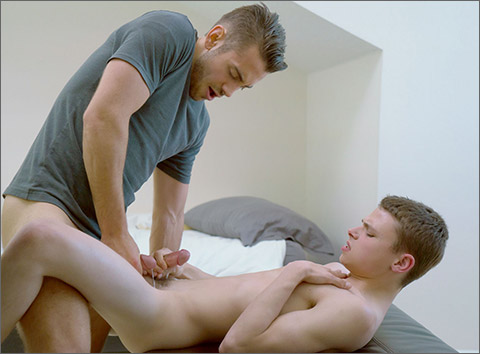 THE INITIATION OF BROTHER CALHOUN:
CHAPTER 2: THE WARD MISSION LEADER
Brother Calhoun couldn't stop thinking about what happened on the stairs. In the nights that followed, he even dreamt about the way Brother Strang pinned him down and fucked him.
   He was so confused and torn about how to feel. He couldn't talk to anyone about it, resigning his concerns to the echo chamber of his mind.
   He felt guilty and angry that he was made to feel so powerless. It was a complete violation, and he knew that–but at the same time, he knew it turned him on.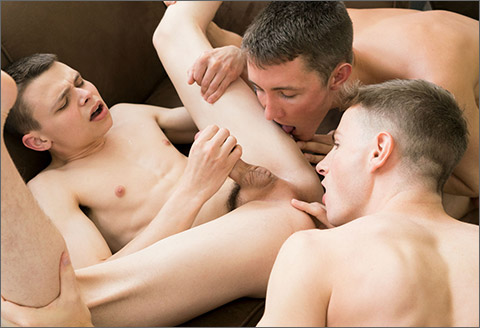 THE INITIATION OF ELDER GARRETT:
CHAPTER 11: DISTRICT MEETING
Elder Sorenson has privileges the other missionaries do not. Part of that is due to his beautiful face and lean physique. Part of it is due to his history with the Brethren and proving time and again that he can be counted on to take a cock. But mostly, it's because of his recruitment record.
   No missionary is as committed to or responsible for bringing in as many hungry, horny, submissive young missionaries as Elder Sorenson. And as such, the Brethren from time to time like to reward his good works.
   The young man had been given permission to hold a district meeting at the home of The Brethren. He was allowed to take with him whomever he chose, and naturally, he wanted to bring along his two new favorite playmates: Elder Xanders and Elder Garrett.