Young Hung MormonBoyz American Gay Porn Star, Elder Ivy
Known Aliases: Calvin Hunt ?
Years Active: 2017
MORMONBOYZ INFO:
Elder Ivy has a rebellious spirit for a Mormon. He's always been naturally lean and strong and has been able to parlay that into getting what he wants. Entering his mission, he intends to take his place as top dog.
   He can't help being aggressive and horny, nor does he want to. He's young and hot and he's going to take every opportunity to fuck.
   As any good Mormon boy, he knows what the rules on sex are; he just takes great joy in breaking them. In fact, being forbidden just makes him want it more.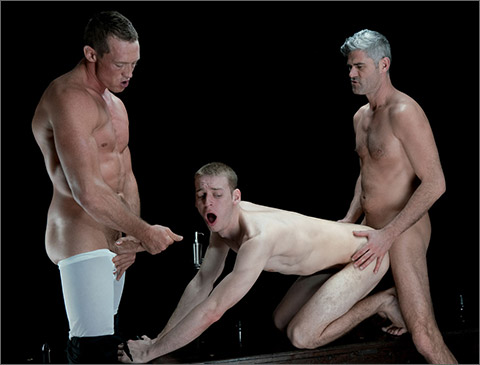 THE INITIATION OF ELDER IVY:
CHAPTER 3: ATONEMENT
Elder Ivy stood in the dark room trying not to show his excitement. He was brought in by President Oaks and Brother Hales, the two men who had taken him on his current path so far. And he couldn't be more lost in his thoughts.
   He'd come to love his mission and the prospect of being inducted into the Order. He also developed a bit of a soft spot for President Oaks, the man who first extended him the invitation. He wanted to impress him, so he tried his best to appear completely open and obedient–like a good Mormon boy should be.
   However, his cool veneer was challenged as soon as Hales and Oaks removed a black sheet from what appeared to be a long bench studded with graduated phallic pegs! As the two men folded the sheet, Ivy couldn't help but study each one, anxious that his ritual atonement would go well…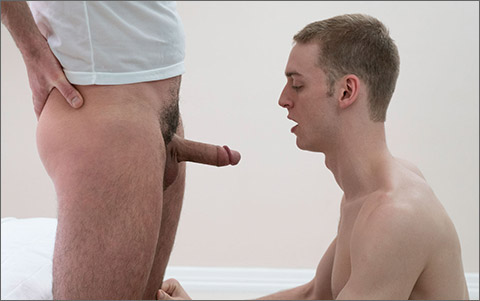 THE INITIATION OF ELDER IVY:
CHAPTER 4: THE COVENANT
Elder Ivy came to the temple with a sense of pride. It was different than anything he'd felt before. Being a bit of a troublemaker, he'd always had a heightened sense of self, but these days he'd felt a power and strength that wasn't wrapped in ego–he'd earned it.
   President Oaks had taken him under his wing in a very special way, teaching him about sex and power and how he can give pleasure. It was something he knew that none of the other missionaries were being taught. Not only that, he was good at it.
   When he was asked to change into his temple robe and crawl on his hands knees, he did so without question. The Order had come to ask so much of him; he knew that holding on to any illusions of dignity or pride was ultimately useless. He had to be selfless in the face of his superiors and not put himself above their demands…

THE INITIATION OF ELDER IVY:
Elder Ivy sat in President Oaks' office, resigned to his fate. He had a reputation for being somewhat of a troublemaker and was sure that he was being sent home.
   Well, he wasn't exactly sure, but he didn't know what else to think. Last week he had been called in for a worthiness interview. At the end of the interview his mission president put a thin binder in front of him and asked him to open it. When he did he was shocked to see an image of a beautiful naked man with a huge erection jutting out in front of him.
   His mission president asked him if he had ever looked at images like this before. But he was too engrossed in his fantasizing about the picture to hear the question.