Hot House American Gay Porn Star, Woody Fox
Known Aliases:
Years Active: 2012 – 2016
HOT HOUSE INFO:
A strapping Ozy stunner, with a charming manner and a big dick – what more could we want? Woody is a horny exhibitionist with model good looks and an insatiable appetite for uncut dick, there's no shortage of guys who'd like to get some Woody.This stud is a genuine Ozy farm boy, imagine watching him shifting hay bails with his shirt off…..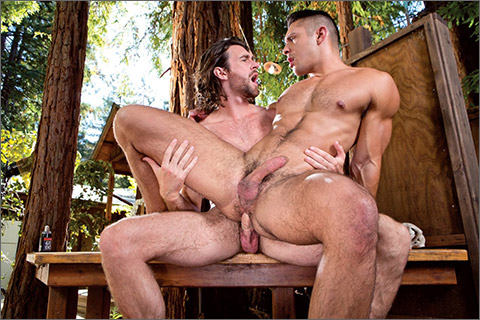 PITCHING TENTS: Woody Fox & Seth Santoro
Muscle stud Woody Fox hits the outdoor showers at the campgrounds. Hidden beneath enormous redwoods, the area offers up some instant excitement when Woody spies Seth Santoro naked under the water. Slowly stripping down, Woody casts subtle glances towards Seth, and Seth looks over his shoulder to return eye contact. As Woody turns on the water in the next shower stall, he turns around to show off his swelling cock. Working the soap into a thick lather, Seth scrubs his muscular butt, then invites Woody to help wash his back. As Woody walks up from behind, his massive boner thrusts into Seth's ass cheeks. With the water running over their bulging muscles, Seth and Woody turn to each other and kiss passionately. Sinking to his knees, Seth inhales Woody's enormous uncut cock. The oral service works Woody up to the point where he's eager to get a taste of Seth's tight hole. Spreading Seth's meaty ass, Woody dives in tongue first for an epic rim job that has Seth eager for more. Moving to a nearby bench, Woody alternates between rimming Seth's ass and sucking his thick cock. Legs in the air, Seth eagerly awaits Woody's massive tool inside of him, and Woody delivers. With powerful thrusting, Woody dominates Seth's tight hole. Turning around and bracing himself against the shower wall, Seth takes Woody's cock doggy style. When Woody sits down on the bench, Seth lowers himself down on Woody's meat and uses his powerful legs to ride it up and down. Woody starts to thrust up from beneath Seth, which makes Seth's hard cock shoot a massive load! Kneeling down, Seth opens his mouth and catches Woody's load in his mouth.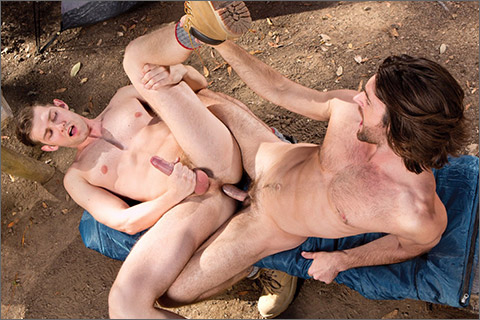 PITCHING TENTS: Woody Fox & Jacob Peterson
When you have a fire to stay warm, who needs clothes? Clad only in their tight, white briefs, sexy Woody Fox and tall, lean Jacob Peterson kiss passionately. Their bulges grow larger with every second, and the briefs don't stay on for long. Getting down on his knees, Jacob whips out Woody's rod and crams it into his mouth. As Jacob works up his saliva into a thick lather, Woody raises his arms, showing off his hairy pits and flexing his incredible six pack. Trading places, Woody opens up his throat to accommodate Jacob's huge cock. With his mouth working the sensitive tip, he can still grasp the base with his hand. Spinning Jacob around, Woody dives in face first to taste Jacob's delicious ass. With his hole wet and willing, Jacob backs his ass into Woody's cock for a wild doggy-style ride. Picking up speed, Woody rams Jacob with athletic power. Laying down on their sleeping bag allows Jacob to straddle Woody, pushing Woody's cock deep into Jacob's ass. Flipping over and raising his legs, Jacob takes Woody in missionary position, and his rock-hard cock slaps against his stomach with each of Woody's thrusts. With Woody hitting all the right spots, Jacob jerks his cock until he spews his load all over his stomach. Standing up, Woody strokes himself until he nuts all over Jacob, adding jets of hot, white cum to the puddles already on Jacob's torso. Leaning forward, Jacob eats the last drops of cum hanging from the tip of Woody's cock before putting their lips together.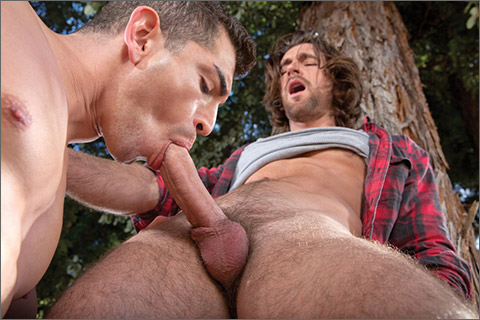 PITCHING TENTS: Woody Fox & Jeremy Spreadums
Walking down a woodland path, handsome Woody Fox searches for some remote cruising grounds. Reaching into his shorts, he fondles his long, hard dick, waiting for a hot piece of ass to come his way. Along comes muscled jock Jeremy Spreadums. For a moment, Jeremy lingers in the brush, staring in awe at the beautiful man exposing himself out in the open. As Woody strokes his cock invitingly, Jeremy emerges from the brush and cops a feel. They strip as they make out, and Jeremy falls to his knees to service Woody's meat. With long strokes of his tongue, Jeremy spreads his thick spit up and down Woody's long, curved shaft. Strings of spit connect the tip of Woody's cock to Jeremy's lips every time he pauses to take a breath. With his hands guiding the back of Jeremy's head, Woody flexes his six-pack abs and thrusts his hips. While using his hand to rub the tip of Woody's cock, Jeremy uses his mouth to suck on Woody's heavy balls. Pulling down Jeremy's shorts, Woody falls to his knees and gulps down Jeremy's rod. As Woody's lips pass over the sensitive tip of Jeremy's cock, Jeremy's bulging pecs and rippling abs flex in the forest light. Trading places again, Jeremy strokes his cock while sucking Woody off faster and faster. Reaching down, Woody jerks his cock until it explodes with gushing jets of cum. His load drips off Jeremy's chin and down his chest, which sets him over the edge. As he strokes himself, Jeremy explodes streams of cum that splatter onto the hard-packed trail.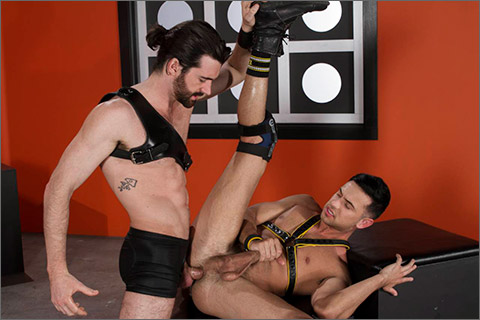 SLICKED UP: Woody Fox fucks Josh Conners
Bearded Woody Fox is sexually imposing in his black harness and skin-tight black shorts. Josh Conners shows off his kink, wearing open-assed athletic shorts and a yellow-lined harness. The two geared up studs make out and grope each other's sculpted bodies. Josh pulls out Woody's throbbing cock through the fly in his black shorts and gets to work on a spit-slick blowjob. After savoring Josh's lips on his dick, Woody gets behind Josh and shoves his face deep in Josh's crack. With his tongue and fingers, Woody explores Josh's delicious ass, and Josh moans and shudders with erotic delight. With Josh already in doggy style position, Woody makes his entrance, shoving his thick meat into Josh's tight hole. Gripping Josh's harness, Woody slaps Josh's ass as he thrusts. Maneuvering into missionary position and taking the sex to the max, Josh's pleasure reaches a climax, and he blasts his load while getting fucked. Woody pulls out and shoots his cum on Josh's stomach.
HOT HOUSE
UK NAKED MEN
FALCON STUDIOS
RAGING STALLION
BLAKE MASON
MEN.COM – MEN OF UK
MEN AT PLAY
CLICK HERE TO GO TO HIS HOT HOUSE DETAILS
VIDEO ON-DEMAND: AEBN SMUTJUNKIES THEATER
DVD / DOWNLOAD / VOD: GAY DVD EMPIRE