Handsome Escort and Gay Porn Star, Sharok
Known Aliases: Luca Mykonos
Years Active: 2018 – 2020
Iranian x Turkish Gay Porn actor, I take care of myself and take pride in my physique. Raging Stallion, MEN, and Bound Gods model.
RENT MEN INFO:
Age: 35 Y/O
Height: 5'11" -178 cm
Weight: 210 lbs – 95 kg
Body: Muscular
Body Hair: Light Hairy
Orientation: Gay
Ethnicity: Mediterranean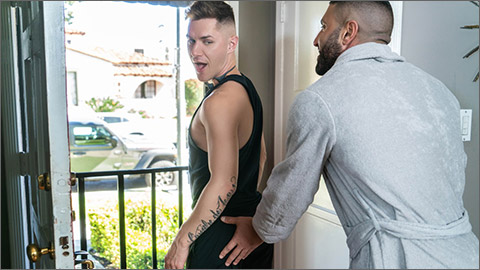 WORKING UP A SWEAT
Sharok tries to get some work done while his man, Zak Bishop, goes outside for a workout, but the sight of Zak's toned body sweating right outside the window is too distracting! When Zak comes back inside, it's Sharok's turn to work up a sweat as he sucks Zak's cock and eats his ass, then plays with Zak's hole while the bottom sucks his cock. Sharok gets his muscles pumping as he pounds in and out of Zak's pert ass in doggystyle, then Zak rides his man's big cock. The guys cool down with some spoon and Sharok fucks Zak in mish till the bottom cums, then pulls out and adds his spunk to the mix. Time to hit the showers!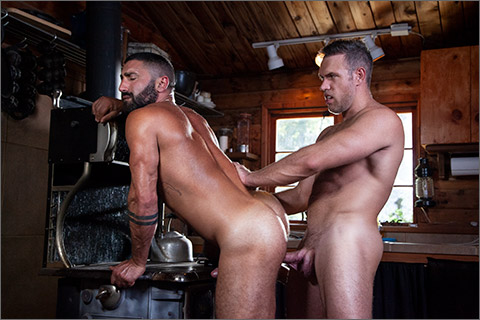 BLOOD MOON – TIMBERWOLVES 2: Alex Mecum fucks Sharok
Back at their cabin, Alex Mecum and Sharok await Drake Masters, who stinks of sex and something else. They try to deal with this maverick lone wolf threatening to expose the pack with his reckless behavior. Sharok is flustered and frustrated by the cocky punk, but Alex knows how to distract and comfort him: with the girthy giant straining the pouch on his long john thermals. Alex pulls Sharok into a passionate hug for some deep kissing as they grope their way out of their clothes. Sharok's furry crack outlined by his jockstrap finds Alex's wandering hand, just as the muscle-stud drops down to take Alex's huge boner into his wet mouth and give him a greedy cock gobbling blowjob. Alex is hungry for Sharok's big dick too and sucks him till they're both rock hard and tearing off their pants. Sharok gets on all fours and offers up his perfect ass and hairy hole "It's all yours, babe," which Alex eagerly takes, first with a long rim job and then a hard, raw, bareback fuck. Sharok can't get enough and fucks back with abandon, then goes ass to mouth to taste his own hole on Alex's fuck stick. Sharok gets piggy eating Alex's butt before getting plowed again: bent over the stove, standing up and then sitting all the way down upon Alex's rod on the couch, riding and bouncing and milking out massive loads of jizz.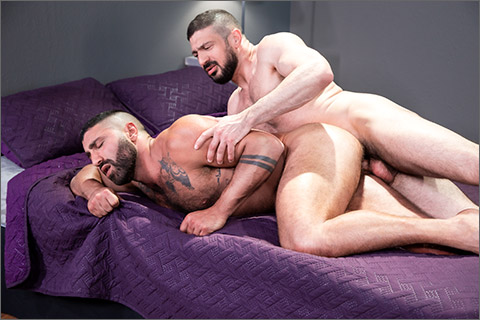 HOT, RAW AND READY!: Marco Napoli fucks Sharok
Sharok and Marco Napoli are already naked and ready for action when Sharok gets on his knees to service Marco's nice fat cock. He works it in and out of his hungry mouth, getting himself hard as a rock as his mouth does all the work. When Marco sees Sharok's massive hard-on, he drops to his knees to return the favor. Sharok loves the feel of Marco's lips wrapped around his shaft, and face fucks Marco until Sharok is ready to take it up the ass. Marco bends the stud over the bed and eats his hairy ass until Marco is sure that Sharok is open and ready for all the raw cock he's about to take. Marco slides his massive, bare meat into Sharok's tight hole and pumps away, going deep and hard as he picks up the pace to give Sharok the bareback stretching his hole begs for. Sharok wants to show off his riding skills and flips Marco on his back so he can hop on top to take it to the maximum depth. He rides the hard cock buried in his ass up and down until Marco wants one last go from behind. Marco shoves his cock inside doggie-style, and fucks Sharok until his cock is ready to explode. Marco pulls out and blasts his thick load all over Sharok's bubble butt before fucking the cum into his hole. With his ass fully loaded, Sharok rolls over and covers his stomach with creamy white jizz.

OUTTA THE PARK: Ricky Larkin, Sharok & Wade Wolfgar fuck around
Bat boy, Sharok, is cleaning up the locker room when players Ricky Larkin and Wade Wolfgar enter from the showers after losing a game. They pick on Sharok for being their bat boy but Sharok knows that they really need to blow off some steam after their loss. Sharok gets on his knees and opens his mouth wide for Ricky and Wade to take turns fucking his eager face. Sharok gets the guys rock hard and bends over to let them get a taste of his hairy hole. Wade is the first to suck on Sharok's hairy crack and gets him nice and opened up for his buddy, Ricky, to fill up with his big raw bat. Ricky slides inside and pounds away as Wade fills Sharok's face with his thick cock. Wade wants his bareback turn now inside Sharok's dugout and takes up the rear with his fat bat. It's almost too big to fit in Sharok's hole but Sharok is determined to take it balls deep and rolls onto his back with his legs in the air. Wade stretches the hole in front of him as Ricky fucks Sharok's face. The guys take turns railing both of Sharok's holes from each end until Wade wants his turn as the catcher. As a last-minute pinch-hitter, Wade goes from pitcher to catcher and lies back to let Ricky pound his ass. Ricky plunges Wade's open hole until he pulls out and sprays Wade's hairy balls with thick jizz. Next up, Sharok steps off deck and up to the plate to fuck Wade until both spent studs blast all over Wade's furry body.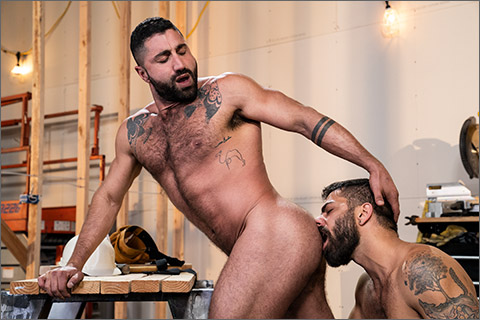 RAW CONSTRUCTION: Adam Ramzi fucks Sharok
Adam Ramzi and Sharok sneak onto a construction site at night when no one is around to get have some uninhibited fun. Adam is hungry for dick and doesn't waste a second getting on his knees in front of a naked, Sharok. Adam takes the hairy meat down his throat and grabs Sharok's phone to record the fun. After getting his fill of dick and opening Sharok's ass with his tongue, Adam is ready to plant his rod deep inside Sharok. Adam stands up and slides his raw cock into Sharok's crack and picks up the pace to fuck the stud fast and deep. Sharok takes the phone and keeps recording the action as Adam continues the ass ramming. Switching it up, Adam flips Sharok over to watch as he fucks the hairy stud on his back with his legs in the air. Adam pumps in and out of Sharok's hairy hole until his cock bursts and sprays cum all over Sharok's ass. Adam pounds his load inside and continues until Sharok blasts his own load all over his own hairy crotch.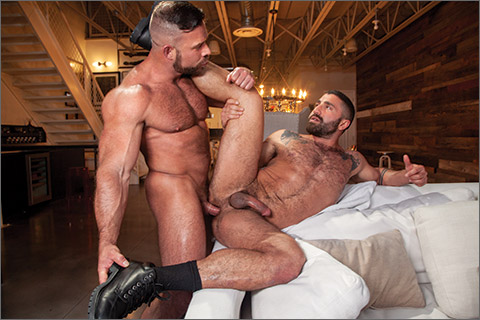 AT LARGE: Sharok & Liam Knox flip-fuck
As the killer moves in to silence Dante, officers Sharok and Liam Knox arrive to his distress call. They question Dante, and then leave him alone in the bedroom to head downstairs to keep watch. There's nothing else to do as they protect the house, so Liam suggests that Sharok suck his dick to pass the time. Sharok happily unzips Liam's pants and gets to work taking Liam's thick dick down his throat. Sharok knows how to use his lips and tongue and Liam wants to return the favor. He gets Sharok rock-hard with his talented mouth until Sharok is ready to fuck. Liam bends over to take his fellow officer up his ass and get a pounding he won't soon forget. Liam loves every inch that Sharok pounds into him, but now it's his turn to rail his brother in blue. Liam splays Sharok out on the couch and gets his ass ready for cock with his tongue before shoving his massive boner deep into Sharok. The guys switch up their positions as Sharok takes all of what Liam has to offer. Liam can no longer hold off and pulls out to cover Sharok's hairy taint with a fresh load. When Sharok feels Liam's cum hit his skin, he lets loose and blows a load of his own. After their fuck-sesh, a hazy cloud descends on the house when a disoriented Liam wakes to a bashed head and a new disturbing turn of events.
CLICK HERE TO GO TO HIS RAGING STALLION DETAILS
VIDEO ON-DEMAND: Sharok @ AEBN SMUTJUNKIES THEATER
DVDs & ON-DEMAND: Sharok @ TLA VIDEO