Handsome Ukranian Lucas Entertainment Gay Porn Star with Fat Uncut Cock, Andrey Vic
Years Active: 2016 – 2017
TWITTER @vic_andrey
LUCAS ENTERTAINMENT INFO:
Height: 5′ 7″
Weight: 155 lbs
Dick Size: 8″
Position: Versatile
Andrey Vic makes his Lucas Entertainment makes his BAREBACK AUDITIONS 4: RAW RECRUITS. Who welcomes him to the studio? Both Zander Craze and Damon Heart, and they go out of their way to give Andrey a hot-and-heavy introduction!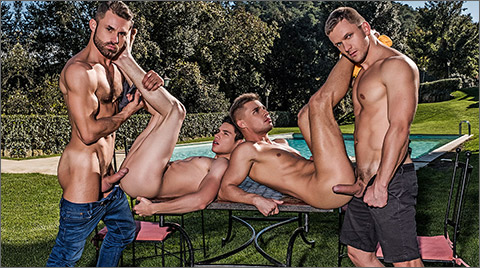 ASS-FUCKING ALPHA MALES: Klim Gromov and Ricky Verez Bottom for James Castle and Andrey Vic
Blue-eyed Russian twink Klim Gromov and sexy Latin twink Ricky Verez are two wild bottoms who need a firm hand to keep them in line and teach them how to be good receptacles for raw cock and cum. James Castle and Andrey Vic both have the skill and patience to show Klim and Ricky how to properly service the rock-hard cocks of no-bullshit alpha males. Ricky Verez and Klim Gromov both enter into the sexual encounter cocky and full of themselves, but when they wind up getting their asses pounded without mercy by James Castle and Andrey Vic, their attitudes change and they learn their place as submissive bottoms.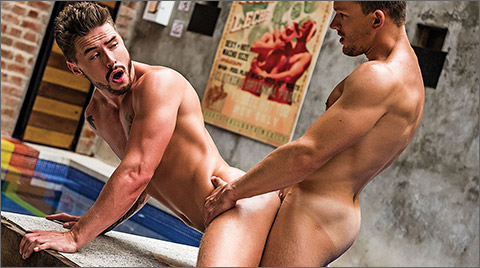 GREEDY HOLES: Andrey Vic Fucks Josh Rider's Ass Raw
Andrey Vic takes a break and soaks up some sun after his intense orgy encounter with Dylan James, Drae Axtell, Stas Landon, Alejandro Alvarez, and Koda Gold. Andrey might be tired, but Josh Rider isn't. He wasn't around for the orgy, but he's watching Andrey from afar and manages to sneak a smell from Andrey's swim trunks. But why stop at sniffing' When Andrey figures out what's going on, he finds new energy and gives Josh Rider what he really wants — a deep fucking with his uncut cock!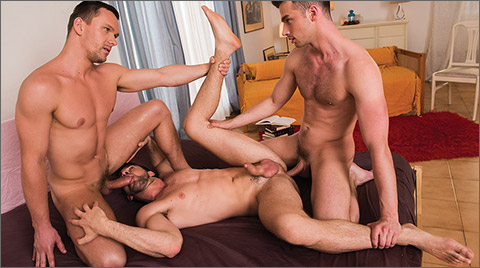 BAREBACK AUDITIONS 4 – RAW RECRUITS:
Damon Heart And Andrey Vic Double Team Zander Craze
Zander Craze has a gift for taking control of any Lucas Entertainment scene, and it's enhanced when he's getting fucked times two! Damon Heart and Lucas Entertainment newcomer Andrey Vic have a good time bending Zander over and fucking him deep and hard in the ass. That's not to say Zander doesn't want to give his dick some exercise: Damon is no stranger to getting fucked by Zander and happily takes it, and Andrey gets a poke in the butt too.
CLICK HERE TO GO TO HIS LUCAS ENTERTAINMENT DETAILS