Blond William Higgins Czech Hunk Gay Porn Star, Alan Pekny
Known Aliases / aka: Larry McCormick, Debt Dandy 227, Jake Mills
Years Active: 2017 – 2019
WILLIAM HIGGINS INFO:
Model Name: Alan Pekny
Age: 18
Home Town: Prague
Height: 174cm/5'8″
Weight: 72kg/158.4lb
Foot Size: EU41/US8.3/UK7.8
Penis Size: 17cm/6.69″
Profession/Student of: High school
Hobbies: Sport
Favorite Sports: Athletics
Active Sports: Fitness
Movie/Music/Sport Stars: Sheryl Crow
Visited Countries: France
Want to Visit Countries: Sweden
Dream of My Life: I do not know.
Zodiac Sign: Leo (July 23 – August 22)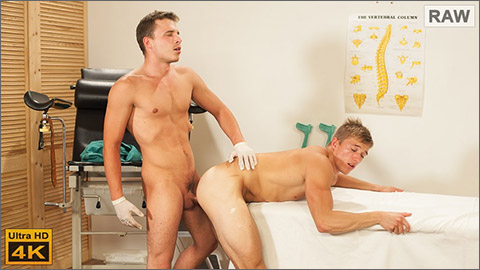 CZECH UP: HUGO ANTONIN & ALAN PEKNY
Handsome str8 doctor Hugo Antonin is in his office. He is visited by sexy st8 guy Alan Pekny for a Czech Up. Hugo has a series of questions first, for Alan, and then he starts to examine him. Hugo removes his tee shirt to have his chest checked. Then Hugo feels around Alan's neck and checks his eye movement. Alan then turns and bends over for Hugo to examine his back. Next Alan has to remove his pants and underwear, as Hugo needs to do a prostate examination. With Alan naked Hugo feels around his groin. Then he tells Alan to climb onto the examination chair, with his legs in the stirrups. That exposes his ass for examination. Hugo hasn't had a prostate exam before but is assured that it will be ok. Hugo rubs his fingers over Alan's tight hole. Then he begins to push a finger into the ass hole. It goes in quite deep and then is pulled out. Pushing the finger in again Hugo fucks it in and out, changing fingers too. Then he uses two fingers to really stretch the hole. As he feels the fingers in his ass Alan begins to wank his cock. Hugo pulls his fingers out of that tight hole and leans forward to rim it. Then he takes Alan's cock in his mouth and sucks it. He moves to the side to suck on that cock as he fingers Alan's hole again. Alan loves the feeling of mouth on his dick and pushes Hugo's head down on it. Hugo moves Alan, bending him over the table. He then bares his chest and opens his pants to reveal his stiff dick. That cock is quickly shoved into Alan's waiting ass. Hugo fucks that ass deep with his throbbing cock. He fucks Alan with long, deep, thrusts of his dick. Then Hugo turns Alan onto his back and shoves his dick back into the waiting ass. He stretches that ass wide as he fucks it deep. Alan grabs his dick as he feels the cock fucking his ass. Wanking his cock hard Alan soon shoots his creamy cum onto his belly as Hugo fucks him. Then Hugo pulls out of that hot ass and dumps his hot cum over Alan's hot body.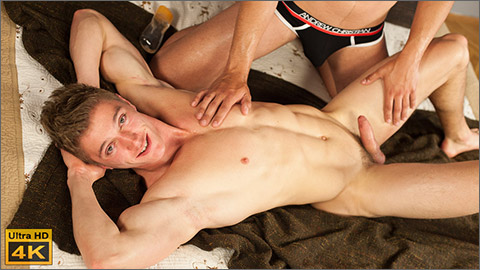 MASSAGE: ALAN PEKNY
Our handsome Alan Pekny is in for a massage. This sexy straight guy is just so hot. He looks great as he strips down to this underwear, showing off his hot body. He lays, face down, on the bed to await his massage. The masseur, alos in just underwear, gets to work wit some oil. His hands massage all over Alan's back and shoulders and onto his arms too. The hands glide all over the back and over Alan's underwear clad ass. Then they go into the underwear, pushing them down to work on Alan's hot butt. Then underwear is removed giving full access to that hot ass and the hands massage it, working down Alan's legs too. Alan's feet are oiled and massaged too before attention turns back to that hot ass. The cheeks are spread as the hands work on the ass, showing the hot hole. Then cheeks are massaged and more oil is udsed to rub over the tight hole. Alan pushes his ass up off the bed, giving access to his cock and balls too. His cock is wanked between his legs as that sexy ass is rubbed. With the cock nice and hard as it is wanked a finger slides deep into Alan's tight hole. The hole takes the finger all the way as it fucks in and out. Turning over Alan's lays on his back, with his cock rock nice and hard. The hands work over his hot body taking hold of the cock and wanking it some more. The wanking continues and speeds up as the cum builds up. Then that cock releases the cum to shoot it all over the place. The cum is milked from the cock and the masseur rubs his hands all over Alan's sexy chest to end a great massage.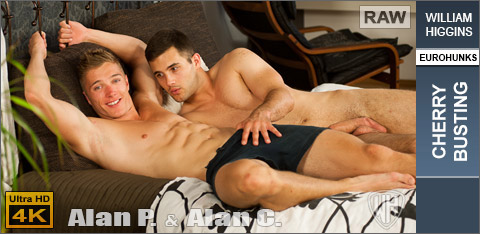 CHERRY BUSTING: ALAN CARLY & ALAN PEKNY
Handsome straight guy Alan Pekny gets his cherry busted today, by the equally handsome str8 and big-dicked Alan Carly. They sit on the bed and chat with Alan C asking lots of questions and leading the conversation on to the subject of guy-guy sex. Alan P his happy to show off his hot chest. Alan C's shorts are bulging, as he seems to be hard. So he is clearly horny for some sex. He persuades Alan P have a massage and quickly gets to work running his hands all over that sexy body. It doesn't take long to lower Alan P's shorts and for Alan C to start sucking on the cock. Alan P's cock responds to the sucking and gets nice and hard. Alan C's head bobs on the hard cock taking it all in his mouth. He licks the shart and head too. Alan P enjoys the feeling of the mouth on his cock, moving to sit on the bedframe for more sucking. Then he shows off his ass and lays on the bed with his legs up for Alan C to slide his big, throbbing, cock deep into the tight ass. Alan P takes cock into his ass for the very first time and does it well. Alan C fucks the ass, gently as first. He goes deeper and deeper into the tight hole, opening it up real well. Then he speeds up with his deep fucking as Alan P wanks his own cock. Alan P wanks hard and fast as he feels the big dick fucking his hot hole. His ass gets a good pounding and sooh he shoots his hot cum onto his sexy body. Alan C continues his fucking and then pulls out to shoot his hot load as well.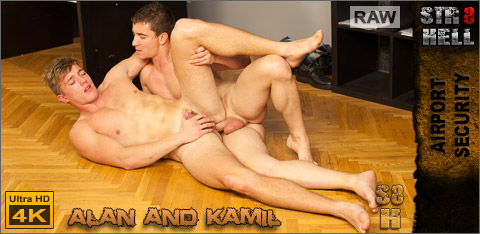 AIRPORT SECURITY: ALAN PEKNY & KAMIL BANEK
Str8 guy Kamil Banek is in charge of airport security when he is presented with the sexy Alan Pekny, another hot str8 guy. He has been sent in as he has a problem with his id. Alan sits and gives up his id for checking. It seems that something is wrong and Alan offers money to fix it. Kamil takes the money but isn't ready to release Alan, he has other ideas for him. He has Alan stand up so he can be frisked. Then he tells him to strip, which he does down to his underwear. Kamil rubs his nightstick against Alan and tells him to remove the underwear. Then alan stands naked, facing Kamil. He is told to kneel and his face is level with Kamil's bulging pants. Kamil pulls out his stiff cock and instructs Alan to suck it. Alan doesn't want to but has to obey and soon Kamil pulls his head onto the throbbing cock. Alan sucks on the dick before being turned and bent over. Kamil gets naked and shoves his dick deep into Alan's ass hole. He fucks that ass deep and hard and spanks Alan's ass to. His cock pounds that tight hole, pulling on Alan's hair for leverage. Then Kamil moves them to the floor, spooning as he bangs his dick deep into Alan's hole. Alan wanks himself as he feels that dick deep in his ass. Kamil's fucking gets faster than ever, really working that hot hole. Alan keeps wanking until he delivers his cum as his ass is fucked hard. Kamil then pulls out of that ass and squirts his hot cum onto Alan's cock and balls.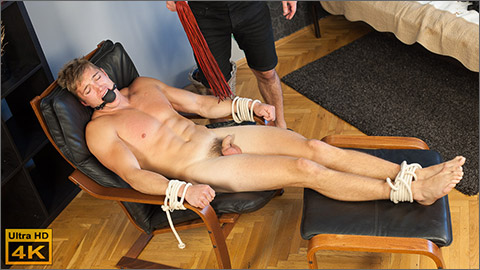 SPANKING: ALAN PEKNY
Alan Pekny is bound and gagged, in a chair. He is naked too, showing his sexy body, as he tries to free himself. His tormentor arrives, draping a whip along Alan's hot body. Then Alan's nipples are pulled and hands rub over his hot body. He flinches as the hands slap on the sexy chest. He moans and writhes as the whip is used on that body too. Clothes pins attachd to his nipples and abdomen increase his torment. Then the pins are moved, onto Alan's balls and a clamp is attached to his cock, pulling it around. His legs are freed and raised, to expose his ass. That ass gets spanked and whipped as the cheeks spread to show his hole. Alan moans as he feels the heavy hands on is sexy ass. Then that ass feels a vibrator pushing against the hole and Alan grimaces as it slips past the spincter and goes inside. The vibrator opens his hole and his ass gets more spanking. Then when that hole has had enough fucking from the toy, and his cheeks are sore from spanking Alan sits up and wanks his cock until he shoots his hot cum.
WILLIAM HIGGINS
STR8HELL
DEBT DANDY
EAST BOYS
BADPUPPY
CLICK HERE TO GO TO HIS WILLIAM HIGGINS BIO PAGE
CLICK HERE TO GO TO HIS STR8HELL BIO PAGE