Blond William Higgins Czech Muscle Hunk Gay Porn Star, Jan Bavor
Known Aliases / aka:
Years Active: 2017 – 2018
WILLIAM HIGGINS INFO:
Model Name: Jan Bavor
Age: 19
Home Town: Prague
Height: 174cm/5'8″
Weight: 87kg/191.4lb
Foot Size: EU43/US8.7/UK8.2
Penis Size: 13cm/5.12″
Profession/Student of: High School
Hobbies: Sport
Favorite Sports: Fitness
Active Sports: Bodybuilding
Movie/Music/Sport Stars: Ronan Keating
Visited Countries: France
Want to Visit Countries: Germany
Dream of My Life: I don't know.
Zodiac Sign: Cancer (June 21 – July 22)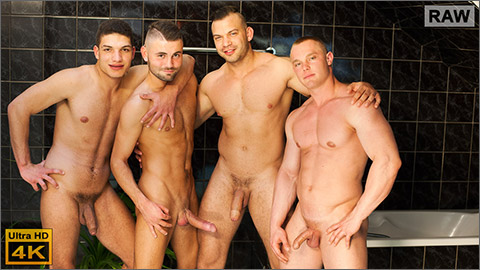 WANK PARTY #85
In Wank Party #85 we have Niko Kadera, Jan Bavor, Milos Ovcacek and Ondra Vidim. We find Milos and Niko asleep on the bed as Jan is in the bath, being assisted by Ondra. Milos awakes and begins rubbing and kissing Niko. Jan gets out of the bath and Ondra starts to dry his body. As the towel is rubbed over that sexy body Jan and Ondra kiss each other. Ondra reaches for, and gently gropes Jan's cock and balls as they kiss. Meanwhile Niko is fully awake and kisses Milos who responds by pushing Niko onto his back and taking down his underwear so that he can suck his cock. Niko's cock is rock hard as Milos' head bobs up and down on it. Ondra drops to his knees as Jan sits on the edge of the bath. He takes Jan's cock in his mouth and begins to suck on it. Jan's cock quickly responds from the attention. Then Ondra stands for Jan to return the favour and suck in is lovely fat cock. Jan licks and sucks on that rock hard cock. Meanwhile Milos continues to work on Niko's dick too. Niko thrusts his cock up into Milo's eager mouth. Milos frees his own throbbing cock and wanks it as he keeps sucking. Then he lays back and Nikos moves between his legs so that he can take a turn at sucking. His hot mouth encloses Milos' rock hard dick and sucks it, lapping at the balls too. Milos suggests joining the others, so they go into the bathroom and start to kiss Jan and Ondra. Jan drops to his knees and sucks Milos' massive cock. Nikos does the same to Ondra, taking the cock deep into his mouth. Then it is all change as Ondra takes a turn on Milos' cock before giving way for Niko to suck again. Niko, Ondra and Jan all take turns on Milos big cock. Then Niko has to depart for work, leaving Jan and Ondra to enjoy Milos' cock. Milos needs more than sucking though and bends over the basin for Ondra to slide his fat cock deep into the waiting ass. He fucks Milos' tight hole as he is encouraged by Jan. Then Ondra pulls out and Jan takes his place, pounding Milos' hole deep and hard. Jan's ass wants some cock too and he lays on the floor, legs up, for Milos to fuck him. He wanks himself as Milos' dick works deep into his tight hole. Ondra squats by Jan's head and wanks himself as Milos keeps fucking. Jan's cock is rock hard and he soon shoots his creamy load over his belly. Milos fucks Jan's tight hole as Ondra wanks hard and shoots his cum all over Jan's hot body. Then Milos pulls out and wanks until he cums too.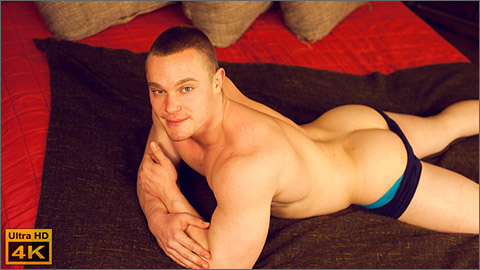 MASSAGE: JAN BAVOR
Jan Bavor is in for a massage. He is a great looking guy and has a wonderful body. He lays on the bed, wearing only his underwear. The masseur arrives and kneels next to Jan to begin work. With his hands oiled he massages the back and shoulders. Jan relaxes as the hands work all over his back and down to his sexy, underwear clad, ass. He raises that ass for the underwear to be lowered some, teasing with a little glimpse. The hands slide into the underwear and over the ass cheeks. Then the underwear is pulled down to give better access to that sexy ass. Soon the underwear is off and Jan's legs are parted so the hands can rub down to his cock and balls too. That sexy ass looks great as oil is dripped onto Jan's stiff cock and his balls. The hand rub over the cock and then spread the cheeks to show off the tight hole. A finger slides deep into the hot hole as the other hand reaches to wank the hard cock too. Jan raises his sexy ass as the finger works his hole. His cock is rock hard too as it is wanked down between his legs. Then a toy is shoved deep into Jan's tight hole as his cock continues to be wanked. The toy fucks his ass deep. Then it is removed and two fingers fucks the hole some more. Jan turns over and lays on his back. The masseur, Alan Carly, wanks it and then leans forward to suck as well. As the wanking gets faster and faster Jan's balls tighten and his cock releases the creamy cum onto his rock hard belly. Alan milks every last drop of cum from the stiff cock after a very good massage.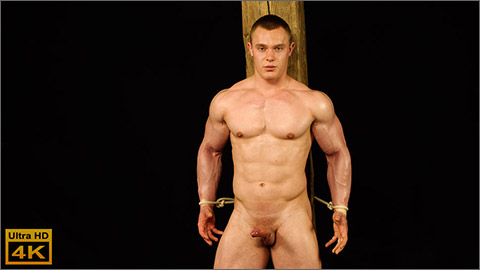 MILKING MEN: JAN BAVOR
Jan Bavor is a real stunner. In this Milking Men scene he is shackled and wears just his underwear. A helping hand starts to grope the underwear and rub all over the sexy body. Jan's cock hardens in the underwear which is then pulled down. The stiff cock flops out and the helping hand is quick to start wanking it. Jan's balls are tight around the shaft as the cock is wanked and Jan wants to cum, but the hard comes off the cock to stop it from happening. Oil is dripped onto that stiff cock as the wanking continues, bringing the dick right to the edge. Jan is moved, bending over so that his sexy ass his available. The hands rub over the hot ass, feeling the hole. Then a dildo is prepared and slides into that tight hole. It opens the ass real well and Jan's cock is teased some more too. His ass gets a good work out and then Jan sits as his cock is wanked to the edge again. The cock is so very hard and the balls so tight. Jan wants to come but isn't allowed to. The hand reaches underneath to feel that hot ass hole again before continuing the wanking. Finally the cock is grabbed and wanked to completion, letting Jan release the creamy cum.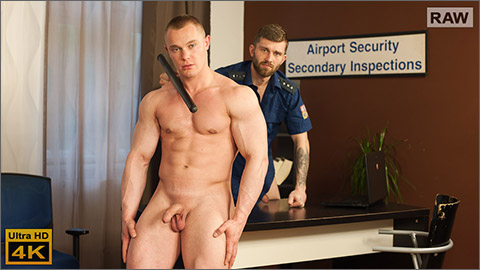 AIRPORT SECURITY: JAN BAVOR & NIKOL MONAK
Nikol Monak is in charge of Airport Security. He is working as Jan Bavor sits and waits to be attended to. Jan asks to be seen as he has been waiting. Eventually Nikol calls him over. A discussion ensures about some contraband which Jan claims is not his. He is made to wait again as Nikol makes a phone call. Then Nikol threatens him and cuffs him. Nikol then pulls his dick out and shove it into Jan's mouth. Jan sucks the cock and does a good job. Then he is stripped, showing off his hot body. Nikol sits in his chair and pull Jan's head down onto his stiff cock again. He works the hard cock well and is then moved onto his knees. Nikol's stiff dick slides into Jan's beautiful ass, opening it wide. He fucks that ass so deep, spanking it too. Jan moans as he feels the big cock slamming his hot hole. He takes it well and is then turned over for more hard fucking. He takes hold of his own cock and wanks it as Nikol pounds his hole. Jan keeps wanking his dick and soon shoots his hot cream onto his belly. Nikol keeps up his hard fucking of that hot ass, pulling out to shoot his creamy load all over Jan's beautiful body.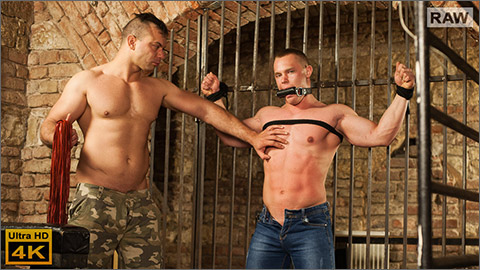 DUTY BOUND: JAN BAVOR & ONDRA VIDIM
Jan Bavor is gagged and shackled, with his hot chest bared as Ondra Vidim approaches from behind. Ondra reaches round and plays with Jan's nipples. He feels Jan's huge muscles before moving to the front and running his hands all over that sexy chest. He leans down and licks Jan's nipples as he gropes him. He opens Jan's jeans and then begins hitting on his belly. Pulling on the nipples Ondra then applies clothes pins to one, and then the other. He continues to attach pins to Jan's hot body. Then he attaches nipple clamps and pulls on them before using his whip on Jan's hot body. He reaches inside the jeans to free Jan's cock and balls. Then he drop down and takes the cock in his mouth. Jan's cock gets very hard as Ondra sucks on it. Then Ondra releases Jan and they start to kiss each other. Jan drops to his knees and sucks on Ondra's big, fat, cock. He takes the fat dick in his mouth working it well. Ondra wants more though and has Jan bend over so that he can fuck his hot ass. The fat cock slides deep into Jan's tight hole and fucks him deep. Jan enjoys the deep fucking and turns over to get more fucking. He wanks himself as Ondra pounds his tight hole. Jan keeps wanking hard and soon dumps his hot cum onto his thigh as Ondra's dick is deep in his ass. Jan milks all the cream from his cock as Ondra keeps fucking him. Then Jan, drops down and wanks that big, fat, cock until Ondra's cum is released too.
CLICK HERE TO GO TO HIS WILLIAM HIGGINS BIO PAGE
CLICK HERE TO GO TO HIS STR8HELL BIO PAGE