William Higgins Czech Hunk Jock Gay Porn Star, Kamil Banek
Known Aliases / aka: Jack Ganley, Ryan Ganley, Luke White, Marek Holas, Ryan Code, Ryan Volta, Czech Hunter 287
Years Active: 2017 – 2018
WILLIAM HIGGINS INFO:
Model Name: Kamil Banek
Age: 24
Home Town: Prague
Height: 169cm/5'6″
Weight: 62kg/136.4lb
Foot Size: EU40/US8.1/UK7.6
Penis Size: 16cm/6.3″
Profession/Student of: University student
Hobbies: Sport
Favorite Sports: Gymnastics
Active Sports: Athletics
Movie/Music/Sport Stars: Cristiano Ronaldo
Visited Countries: France
Want to Visit Countries: Portugal
Dream of My Life: Who knows.
Zodiac Sign: Leo (July 23 – August 22)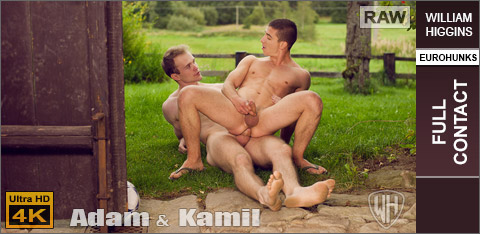 FULL CONTACT: ADAM NEZVAL & KAMIL BANEK
Two very sexy str8 guys, Kamil Banek and Adam Nezval are enjoying a kick=about in the garden. When they finish they walk into the barn and Kamil tells Adam he wants something more. He moves to him and they begin kissing and feeling each other. Kamil kisses Adam's chest and nipples and then gropes his shorts. Moving down he opens the shorts and they drop down to reveal Adam's hard cock. Kamil's mouth quickly encloses the dick and he sucks on it. He rubs it too as he sucks with the balls tight at the base of the shaft. Kamil's head bobs on the cock, taking it deep into his mouth as he sucks. Then Adam returns the favour, taking Kamil's throbbing cock into his mouth. He licks all the the shaft and swallows the head, swirling his tongue around it too. Then he turns Kamil around and starts to rim his sexy ass. He pulls the cheeks wide apart to get his tongue into the tight hole. Then Adam stands and slides his rampant rod deep into the waiting ass. He fucks that hole deep and hard with Kamil taking it so well. Adam's cock goes it all the ways and he really bangs away at the hot ass. Kamil's dick stays rock hard as he feel his hole being fucked. They move to the grass and Adam sits. Kamil slides his ass down on the waiting cock, taking every inch as he rides up and down. He wanks himself too as he works his hole on that dick. He wanking speeds up as he continues to ride the big cock. His cock erupts with a fountain of hot cum as Adam's dick is deep in his hole. Adam fucks up into the tight hole until he is ready to cum. Then he pulls out and Kamil kneels before him to watch his cum.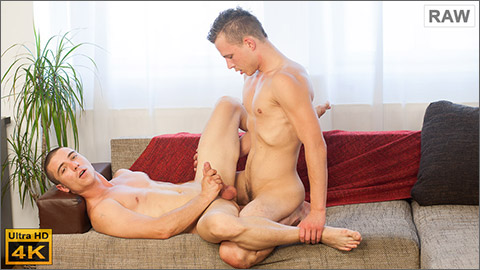 CHERRY BUSTING: HUGO ANTONIN & KAMIL BANEK
Kamil Banek is a great looking newcomer. He gets his cherry busted today by Hugo Antonin. They have a chat before they get started, then they kiss each other. Kamil is very eager and is soon naked, with his cock rock hard. Hugo sucks on the stiff cock as Kamil leans back to enjoy the feeling. Then Hugo's dick is out too and rock hard. Kamil shows that he is up for some hot sucking and works on that big cock. Then it is time for that cherry to get busted and Hugo's dick works into Kamil's tight hole. Hugo fucks that hot ass deep as Kamil grabs his own throbbing cock and wanks it to a mighty climax. His cum shoots all up his chest and he gets even more when Hugo pulls out of his ass and delivers his creamy load too.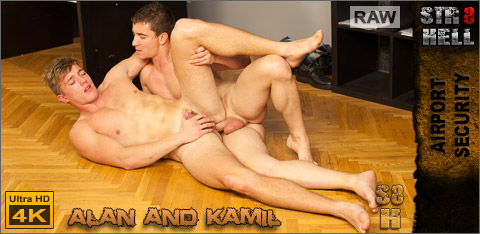 AIRPORT SECURITY: ALAN PEKNY & KAMIL BANEK
Str8 guy Kamil Banek is in charge of airport security when he is presented with the sexy Alan Pekny, another hot str8 guy. He has been sent in as he has a problem with his id. Alan sits and gives up his id for checking. It seems that something is wrong and Alan offers money to fix it. Kamil takes the money but isn't ready to release Alan, he has other ideas for him. He has Alan stand up so he can be frisked. Then he tells him to strip, which he does down to his underwear. Kamil rubs his nightstick against Alan and tells him to remove the underwear. Then alan stands naked, facing Kamil. He is told to kneel and his face is level with Kamil's bulging pants. Kamil pulls out his stiff cock and instructs Alan to suck it. Alan doesn't want to but has to obey and soon Kamil pulls his head onto the throbbing cock. Alan sucks on the dick before being turned and bent over. Kamil gets naked and shoves his dick deep into Alan's ass hole. He fucks that ass deep and hard and spanks Alan's ass to. His cock pounds that tight hole, pulling on Alan's hair for leverage. Then Kamil moves them to the floor, spooning as he bangs his dick deep into Alan's hole. Alan wanks himself as he feels that dick deep in his ass. Kamil's fucking gets faster than ever, really working that hot hole. Alan keeps wanking until he delivers his cum as his ass is fucked hard. Kamil then pulls out of that ass and squirts his hot cum onto Alan's cock and balls.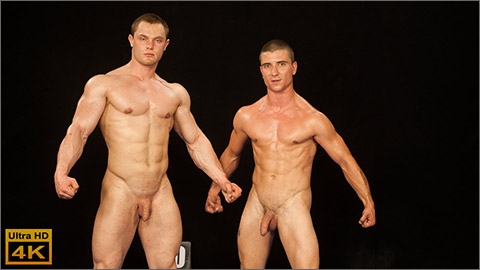 WRESTLING: JAN BAVOR vs KAMIL BANEK
Jan Bavor and Kamil Banek, two very hot str8 guys, are paired for a submission wrestling match. They start off, wearing just underwear, with some warming up exercises. Those hot, hard, bodies looks so good as they warm up. Then it is onto the match. Quickly they are grappling as they roll around on the mats. It is the larger Jan who gains the first point. They remove the underwear to wrestle naked. Those hot, sexy, asses spread as the guys strain to get a decent hold. Jan continues to add points as he gets some great holds on Kamil. Kamil tries very hard, putting his all into it, but Jan continues to hold the advantage. They take a break to oil each other all over and then they resume the wrestling. With Jan holding a big advantage he soon ends up as the victor. Then they settle down for a wank off. With cocks hard Kamil, as the loser, sucks on Jan's dick for a while. Then they resume wanking to see who can cum first. Jan wins that race, shooting his hot cum on the wrestling mats. Then Kamil cums too and they clean each other's cocks before going to the shower to wash all the oil and sweat from their hot bodies.
BADPUPPY
CZECH HUNTER
RANDY BLUE
TWINKS IN SHORTS
HAMMER ENTERTAINMENT
BOY FUN COLLECTION
JAKE CRUISE'S COCK SURE MEN
CLICK HERE TO GO TO HIS WILLIAM HIGGINS BIO PAGE
CLICK HERE TO GO TO HIS STR8HELL BIO PAGE