Tattooed Randy Blue American Gay Porn Star, Zane Porter
Years Active: 2014 – 2015
TWITTER
RANDY BLUE INFO:
Name: Zane Porter
Age: 19
Birthplace: San Diego
Zodiac: Cancer
Sexual Preference: Bi
Height: 6′ 2″
Weight: 195 lbs
Hair: Brown
Eyes: Blue
Build: Athletic
Ethnicity: White
Length: 8.5 inches
Girth: 4 inches
I speak: English
I enjoy: Doing as I please
At first glance you may think that Leonardo DiCaprio has come back in time and decided to make gay porn. But no, it is 18 year old Zane Porter. This boy may be young, but he has a thick and chiseled body that will make you drool. His perfect pecs are topped off with pert pink nipples, and his bulging biceps are covered in colorful tats. I took him to the park and we walked down a hidden path. This guy is not shy. He started stripping right then and there and the gentle breeze blowing on his body got him all hot and bothered. He got hard as a rock and whipped out his cock to show me. He was emboldened by the public display. He was playing some fucking gay porn games and he wanted to win. This is going to be one of the best gay porn vids you have seen this week. We got him back to the studio and he pulled out his hard cock and started to beat off. This guy has a massive meat and loves to touch it. Then he bent over and started to play with his hot bubble butt. He takes video porn to the next level and starts to cum all over himself. Be sure to take a look at all of his free hot gay pics here at Randy Blue.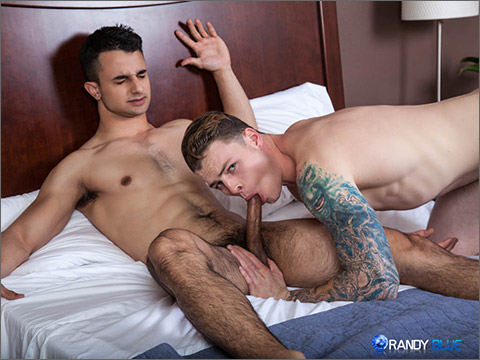 BISEXUAL ZANE PORTER FEEDS STRAIGHT BOY, EZRA FINN, HIS FIRST DICK
Ezra is waiting in the bedroom in his underwear for his scene partner to arrive. It is hot and tattooed Zane Porter. He comes into the bedroom and begins to strip for him. By the time he is down to his skivvies, he crawls up and begins to kiss Ezra. The two make out and Zane slowly kisses down Ezra. Ezra has perfectly chiseled pecs and abs. Zane pulls out his dick and sucks on it. And then he stands up and pulls his hard cock out and slaps it on Ezra, hitting his chin. Ezra has never sucked a dick before but he was finally ready to test the waters. After he chowed down on Zane, he was ready to start fucking. Zane rode his cock and then let Ezra fuck him Doggie and Missionary before he finally let Ezra cum in his mouth. Be sure to check out the free HD gay porn trailer of the hot gay fucking here at Randy Blue.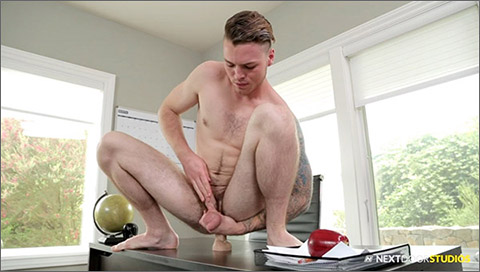 ZANE PORTER NEXT DOOR MALE SOLO
Zane is a confident, kinky stunner with baby blues, a svelte body, and a willing attitude that is sure to please. More than just eye candy, this SoCal native spends his free time in the ocean with his camera, snapping scuba and surf pictures by day and cruising for a little adventure by night. A self admitted trouble starter, Zane's steely looks must surely get him into quite a few sticky situations, but his eagerness to please make up for it. Here we find him staying late after class, helping himself to a little study break, as he reclines in his desk, unzipping his pants and letting his cock come out to play. Stroking it as he spreads his legs, Zane gets harder and harder, until he's just too cramped at his own desk, and decides to move to his teacher's desk, mounting a dildo to the desk and then riding it as he continues to jerk himself off. Zane spreads his legs as wide as they will go, fucking himself with the dildo as he strokes himself off, then spraying the desk with a load of 'extra credit', proving that Zane is definitely the kind of guy you'd enjoy doing some homework with.
Amateur, Solo, Brunette, Hairy, Big Dick, Toys, Masturbation, Athletic, Facial Hair, Climax, HD Movies, Gay Porn, Caucasian, Jock, Jerking off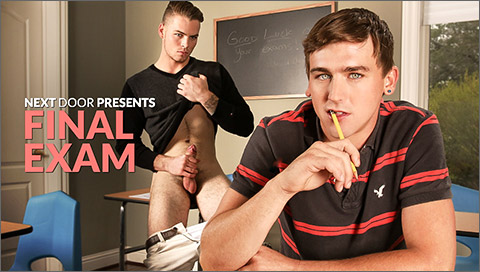 FINAL EXAM
Tyler Sky is a solid student who works hard for his good grades. Tyler was absent due to illness on the day the final exam in Chemistry was given, but he made arrangements with the professor to make it up. When Tyler shows up for the test, he's surprised to find class clown and hot badboy, Zane Porter, is making up the exam too. As Tyler works to answer the questions for which he prepared hard, Zane sits behind him, struggling to focus on the boring test that he can hardly even understand.
Zane realizes that Tyler, being one of the biggest overachievers in school, probably knows all the answers. Since the professor is probably napping in the lounge, and won't be back for another hour or so, Zane propositions Tyler.
When Tyler denies Zane's first request, Zane decides to offer something in return. Tyler can't believe Zane when Zane tells him he'll show him his cock. Tyler laughs at first but turns around to see Zane standing up, with his large, swollen dick in hand.
Tyler has had his eye on Zane all semester and this is an opportunity too sweet to pass up. Before Zane knows it, Tyler is sucking his fat dick. This is like a dream cum true for Tyler. Zane enjoys the warm feeling of Tyler's lips around his throbbing dong for a while before pulling out Tyler's big cock and doing some slurping of his own. When the energy builds to a tipping point, the boys move to a desk where Zane slides his stiff meat into Tyler's tight ass.
Join this exam session where the last thing on these guys' minds is finishing on time. This is how to exploit the cute, nerdy kid without feeling too guilty!
Amateur, Condom, Hardcore, Anal Sex, Oral, Deep throat, Brunette, Hairy, Tattoo/Piercing, Twink, Athletic, Big Loads, Climax, HD Movies, Gay Porn, Caucasian, Muscular, Jerking off, Blowjob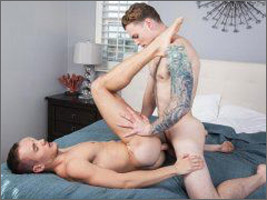 GAY STUD ZACK NORRIS GETS FUCKED RAW BY ZANE PORTER
BIG DICK DOMINIC SANTOS AND SEX CRAZED ZANE PORTER SHOOT DOUBLE LOADS OF CUM
STRAIGHT STUD BRANDON FOSTER FUCKS BI HUNK, ZANE PORTER
BLONDE TWINKS ZANE PORTER AND SKYLAR WEST MASSAGE & FUCK
SCOTTY MARX TURNS ZANE PORTER GAY WITH HIS HOT ASS
WELCOME TO LA EPISODE 8 – SANTA MONICA
WELCOME TO LA EPISODE 6 – DOWNTOWN
WELCOME TO LA EPISODE 5 – BEVERLY HILLS
18 YEAR OLD STRAIGHT JOCK, ZANE PORTER BUSTS A FAT LOAD FOR YOU
NEXT DOOR STUDIOS
RANDY BLUE
RANDY BLUE LIVE
CLICK HERE TO GO TO HIS NEXT DOOR STUDIOS DETAILS
CLICK HERE TO GO TO HIS RANDY BLUE DETAILS
CLICK HERE TO GO TO HIS RANDY BLUE LIVE DETAILS