Handsome American Uncut Hunk Gay Porn Star, Zane Penn
Known Aliases: Liam (Corbin Fisher), Dolph (Fratmen)
Years Active: 2014 – 2015
TWITTER @zane_penn
CORBIN FISHER INFO:
Age (2014): 20
Waist: 32
Eyes: Brown
Height: 6′ 3″
Weight: 212 lbs
Hair: Brown
Build: Athletic
Cock: 7.5″ uncut
Shoe: 12
Liam's a tall, buff, studly college guy that's friendly, eager to smile and laugh, and was admittedly a bit nervous stripping down and stroking off for us.
   "Hopefully it'll go well!", he laughs. Once you see this handsome guy's body I think you'll agree it went quite well.
   In what I've noticed is a bit of a recurring theme, Liam's first time came about after his girlfriend took the lead and dragged him upstairs for some action at a party. The stereotype is it's always the guys taking the lead but it's fairly fascinating to think so many of these hot, young, hot-bodied guys didn't lose their virginity until a girl took charge and initiated everything.
   While Liam has a very youthful face, his body is all man! He works out a lot, though only started doing so when he was 17. He's made the most of his couple of years in the gym, though – that body is amazing!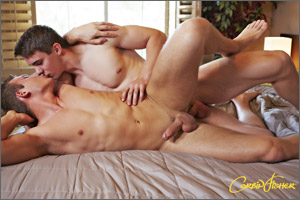 LIAM TAKES ON KENNY
Liam is one I wasn't entirely confident we'd see in action with a guy. He didn't seem particularly interested in the idea when he first arrived at CF, and a couple conversations about the possibility of making it happen just didn't lead anywhere at all. I assumed his solo and guy/girl video would be the end of it, and that was that. It would have been a shame had that been the case, though, as Liam's quite the stud!
   Thankfully, some time after Liam returned home from his first time out here, he hit us up out of the blue asking about guy/guy action – he was curious what it might involve, what he'd be expected to do, and wanted to confirm it paid well. I guess all of the answers he got in return were to his liking, because here he is!
   Liam's going from seeming uninterested in guy/guy action to the first few minutes of this episode was quite the change – he has this smirk on his face that he just couldn't hide and he was more at ease than we – or Liam himself, for that matter – excepted him to be. Granted, I think that sly smile at the outset was his way of concealing his nerves a bit. Regardless of all that, though, his hard cock leaves no doubt Kenny was making him feel good! He's already hard before his boxersbriefs even slide off, and every thing that happens to his cock from that point on just turns him on even more.
   Liam uses that tall, muscular frame to fuck a guy for the first time long and deep – those deep strokes eventually fucking a load right out of Kenny. Liam goes back to fucking Kenny some more, and what happened next was quite the treat. You can see Liam slow down, trying to hold off from blowing the load he likely couldn't believe was building up in him so quickly. He just couldn't hold back, though, and got caught off guard by his own orgasm as he paints Kenny's hole with cum. Though he didn't ask how fucking a guy might feel before deciding to give it a shot, he got an answer to that question nonetheless!
LIAM BOTTOMS UP
LIAM TAKES ON KENNY
LIAM
CORBIN FISHER / AMATEUR COLLEGE SEX
GAYHOOPLA
LIVE AT THE FRAT PAD
FRATMEN
MAVERICK MEN