Sexy Daddy Pierced cock Hairy Handsome American Gay Porn SuperStar, Zak Spears
Known Aliases / aka:
Years Active: 1993 – 2009
AEBN INFO:
Date of Birth:1/1/65
Height: 6 ft 2 in (187 cm)
Weight: 235 lbs (106 kg)
Hair: Brown
Eyes: Blue
This Russian-American bear is one of the most beloved Daddies in gay porn, with a beefy body that he has never shaved. Six feet two inches tall and 235 pounds, with a nine-inch dick, Zak Spears is a mountain of a man who practically roars when he cums. He was born January 15, 1965 in Chicago, named Khristofor Lawl Rossianov. Legendary director-in-drag Chi Chi La Rue discovered Khristofor in a Minneapolis gay bar called The Gay 90s and saw a porn star just waiting to happen. Taking his first name from a "Saved By The Bell" character and his surname from Chi Chi La Rue's observation that he looked like the younger brother of straight porn star Randy Spears, Khristofor became Zak Spears. In 1996, Zak retired from porn and was known to work as a bartender and a personal trainer. He was a muscle-bound young bear with a full head of blond hair in those early days, but when he came back in 2004 as the star of Falcon's Zak Attack, he won a whole new generation of fans with his bald-headed but still bearish Daddy look. Zak also reunited with Chi Chi La Rue for Bolt shortly after his return to hardcore. On the side, Zak has appeared in the mainstream Hollywood indie flicks The Doom Generation (as Khristofor Rossianov) and Forgiving The Franklins (as Khris Scaramanga).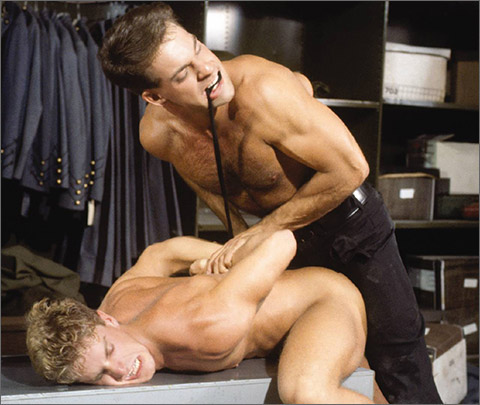 THE ABDUCTION – REDEMPTION: Zak Spears & Jesse Tyler flip-fuck
The commandos raid the Legion headquarters, easily overpowering the guards to get to the secret box that contains all the incriminating photos of the Legion's operations. Blond Jesse Tyler struggles with Zak over the box, and Zak spanks his smooth and creamy buns before invading his enemy's territory. Underdog Jesse never quits, and soon turns the tables on Zak, gets the box and triumphs for good.

ZAK ATTACK: Zak Spears fucks, fists and dildo-fucks Thom Barron
Experience an intense session of sucking, fucking, and ass-play featuring Zak Spears and returning Falcon man Thom Barron. These two talented players get down to some serious sexual play and Zak knows just what it takes to satisfy Thom's hungry and eager desire.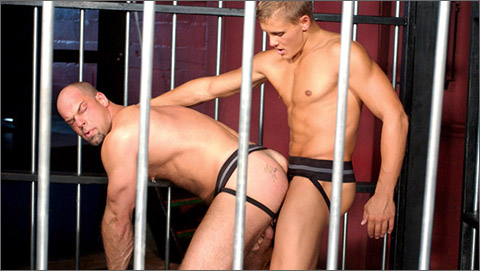 ZAK ATTACK: Brad Patton fucks Zak Spears
Witness the incredibly hung Brad Patton's first amazing leather scene as he submits Zak's greedy affections and expert skills. The erotic interplay is intense as these demanding studs work themselves to the edge of satiation and into release.

HOUSE RULES: Zak Spears and Scott Baldwin
Zak Spears has his way with athletic dream boat Scott Baldwin outdoors on a patio by trading blow jobs and 69 upside-down with Scott being upended as he slurps on his cock. Both deliver big loads, and perform with grace and fervor.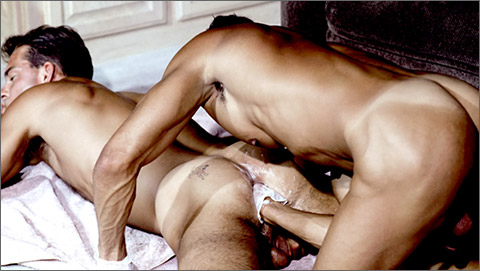 SUMMER FEVER: Brad Stone fucks dildo-ducks and fists Zak Spears
Baking in the hot afternoon sun, Zak Spears looks over and eyes the scrumptious Brad Stone making him fantasize about what could be. His delirium fleshes out with the two studs quickly losing themselves in the glory of each other's flesh, drowning in muscular pecs and big thick cocks. There is so much to gobble up that neither man is left wanting. Zak's ass is twitching for attention and Brad happily licks and fucks the hole, before ramming a gloved fist and greased dildo up the hairy channel.
CHANNEL 1 / RASCAL
ALL WORLDS VIDEO
CATALINA VIDEO
JET SET
HIS VIDEO
MARCOSTUDIO / RENEGADE STUDIOS
MEN OF ODYSSEY
CLICK HERE TO GO TO HIS COLT STUDIO DETAILS

COLT CALENDAR MEN #11 – LEATHER
COLT Calendar Men Digital Magazine #11 – Leather is a full-color digital compilation of major highlights from various COLT Calendars which features some of our most iconic COLT Men from over our 52+ years in PDF downloadable format.
Features COLT Men Icons: Cover man Walt Ford, Pete Kuzak, Mike Pereyra, Joe Falco, Mark Alexander, Haus, Neal Howard, Nick Dipalma, Franco Corelli, Joel Hancock, Tony Mills, Beau Wheeler, Pat Webb, Ed Ventresca, Mike West, Skip Piston, Tom Chase, Erik Korngold, Buddy Houston, Ken Ryker, Buck Hayes, John Bell, Tony Lombardy, Jake Andrews, Wade Neff, Rod Roddick, Rio Majeska, Jesse Ditmar, Jake Tanner, Chet O'Roark, Mike Dasher, Billy Herrington, Marshall Cline, Todd Maxwell, Jason Brahm, Carlo Masi, Nick Battle, Scott Butcher, Frank Vickers, Link Benedict, Gus Mattox, Ray Dragon, Diego De La Hoya, Zak Spears, Gunner Hyde, Paul Underwood, Bruce Abidor, Matt Horner, Fritz Bowman, Tony Ganz, Taylor Burbank, Jeff Williams, JD Amos and Brant Royale.

WATCH IT NOW AT: Zak Spears @ AEBN / SMUTJUNKIES THEATER
AVAILABLE FROM: Zak Spears @ TLA VIDEO