ChaosMen Amateur Gay Porn Guy, Zak Fit
Known Aliases:
Years Active: 2016
BRIAN OCKERT / CHAOS MEN INFO:
Start Age: 28
Debuted: June 27, 2016
Height: 5'6″
Weight: 168 lbs
Cock: 7″ Cut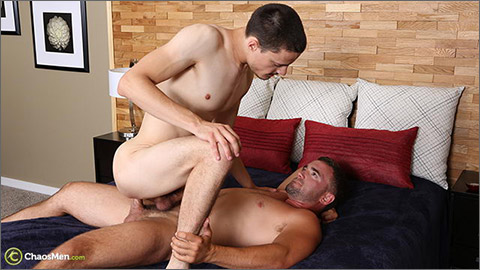 RAW: ANTONIO CERVONE & ZAK FIT
Antonio is such a great cocksucker AND an amazing bottom. His first two videos were TagTeams and it was clear he could take on just about anything.
   This was supposed to be another TagTeam, but my luck on setting these up is still Hit or Miss. We all waited at the airport for the 3rd model's 45 minute delayed flight and turns out he never got on it, and have not heard from since. Ahhh, The pain of running an adult site.
   In a way I was glad to give Antonio a break and for him to not be overshadowed by two power tops. But given his hunger for cock in both of his holes, I am sure I will be back to having him power-fucked by two Tops.
   This was Zak's first sex film. We had tried to get him in the month before and days before his shoot, he realized he could not get off from work. Hence the major delay in his full-performance video.
   Zak is also a lot more hung than I had remembered. He is a little guy at 5'6″ so I guess I underestimated his cock size. Antonio was joyfully stretched to his limits, but I suspect if this had been a 3-way, we would have worn him out.
   Antonio gleefully sucks Zak's fat cock, showcasing his ability to swallow a giant sword to the hilt. Zak, who is proud of his own cock sucking skills, was not to be outdone, and eagerly attacks Antonio's cock with his own throat.
   Antonio also loves to please his Daddy, so he rims Zak's hole while Zak strokes his cock until it is at full mass. Once charged-up, Antonio sits down on his fat dick, straining his hole to the max.
   I love having an eager Bottom who is using his ass to best please his Top.
   And Zak is an excellent Top too! For a Bi guy, he clearly has had a lot of practice with both sexes. He has great skills and energy!
   Zak jerk his cock and unloads inside of Antonio. Having his load deep inside of him, Antonio jerks his own cock until he spills out his own load!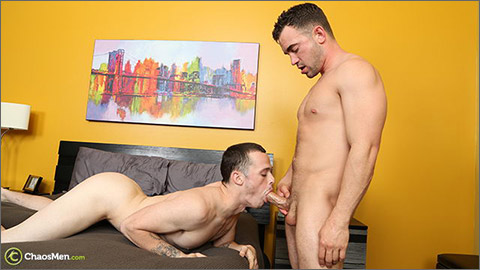 SERVICED: FRANCO & ZAK FIT
Zak was not kidding when he said he could swallow some cock!
   Instead of him just getting serviced, we started with Franco and Zak both stroking their own cocks. They eyeball each other's dicks, then start to stroke each other.
   Zak's cock was hard first, so he slides on down to nurse on Franco's semi-erect cock. Zak must have some great skills because Franco go hard pretty quick!
   Zak just zones out while cock-sucking. You can tell just how focused he is, and happy to have a cock in his mouth.
   When it came time for Franco to suck him, it took Zak some time to get hard. It showed me right away that Zak really like seeing and sucking a cock in order to stay in the zone.
   So Franco flips on to his back and shows-off his hard cock. Giving him some visual stimulation, Zak strokes his own cock until it is hard. He fucks Franco's face with it, but he then leans over and gets Franco's dick back in his mouth. He just can't stay away from it!
   Franco is a little trapped under there, so he fingers Zak's hole. Between servicing Franco and the ass play, Zak was hard and really turned on.
   Honestly, I think all Zak really wanted to do was to get face fucked by a big cock. He gets on his back and drapes his head over the edge so Franco can jam it down his throat.
   The dude can indeed deep throat!
   Franco pulls out then jerks his cock fast. He spills his load all over Zak's face! Even full-on gay guys are not always eager to eat cum, but Zak loved having the seed on him! I think 'mostly straight' is a stretch. I think we can put him in the full-on bi category. For now.
   As soon as Franco coats his face and mouth with his seed, Zak ramps up and bust his own load.
   I will ask Zak to come back. He said he wants to start by topping, but given the anal play and his interest in sucking cock, I am hoping he will be a versatile team player!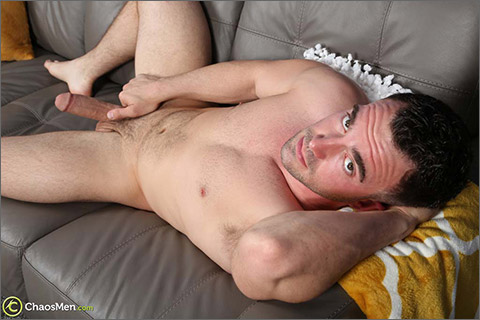 SOLO: ZAK FIT
Zak is a hot 28-year-old dude, who says he is 'mostly' straight. He fooled around a bit with guys when he was young, and now occasionally likes to swap oral with hung dudes. He seems to like really big cocks, and thinks he has got some good cock-sucking skills.
   That doesn't sound very straight to me either.
   But he watched straight porn, trying to find a girl with the perfect fat ass to stroke to while we did photos. For the video, he finally settled on a cum shot compilation, of guys busting on girls. I dunno, it seemed like that was a lot of squirting cock to watch, so maybe he is a little confused.
   But he seems to own it, and I think he will make a great performer. Very laid back, and will genuinely be into the dudes he is paired with, especially if they have a big cock.
   He himself has a nice 7″ cock that I swear I thought was bigger. But we measured and he was just a bit over 7 inches. Zak is 5'6″ on a good day, so maybe it is his height that makes his dick look that much bigger.
   For this solo, I had him use a FleshJack. He liked it a lot and worried it might make him cum too quickly. He also shows-off his amazing ass and fingers his hole for us.
   He does want to come back, and start by topping, but next week let's check out those oral skills that he is so confident about!
CLICK HERE TO GO TO HIS CHAOSMEN BIO PAGE