Hung American Gay porn star, York Powers
Known Aliases / aka: Joey D'Falco, Joey DeFalco
Years Active: 1993 – 1999
FALCON STUDIOS INFO:
Hair Color: Light Brown
Eye Color: Brown
Height: 5′ 11″
Cock: 9″ cut and hard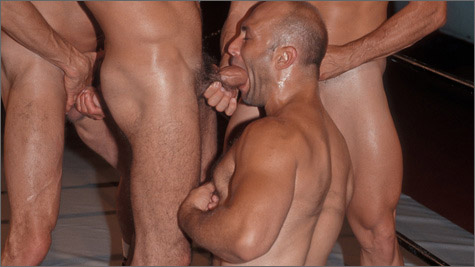 TAG TEAM: Anthony Gallo, York Powers, Trenton Comeaux, Nick Cannon
A simple training session turns into a full-scale sex bout as York Powers coaches Trenton Comeaux and Nick Cannon through their holds for newcomer Anthony Gallo. Coach Powers and Gallo can't keep their heavyweight hardons outside the ring as Comeaux and Cannon lose their trunks during a sweaty session of submission style wrestling. Comeaux's muscular torso is soon pinned to the mat by the threesome with Gallo lapping up the sweat from his exposed crack. After being skewered by Gallo's enormous meat, Comeaux is suspended from the ropes and, while sucking fat Cannon, is given a royal drilling by Coach Powers and Gallo. Gallo and Comeaux dock foreskins while Coach continues to assault Trenton's hole. All four finish the round on the mat with Gallo and Powers double penetrating Comeaux. The action pushes Powers over the edge into a screaming cum shot worthy of an instant replay with Gallo gasping for air as he shoots gobs. Both Comeaux and Cannon follow-up with bell-ringing loads.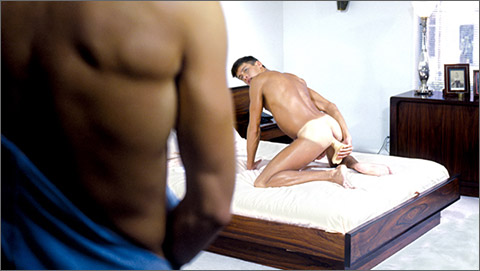 BASIC PLUMBING: York Powers and Erik Houston flip-fuck
Tall and rangy Erik Houston is at home playing with himself when his roommate, York Powers, enters to service his needs. Due to their almost twin-like appeal and fantastic, steamy, sweaty, and passionate love-making great oral action ensues as Erik fingers York's smooth behind with three fingers. York's expressions are sincere and real as he moans and his eyes roll backwards in his head. These versatile studs flip and mutually fuck each other with obvious joy and lustful abandon. Finally, we see the new corporate office of 'BASIC PLUMBERS,' complete with overburdened secretary and fabulous decor, a success with their stud service.