ChaosMen Amateur Gay Porn Guy, Wright
Known Aliases:
Years Active: 2016
BRIAN OCKERT / CHAOS MEN INFO:
Start Age: 34
Debuted: October 31, 2016
Height: 6'1″
Weight: 170 lbs
Cock: 8″ Uncut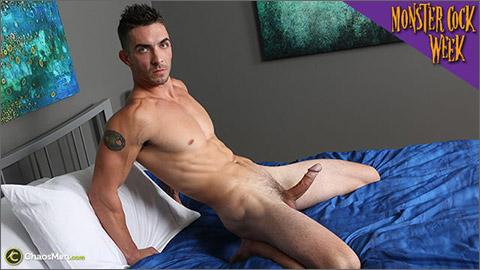 SOLO: WRIGHT
Wright was a last minute addition to Monster Cock Week. My photographer friend had worked with him years back and Wright had hit him up for some photos. After shooting with Wright, he realized he would be down to do video and referred him to me.
   I had one last day to fill for this Marathon and I can't believe how lucky I was to get him in. At 34 he has a rockin' body, and that long uncut cock is amazing. Those green eyes are piercing and beautiful.
   He gets hard easily and was turned-on by showing off to the camera. Wright only wanted to do a solo, but after the shoot he indicated he might be down for more, but as of now, nothing is planned. Fingers crossed.
   His cum shot is awesome as you see him build-up to a tremendous orgasm. He is upright on his knees, and blows a giant load all over the comforter.
CLICK HERE TO GO TO HIS CHAOSMEN BIO PAGE