Staxus European Twink Gay Porn Star, Will Simon / Rudolf Poper
Known Aliases: Debt Dandy 113 & 91
Years Active: 2014 – 2017
STAXUS INFO:
Ever the rebel, Will admits that he wasn't the easiest of children to rear. In fact, he was pretty much always in trouble. It's a trait that continues to show whenever he's on set; but give him a hard cock to play with and rest assured he's a paragon of virtue!
Date of birth: 18th July 1994
Height: 6'0″ (182cm)
Cock size: 7″ (17cm)
Ethnicity: Czech
Role: Bottom
Interesting Fact:
Will got his first tattoo – the one above his left nipple – on his 18th birthday!
WILLIAM HIGGINS INFO:
Model Name: Rudolf Poper
Age: 21
Home Town: Brno
Height: 190cm/6'2″
Weight: 68kg/149.6lb
Foot Size: EU46/US9.3/UK8.7
Penis Size: 18cm/7.09″
Profession/Student of: Bartender
Hobbies: Sport
Favorite Sports: Athletics
Active Sports: Cycling
Movie/Music/Sport Stars: Olga Kurylenko
Visited Countries: Portugal
Want to Visit Countries: USA
Dream of My Life: I don't know.
Zodiac Sign: Scorpio (October 23 – November 21)

WANK PARTY #83
Wank Party #83 features Romi Zuska, Tom Vojak, Peter Cisler and Rudolf Poper. In this first part we see Tom in his office ready to conduct casting interviews. Romi, Petr and Rudolf come in to see about their applications. Tom has a brief chat with each guy, taking down some details. Then he checks them out with a camera. He tells them to bare their chests as the checks them with the camera, chatting all the while. Then he tells them to kiss a little too. It seems to be going quite well so Tom pulls out his cock, which is rock hard and Romi starts to suck it. Petr opens Rudolf's jeans and starts to suck his hard cock too. Then Tom sits on the sofa and sucks Petr too. Petr keeps working on Rudolf's cock as Tom sucks him and Romi sucks Tom. Then Tom sits up so that Rudolf can take a turn on Petr's cock. Rudolf jeans come off, as do Romi's and they sit between Petr and Tom. Petr sucks Rudolf again as Tom's mouth works on Romi's stiff dick. Petr pulls Rudolf's legs into the air and rims his hot hole. Rudolf wanks himself as he feels the tongue on his tight hole. Romi gets between Tom's legs and sucks his big cock again as part one comes to an end, setting things up so well for part two.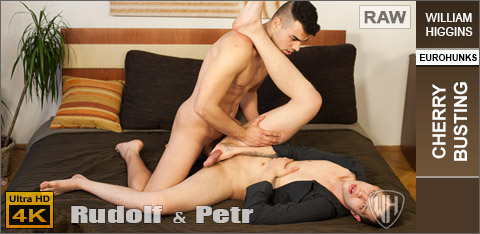 CHERRY BUSTING: PETR ZUSKA & RUDOLF POPER
Rudolf Poper is a very sexy newcomer. In this scene he gets his cherry busted by Petr Zuska. They relax on the bed as Petr chats with Rudolf, asking whether he has ever done anything with a guy. Rudolf hasn't but is is prepared to try, after a bit of coaxing. As they kiss Petr rubs a hand all over Rudolf. He lays Rudolf down and helps him off with his jeans and underwear. Then Petr gets to work on Rudolf's cock, quickly getting it nice and hard as he wanks and sucks it. It is a big, thick, cock and Petr sucks it well. Having sucked the cock for a while Petr gets his own stiff dick out and feeds it into Rudlfs mouth. Rudolf does a good job sucking the cock and licking the balls. Petr fucks his cock into Rudolf's mouth. Then he lays down and Rudolf climbs over him to 69. They suck each other and Petr spanks Rudolf's ass too. Then with Rudolf on his knees Petr gets behind him and slides his cock into the waiting hole. Rudolf moans as the cock stretches his hole and begins fucking. Petr's cock goes all the way into the tight ass and he fucks it nice and hard. Rudolf turns over, onto his back, and Petr's dick slides back into the hot hole. As his ass is fucked deep Rudolf takes hold of his own cock and wanks it. Petr fucks him hard and fast as Rudolf keeps wanking himself. As he wanks Rudolf's cock releases his hot cum as Petr keeps fucking the tight ass. Then Petr is ready to blow too and pulls out to shoot his creamy load. To end a great cherry busting he leans over and kisses Rudolf again.

AT EASE: TWO HORNED-UP RECRUITS PARK UP FOR A HARD FUCK & STICKY FACIAL!
STAXUS favourite, Jaro Stone, and new recruit, Will Simon, should be keeping a watchful out for hostile rebels as they scoot along in their army truck; but, as ever with our horny young officers, they're much more interested in exercising their cocks than combating the enemy. As a result, they're parked up in a field at the first opportunity, taking a chance to jump out of the vehicle so that they can take it in turns to feast on the handsome dick that they've both got stashed inside their khaki trousers!
   Stone, in particular, can't get enough of his mate's nicely curved shaft – but that'll come as no surprise to his legion of fans, who already know what a complete cock-bitch he is. Ever the versatile guy, however, he's clearly prepared to take the upper-hand in this pairing; and before long he's giving Simon's ass a rigorous rimming, probing his tongue right into his pal's eager little crack in preparation for what ultimately proves to be a terrific, open-air pounding! Fuck knows what the enemy would've thought had they stumbled upon these two cuties rutting away for all they're worth in the bright, Czech sunshine.
   What we can say with some certainty, though, is that you lot of horned-up bastards are in for a treat, with young Simon taking every inch like a veritable pro! All of which culminates nicely with Stone creaming the fellow's well-pounded pucker; before getting down on his knees and taking a full wad of hot jizz over his face and in his mouth from the depths of Simon's erupting rod! If every military excursion was this hot and jizzy, we'd all be fucking enlisting!
WILLIAM HIGGINS
STAXUS
DEBT DANDY
CLICK HERE TO GO TO HIS STAXUS DETAILS