Nerdy Cute American Gay Porn Star, Will Braun
Years Active: 2013 – 2020
GUYS IN SWEATPANTS INFO:
21 years old
5'6?
140 pounds
7 inches, cut
Cancer
You might know me as NudeThought, Will, "hot nerdy twink", or Solow19. I'm just a dude trying to live life the way I want to. I'm a white kid in the city, and sometimes a brown man under the country sun. A little strange, and hardly what anyone expected. I couldn't be anything other than what I am.
Almost all of my exes live in Texas, but I'm not leaving to hang my hat anywhere else just yet. Houston is my home. I'm into EDM, folk, metal, classic country, classic rock, rap, and I might have the biggest crush in the world on Ariana Grande. I love lifting heavy in the gym, and I'm working on becoming a professional athlete. Long distance skating (on a longboard) and downhill skating (on a longboard) are my two sports of choice. I love to travel by board and work for charity. Did I mention that I'm a nerd? I'm obsessed with anime, computers, and video games. You can learn more about me, my work, and the Bizarro World I live in on twitter: @WillBraunXXX.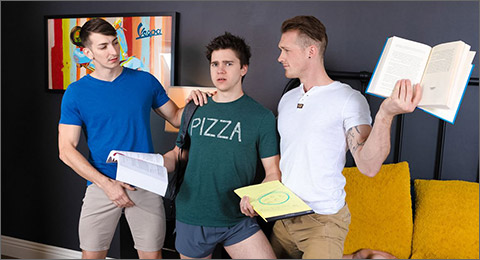 STUDY BUDDIES
Michael Jackman and Jackson Cooper are bored as hell and looking for some action, thinking roomie Will might be the perfect distraction for a boring afternoon. The only problem is that Will Braun is hunkered down and studying for finals, but they begin tomorrow, and he just started studying like 5 minutes ago, so when Michael and Jackson come and demand that he take a 30 minute break, Will figures he's fucked either way, might as well enjoy it. And while he may not know shit about Calculus, Will could pass his oral exam with flying colors, taking both of them in his mouth at the same time before taking a much deeper dive into the subject matter. Michael and Jackson aren't any smarter than Will when it comes to science stuff, but like him, their fucking abilities are truly head of the class material. Maybe all three of them should forget about college and just do porn instead.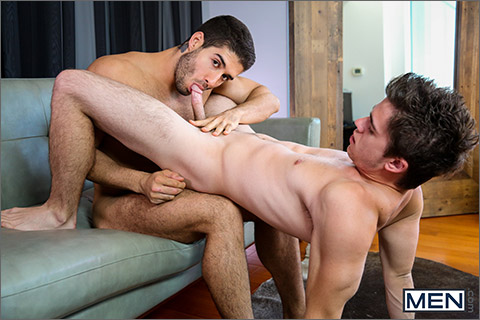 THE NEXT MEN EXCLUSIVE – PART 2
Does Diego Sans have what it takes to be the next MEN.com exclusive? Will Braun definitely thinks so but of course he had to try Diego for himself. Diego gives Will the best fuck of his life, sliding his hot, uncut cock deep into his ass.