Falcon Studios American Gay Porn Star, Brett Dylan
Known Aliases: West @ ChaosMen, Chris Finch @ Bentley Race
Years Active: 2015 – 2018
BRIAN OCKERT / CHAOS MEN INFO:
Start Age: 21
Debuted: July 13, 2015
Height: 6′
Weight: 175 lbs
Cock: 6″ Cut
When Aubrey came in to do his solo, his boyfriend drove him over. When he came in, I quickly asked him why he was not wanting to do some adult video, to which he replied, "I was hoping you'd ask!"
   We waited a couple weeks for his pubes to come back a bit more. For those of you who get mad at me about the pubic shaving, often scolding me that NO ONE is shaving their pubes anymore, well I beg to differ. Gay or Straight, I constantly have to wait for them to grow back, and even deduct pay if they show up without them.
   West didn't have to wait too long as they were not aggressively trimmed. He was super eager to please you all, and was excited to start playing on camera as soon as possible.
   He also arrived ready to go. He was not nervous at all, and was all set to bust a nut.
   West has an amazing smile, and I would say it is his secret weapon when out in public. He is of Black Irish decent, so his hair is a deep black, and his teeth practically glow in his dark features.
   His cock is a solid six, and he has great twisty jerk-off technique that allows us to see him stroke his cock.
   West is a versatile Top and as a Top he is actually used to cumming in an upright position. He strokes his cock up on his knees until he shots a massive load all over the bed.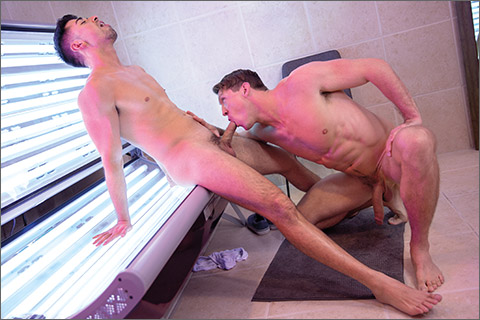 SERVICE ME!: Pierce Paris & Brett Dylan (all oral)
Pierce Paris comes to the tanning salon to get a little darker. Attendant Brett Dylan accidently walks in as Pierce is applying some tanning lotion. Since he's already there, Pierce asks Brett to get his back with some lotion. Brett's hands wander from Pierce's strong back, across his abs and down to his dick. Pierce lets the horny stud keep exploring, and soon Brett is on his knees slurping on Pierce's giant cock. Pierce returns the favor and gets Brett out of his uniform to showcase his own cocksucking skills on Brett. Pierce keeps working his mouth up and down Brett's shaft until Brett unloads thick ropes of cum on Pierce's face. With Brett's load dripping from his face, Pierce stands up and jerks his cock until he busts in Brett's open mouth.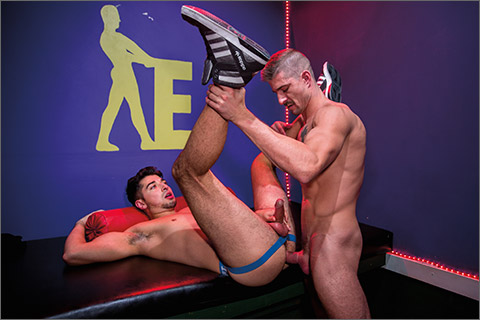 A NIGHT AT THE ENTOURAGE: Sean Maygers fucks Brett Dylan
Sean Maygers is horny as hell at the bathhouse cruising guys who check out his bulging biceps as they pass by. Sean is being picky tonight as he waits for just the right guy to come along. When Brett Dylan passes him in the hallway, Sean claims his prize and pulls Brett into a private playroom. Brett celebrates his luck by getting on his knees to service Sean's extra large member. Brett is hungry for as much dick as he can get and opens up wide to get Sean all the way down his deep throat. When Sean is as hard as he can possibly be, he bends his new young stud over and eats his irresistible bubble butt to get it nice and loosened up. Sean can't take the anticipation of getting inside Brett any longer and slides his fully erect cock deep into Brett's eager ass. The two studs pant and moan as Sean keeps a steady pace giving Brett a hard pounding. After stretching out Brett's hole, the studs switch up their positions for maximum penetration and end with a grand finale, Brett bent over and Sean fucking him from behind. Sean drills down onto Brett's g-spot with his throbbing hard-on and fucks the cum right out him. After giving all he can, Sean pulls out and sprays a massive load all over Brett's hot and spent ass.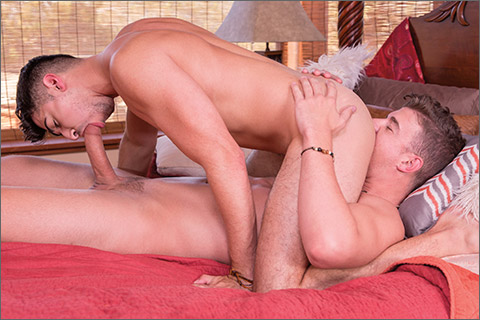 MOJAVE HEAT: JJ Knight fucks Brett Dylan
JJ Knight and Brett Dylan are alone in the desert when they take some time to hit the sheets. The ripped jocks kiss and lick each other until their clothes come off and the real fun begins. Brett can hardly contain the anticipation of seeing JJ's massive dick for the first time as it bounces out of his tight jeans. Brett gets to work servicing JJ, making sure to pay attention to every inch of the hung stud. Brett gets JJ horned up and ready for his ass while he bends over to 69. JJ loves what he sees when Brett spreads his cheeks and goes deep with his tongue to open Brett up. When both studs are ready to go, Brett hops on top of JJ and takes him deep inside his fuck hole. Brett rides the smooth monster dick until JJ takes control and bends Brett over for maximum penetration. JJ enters the hunk from behind and pumps deep as Brett moans out in ecstasy. With JJ still keeping a constant pace behind him, Brett is the first to let go and shoot all over his own body. JJ takes his cue and pulls out to cover Brett's face with cum. With the taste of JJ in his mouth and the sight of JJ's body shuddering from the intense climax, Brett releases a second load, adding to the mix that covers his satisfied body.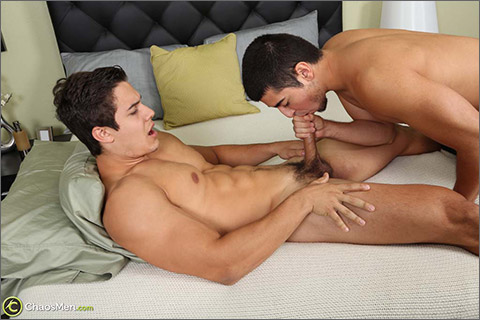 SERVICED: ADAM CUB & WEST
I really couldn't tell if Adam was nervous about getting head from a guy for the first time. He is very professional, calm, and had his mind up that he could do this. After doing cam shows for guys, he knew he would eventually level up to full-on porn.
   I had the TV on for him to start with, but after West got in there and got his cock hard, he spent most of his time with his head thrown back in ecstasy, or watching his dick get sucked, with an occasional glance at the porn playing.
   The most noticeable thing about this serviced videos, is it really looks like Adam is being electrocuted throughout this video! West learned quickly to focus on his cock head, and that kept Adam on the edge of cumming. Adam is literally vibrating throughout this video!
   Occasionally West would slow it down, fearing he might make him bust too soon.
   West tries to get some rimming in, but you can tell it was tickling Adam too much. He sure does try to stay still, but he can't help but jump away. Whiskers are tickly!
   The cum shot is crazy! Adam jerks around with giant spasms. West loses his grip but got back on top of it with his mouth and jerks the rest of his load out. Droplets of cum flying everywhere, with West sucking down most of it.
   Adam conquered getting head, and now say he will Top a guy. He isn't ready to suck back so will give him one pass. But I really want to see this hot muscle stud fucking the heck out of a dude!
FALCON STUDIOS
CHAOS MEN
BENTLEY RACE
CLICK HERE TO GO TO HIS CHAOSMEN BIO PAGE
VIDEO ON-DEMAND: Brett Dylan @ AEBN SMUTJUNKIES THEATER
DVDs & ON-DEMAND: Brett Dylan @ TLA VIDEO