Tattooed American Gay Porn Star, Vlad Stone
Years Active: 2015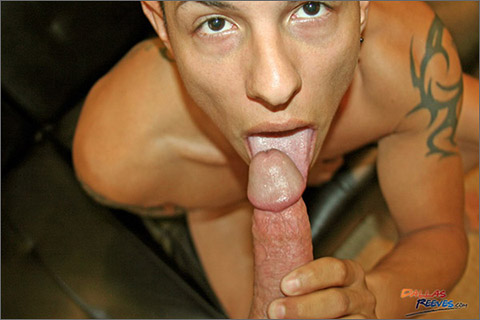 VLAD STONE BAREBACK CASTING POV
Vlad Stone is on the casting couch, and we start off with an interview. Vlad is a "straight" guy who works in the restaurant industry, and he wants to try porn in part because he is curious about exploring his personality. His only worry is that his girlfriend will find out. When the photo session starts, though, Vlad seems to be less nervous. He is comfortable in front of the camera, and not shy about showing off his body. He has several tattoos – he says he has lost count – and beautiful olive skin. He doesn't have an issue getting his big fat cock hard in front of the camera man, either! As he sits down to jerk off, the camera man comments that he is getting hard himself. Vlad admits that he is down for sucking dick, and the fun begins! The camera man gets some photos of Vlad with a cock in his mouth, and then decides to take the game to a whole new level. Vlad shows off his ass, which is a hot bubble ass. When the camera man begins shoving his back cock inside, Vlad lets out with some whimpers, and he reaches back to guide the cock all the way inside. The camera man loves the raw hole, and soon Vlad is on his back with his legs in the air. He sure seems to love getting fucked! As he does, he moans and jerks his dick with passion. The camera man asks Vlad to cum, which he does, and then the camera guy gives Vlad a hot load right in his mouth. Vlad sticks his tongue all the way out and eagerly laps up the camera man's huge load. Licking his lips, Vlad ends the interview knowing that he has this job for sure! Hot bareback!