William Higgins Czech Gay Porn Star, Vilem Tel
Years Active: 2014 – 2015
WILLIAM HIGGINS INFO:
Age: 24
Home Town: Prague
Height: 173cm/5'8″
Weight: 69kg/151.8lb
Foot Size: EU43/US8.7/UK8.
Penis Size: 18cm/7.09″
Profession/Student of: Worker
Hobbies: Fitness
Favorite Sports: Tennis
Active Sports: Ice-Hockey
Movie/Music/Sport Stars: Angelina Jolie
Visited Coutries: Switzerland
Want to Visit Coutries: Poland
Dream of My Life: I don't know.
Zodiac Sign: Cancer (June 21 – July 22)
Vilem Tel is aged 24 and lives in Prague. He is a worker you enjoys fitness, ice-hockey and tennis. He is a very handsome, clean cut looking guy. He certainly looks very good indeed as he poses for the camera. As he lifts his tee shirt we see some fabulous abs being revealed. Then, with the tee-shirt removed, his hot chest is shown. Vilem flexes his biceps to show off his muscles very well. Then he turns and removes his jeans, lowering his underwear, to show off a very sexy ass. He turns around again, and poses some more, before removing the underwear to expose his lovely, fat cock. That cock looks so good, with the foreskin covering the head, and resting on his balls. Then Vilem gets his cock nice and hard, so that the head pokes out, through the foreskin. He poses, flexing the biceps again, with that cock good and hard. Sitting on the sofa he then pulls the foreskin back further, fully exposing the cock head. He leans back and lifts his legs in the air to show off his ass. The cheeks spread, and he uses his hands to pull them further apart, to show off his tight hole. Turning over, onto his knees, Vilem gives another view of that sexy ass before standing to show off his big, hard cock some more.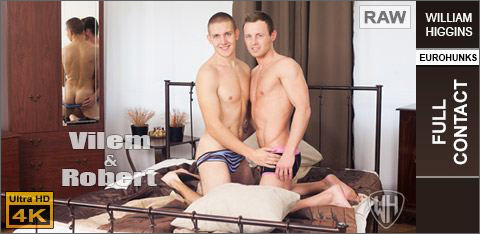 FULL CONTACT: VILEM TEL & ROBERT BENET RAW
Vilem Tel and Robert Benet are both very handsome guys. They are also very hot, and are enjoying a pillow fight, which soon turns into more. As they play they begin to kiss each other, groping as well, through their underwear. Vilem's cock gets hard in his underwear and he stands, dropping so that Robert can suck his big cock. That cock is so thick and hard. Robert eagerly takes it into his mouth and sucks on it, licking around the head and taking it deep in his throat. His head bobs on Vilem's throbbing cock, as the balls tighten around the shaft. Then Robert stands as well, and as his kisses Vilem again his underwear is pushed down too. Vilem grabs Robert's cock and wanks it as he kisses his friend some more. He drops to his knees and takes Robert's cock in his mouth. Robert fucks the cock in and out of the waiting mouth, getting very hard in the process. Then Robert lays on the bed and dildoes his own ass as he sucks on Vilem's cock again. His hole is stretched by the thick dildo as Robert wanks him and rubs his balls. Robert's mouth works on Vilem's thick pole, his hole really stretched wide. Then he moves onto his knees and a larger dildo is shoved into that eager ass by Robert. It fucks in and out opening that hot ass really wide. Robert then shoves his massively thick dick deep into Robert's hole. He fucks nice and deep as Robert's cock hangs down. Robert really loves the feeling and grabs his cock and wanks it as Vilem pounds his ass. Then Robert turns over, onto his back and takes Vilem's cock back into his hole. He wanks himself hard and fast as Vilem slams in and out of his ass. Robert keeps working his cock and shoots a big creamy load all over his belly as Vilem continues to fuck him. He bends over again so that Vilem can really pounds away at that hot ass, speeding up until his is ready to blow. Pulling out he delivers his cum into Robert's open mouth. Robert then sucks on that big cock, to drain it of every last drop of hot cum. to end a great scene.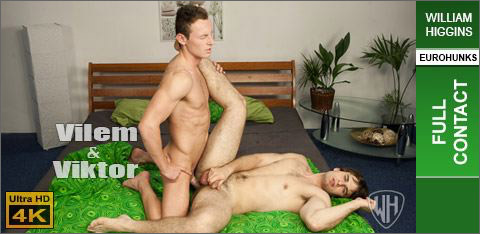 FULL CONTACT: VILEM TEL FUCKS VIKTOR BUREK
The hot and hunky straight guy Viktor Burek is taking a shower and is then joined by the equally sexy Vilem Tel. As the water cascade over them they start to feel each other's bodies and then kiss. Viktor works his way down Vilem's body, taking his cock in his mouth. Viktor's sucking soon has Vilem's dick rock hard. It is one very thick beauty and Viktor does a great job of sucking it. Then Vilem returns the favor, sucking Viktor's throbbing cock. He licks at it and swallows the head, working his hot mouth over it. Then he sucks on the balls as well. Then, with both cocks rock hard they dry each other and move to the bed. Once there Vitkor is soon sucking on Vilem's big cock again, before they move to a 69. Vilem is then ready for more, he wants some ass and Viktor willingly makes his available. Vilem fucks that ass with his big fat cock, going nice and deep . After fucking doggy style for a while they move to missionary as Vilem continues to work Viktor's hot hole. Viktor wanks himself too, as he gets fucked deep. As his wanking speeds up Viktor feels that big cock really pounding his ass. Then Viktor's dick releases its'hot, creamy cum. Vilem continues to fuck that tight ass until he is ready to cum too. Pulling out he shoots his load over Viktor's cock and balls. Then he leans forward to kiss his once again to end a lovely scene.
CLICK HERE TO GO TO HIS WILLIAM HIGGINS BIO PAGE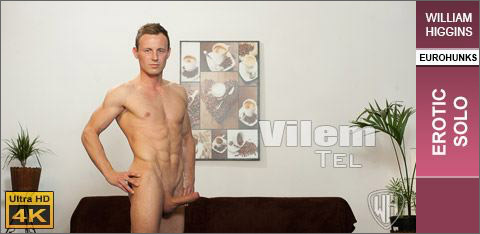 EROTIC SOLO: VILEM TEL
FULL CONTACT: VILEM TEL FUCKS VIKTOR BUREK
FULL CONTACT: VILEM TELL & TOMAS HOZMAN
FULL CONTACT: VILEM TEL & ROBERT BENET RAW
FULL CONTACT: VILEM TEL & HUGO ANTONIN SCREEN TEST
MASSAGE: VILEM TEL