Cute Blond Czech Gay Porn Star, Viktor Vesely
Known Aliases / aka: Jan Lasto, Honza Banan, Joseph Lewis, Jan Latovska, Devon Donis, Jiri Honza, Troy Hardin, Dan Lastuva, Honza, Jan, Jan L., Jan Lastoula, Jan Lastovka, John Grigor, Karl Nowy, Ronno Lenoa, Stephen Biggar, Victor Moser, Viktor Moser, Viktor
Years Active: 2003 – 2007
WILLIAM HIGGINS INFO:
Age: 21 (2004)
Zodiac Sign: Scorpio
Home City: Brandys n/L.
Height: 177cm / 5'10"
Foot Size: 42 (convert)
Weight: 70kg / 156lbs
Penis Size: 17cm / 6.7″
Profession: Marketing
Hobbies: Sport, Fitness, Bike
Favorite Sports: Running
Active Sports: Fitness, Bike
Visited Countries: Bulgaria, Slovenia
Life-Dream: Parachute Jump
" It must be said that there is a Cult of Viktor Vesely. I only wish he'd grow the little forelock back on the front of his hair. Viktor is a natural born victim. Consequently, he gets to play victim parts on the site. As he's not acting, he does it flawlessly. I truly believe Viktor enjoys his victim role. Viktor's day job is selling perfume. It's very hard for him. He's always immaculately dressed in suit and tie. He carries his samples in his briefcase. Most nights he can been seen working on Prague Buddies and Flirt4Free. He said he had sex with a girl once about two years ago, didn't fancy it, so he never tried again. He's found a home working for us. He doesn't mind all of the sex with guys and rougher on him the more he likes it. I must confess every time I see Viktor, I just want to mother him. "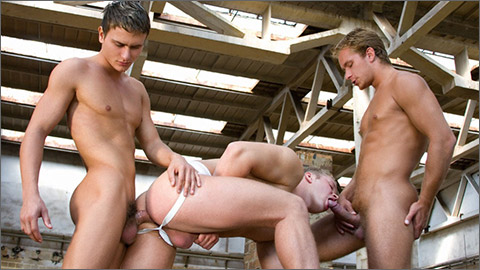 FACTORY FRESH: Jason Jackman and Honza Banan rip off sleeping sexy Marco Mark, then watch as Thomas Lee and Dion Philips spit lube each other's dicks and fuck Justin Corner
As handsome Marco Marc stretches out on an abandoned factory floor for a quick nap, cute Jason Jackman (in a white tank top) and sexy Honza Banan steal Marco's briefcase and rifle through the wallet they find in it. They've got a fantastic view of the factory floor and catch sight of handsome Thomas Lee and sexy Dion Philips kissing while beefy Justin Corner swallows their stiff dicks. Justin divides his attention between their two massive cocks, gagging and spitting as he deep throats them and licks their tight balls. Justin drops his pants to show the guys his jockstrap-clad bubble butt and grants Dion a turn at sucking him and Thomas.
   Justin and Dion then jam their cocks down Thomas' throat until they blow their sticky wads all over his hard, ripped chest, covering his pecs with their jizz; Thomas then jerks himself off, dumping his own big pool of cum into the mix.
   If you think that satisfies these young guys, think again—they've got energy to spare! While Thomas crams his dick down Justin's throat, Dion lubes up Justin's hole, pulls on a condom and mounts him like a bull, his balls slapping against Justin's hard butt. Dion and Thomas switch off and Thomas grabs Justin by the waist and pounds his ass while Dion facefucks him. Justin squats over and rides Thomas' cock before flipping on his back and letting Dion crack his ass open with his dick while Thomas feeds him his cum-filled ball sack and throbbing rod. Thomas takes over fucking Justin's butt with long hard strokes, pushing deep into his ass and pulling all the way out until he finally blasts his load all over Justin's butt; Justin squirts a creamy load onto his abs and Dion shoots a thick load of spunk onto Justin's pecs.
TITANMEN FRESH
KRISTEN BJORN PRODUCTIONS
WILLIAM HIGGINS
WILLIAM HIGGINS STR8HELL
BADPUPPY
CSABA BORBELY / DIAMOND VIDEO
HIGH OCTANE PRODUCTIONS / HERVÉ HANDSOME
AYOR STUDIOS
RAWBOYS / BARE ADVENTURES
IKARUS STUDIOS / SWEET AND RAW
EUROCREME
CLICK HERE TO GO TO HIS TITANMEN FRESH DETAILS
VIDEO ON-DEMAND: Viktor Vesely @ AEBN SMUTJUNKIES THEATER
DVDs & ON-DEMAND: Honza Banan @ TLA VIDEO