Hung Handsome Spanish Gay Porn Star, Viktor Rom
Years Active: 2015 – 2020
KRISTEN BJORN INFO:
Nationality: Venezuela
Height: 6′
Weight: 190 lbs
Dick: 9" (22.86 cms) uncut
Position: Top
FUCKER MATE INFO:
This guy has a huge cock and is ready for action. This introduction to Viktor is purely sensual. In collaboration with emciphoto this week we bring you a new Latin discovery. His erotic and sexual nature is here for you to enjoy. Let your imagination take you away with Viktor. You will see more soon.
AEBN INFO:
Hot, hung Latino Viktor Rom is a dominant top with a thick, juicy cock that looks so good as it stretches hungry holes! Viktor is from Caracas, Venezuela and began shooting adult gay scenes in 2015. His smoldering looks and powerful performances have made him a favorite of porn fans everywhere. He dominates in his scenes for Lucas Entertainment, Kristen Bjorn, Treasure Island Media, Macho Factory, and more.
Tattoos: Barbed wire around upper right biceps; "Doris" under right biceps; Tribal and stars on left pectoral; Tribal on left shoulder and upper left arm; Upper left forearm; Inside left forearm; Piercings: Right nipple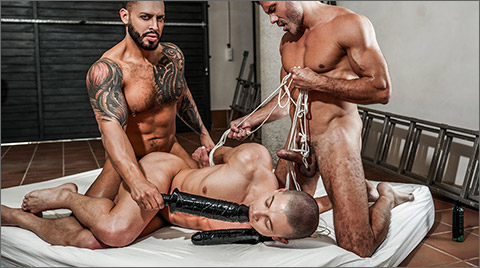 ENDURING DADDY'S DISCIPLINE: Viktor Rom And Manuel Skye Brutalize Ruslan Angelo
Some young guys need to endure Daddy's discipline because the need to learn a lesson, but other guys are natural-born trouble makers, and that certainly describes Ruslan Angelo. No matter how many he's disciplined by a fatherly figure, he keeps finding himself in trouble. This is a job that needs not one, but two Alpha Daddies with rock-hard uncut dicks and a no-bullshit attitude to match. Enter Viktor Rom and Manuel Skye, and it's an understatement to say that neither one of them ease up on Ruslan Angelo once—which is exactly what he's asking for.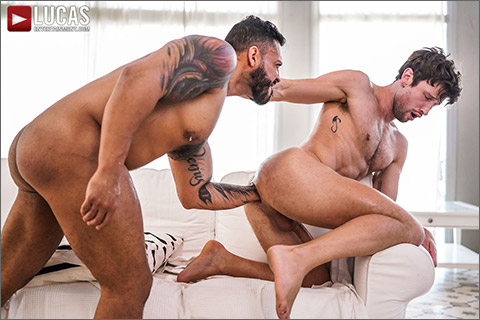 BAREBACKING BRENT EVERETT: Viktor Rom Destroys Drew Dixon's Ass
The more dominant and powerful a top guy is, the more Drew Dixon feels up to the challenge he's presented with. Viktor Rom and Drew Dixon are an ideal match, because Viktor loves pushing a bottom to his absolute limit, and Drew doesn't like surrendering to any limit. Viktor stretches and slams Drew's ass with his huge uncut cock, a butt plug, a dildo, and even his fist. The question is — how much can Drew take?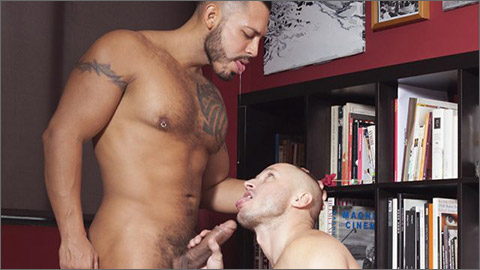 HOT & COLD – VIKTOR ROM FUCKS DENIS SOKOLOV
This week we bring you an awesome interracial encounter that you'll remember for long time. Viktor Rom comes from hot Venezuela and Denis Sokolov from cold Russia: when the couple meets the reaction is explosive! You'll see Viktor giving a hard, raw and passionate welcome to the muscled bottom Denis: the Russian may seem shy at first sight, but when our super-sized Latin mate put him on his knees to suck a big juicy cock he loses all his inhibitions and completely surrenders to the willing of his dominant top!

LATIN POWER STRIKES BACK – VIKTOR ROM FUCKS KEN SUMMERS
Since our newest mate Ken Summers made his debut with us a few weeks ago, we received a lot of messages from fans, crazy to watch him in action again. This week we are happy to please them with a memorable scene, the like of which is unlikely to be repeated in the future. Ken is having trouble bringing back some books to his uncle's home. He's lost, and in the end when he finds the place, he rings the bell and a stranger opens the door. He has never met him, but we all know that this stranger is our Latin XXL top-mate Viktor Rom, who is a friend of Ken's uncle – and the uncle is likely to arrive home any minute. The young guy is invited to enter and wait. Sitting on the bed the two mates look at the books together and soon both get super horny. You remember from his first video how much Ken loves cock? Today he'll get something huge just for himself. He soon surrenders to the will of Viktor, who loves to dominate a young bitchy bottom, stretching mouth and ass with his Latin thick cock.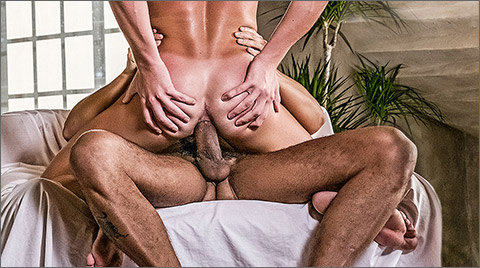 BAREBACK BOYFRIENDS & BROS: Viktor Rom Owns Bogdan Gromov's Ass
As mentioned in his threesome with his step brother Klim Gromov and the alpha top Marq Daniels, Bogdan is a versatile guy who has skill in the bedroom both giving and taking dick. Bogdan and Viktor Rom (another alpha top who uses his fat eight inches of uncut cock as a battering ram) are no strangers to each other. They've been in a handful of group sex encounters together, but have never had a chance to be together one-on-one. Viktor Rom, as noted several times, is a top only, which leaves Bogdan Gromov with one option. Fans of lean twinks getting their asses wrecked by macho alphas will not want to miss this scene!

GUERILLEROS X
Some wars need no guns, a big dick will do just fine as these two naughty guards know very well as they catch an intruder who turns out to have a fat heavy dick.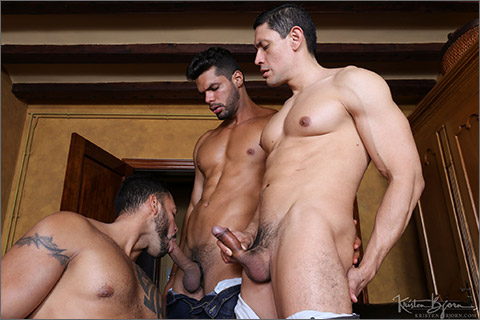 BARE TO THE BONE #11: VIKTOR ROM & LUCAS FOX FUCK JOHN RODRIGUEZ
Viktor and John are on their way to the café when their attention turns to the handsome, young Lucas waiting for the bus. Lucas decides to not take the bus and follow the two sexy guys that just cruised him. Lucas' is invited back to John's apartment and the shirts come off immediately and the men begin to explore each other with their tongues. One by one each of the hot men withdraw their hard cocks and Viktor is the first to drop to his knees and begin to worship Lucas and John's incredible cocks. Viktor works his way back and forth sucking and licking one immense cock after the other. Lucas and John are reveling in the pleasures of Viktor's cock sucking skills and Viktor himself is getting his cock rock hard from all the excitement of deep throating two huge cocks. John and Lucas change things up and begin tag teaming Viktor's mammoth cock with their greedy mouths. Viktor's cock strains to contain itself from all the thrilling pleasure given to his huge cock. With his cock about to split open from growing harder, fatter and longer, Viktor blasts a huge load of cum all over John's hungry tongue and Lucas jumps in and laps up the cum dripping from Viktor's cock and they licks Viktor's cock clean. Viktor bends John over and spreads his ass open and sucks on Lucas' cock to lube him up. Viktor then shoves Lucas's torrid cock deep inside of John. As Lucas fucks John's raw ass, Viktor hammers his mouth and throat with his fat cock. Lucas finds himself very turned on watching these two friends pleasure each other that he shoots his creamy load all over John's ass then shoves his cum drenched cock back inside of John. Viktor has waited long enough and now it is time for him to fuck one of these asses. John squats down on top of Viktor's gigantic cock and pounds his ass hard and deep with Viktor's raw cock. John rides Viktor hard until he can no longer withhold his load and strokes out a huge load of cum as Viktor's cock splits his ass open.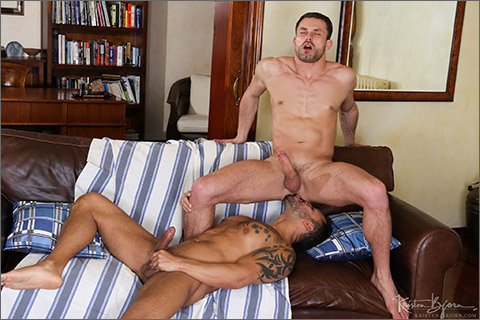 BARE TO THE BONE #9: VIKTOR ROM FUCKS JAMES CASTLE
Viktor and James are old friends and when they meet up on the street they decide to rekindle an old desire. Viktor remembers how well James swallowed his huge cock before and wastes no time in putting his talents to work again. James devours and luxuriates in the taste, smell and feel of that hefty cock in his mouth and throat. Viktor rewards James' expert cock sucking by taking James' fat cock into his own mouth and pleasuring it from the base to the uncut head. James knows what Viktor's true desire is so he grinds his ass onto Viktor's hungry mouth and probing tongue. Fucking that hot hole and prepping it for his own mammoth cock, Viktor strains to withhold his huge eruption. James demands that Viktor fuck him and Viktor is more than willing to give him exactly what he desires. Viktor rams his raw cock deep inside of James' greedy hole and teases him by thrusting his rock hard cock in and out of his wet hole. Flipping James over, Viktor is treated to deeper access and pounds away at James' ass as James strokes his ever hard cock. Viktor has fucked James so hard and so deep that he explodes a huge load of cum as Viktor continues fucking his ass. As Viktor feels the spasms of James' ass muscles working his cock he shoots his thick, creamy load all over and then inside of James. An old friendship has been rekindled.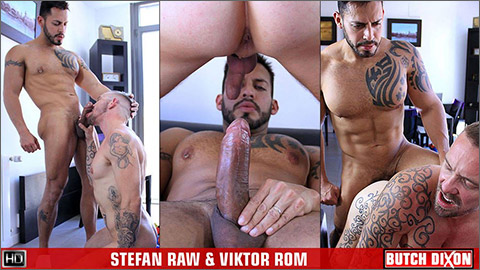 VIKTOR ROM FUCKS STEFAN RAW
You've seen sleazy Stephan Raw as a nasty Bareback top, and this stud always delivers the creamy goods, so we thought it was time to see if he could take it as well as he gave it, and as we were feeling kinda cruel we gave him a real mean, macho fucker to smash his arse in – Viktor Rom. Its a steamy, spunky scene, all bareback with lots of snogging, rimming, uncut cock sucking and juicy, close up fucking. Stephan takes that big, dark uncircumcised pole like the nasty pig he is and Viktor's obviously enjoying the ride. Stephan slides up and down the rigid tool until his arse hole is puckers and glowing pink, then as soon as as his hole is ready for a real ploughing Viktor goes to town and really ploughs it good 'n' proper!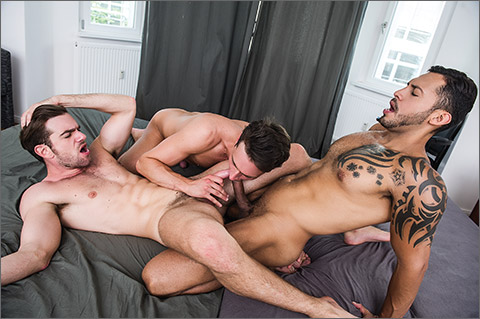 ZANDER CRAZE SHARES HIS MEAT WITH DAMON HEART AND VIKTOR ROM
Craze is a great last name for Zander, because this guy is wild and crazy in the sack: he loves having sex, and he loves showing it off. He and the dominant stud Viktor Rom take turns passing around Damon Heart, a new Lucas Entertainment exclusive model. Damon is challenged from the onset, but it's one he excitedly accepts: Zander breaks in his ass with his uncut elephant trunk of a penis, and then passes his hole over to Viktor for some breeding. To give Damon a rest the truly versatile Zander Craze gives it up for both Damon Heart and Viktor Rom.

CASTING COUCH #344: CODY BANX, VIKTOR ROM
Cody and Viktor have hooked up online and discover that they both have a voracious sexual appetite for each other. Viktor releases Cody's rock hard cock and wraps his succulent and drooling lips around it and consumes it all. As he expertly runs his lips up and down the hard shaft he also lets his massively fat cock free. Viktor leaps to his feet on top of the bed and begins forcing his huge cock deep into Cody's mouth and throat. Viktor is impressed with Cody's cock sucking skills and turns up the heat and begins face fucking Cody with great force. Both men slick up Viktor's cock with their spit so that nothing slows Cody's cock sucking. Cody maneuvers his hot ass and hovers just above Viktor's hungry tongue. Viktor gives Cody's ass a hot fucking with his tongue as both men work in unison knowing exactly what the other wants. Cody flips over and teases Viktor by flashing his wet hole at Viktor until he slams his huge raw cock deep inside of Cody. After taking Cody from behind the guys flip and Viktor now has complete access to go deeper inside of Cody with him now on his back and his legs wide open. Cody is reveling in the pleasures of this enormous cock fucking his ass and incredibly, the harder and deeper Viktor fucks the harder and fatter his cock becomes. This is driving Cody crazy and forces him to shoot his hot load as Viktor continues his aggressive fucking until he coats Cody's ass with his thick, creamy load. Cody works his ass to suck that delicacy up into his hole. Viktor helps him out by shoving his load and cock back into Cody's ass.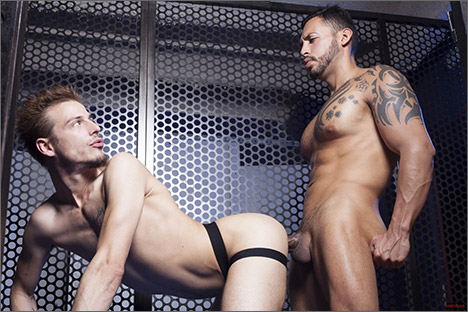 RAW BEHIND BARS: VIKTOR ROM & ZEUS ESPAÑA
Today we catch up with Viktor and Zeus in Boyberry BCN and our cameras didn't miss a thing. We bring you every second of this raw encounter, Viktor is the dominant top with a thirst for a hungry raw bottom boy, Zeus is ready and willing and his reward is a cum filled hole.we dont want to describe that here happended just watch this little trailer.
CLICK HERE TO GO TO HIS KRISTEN BJORN DETAILS
VIDEO ON-DEMAND: Viktor Rom @ AEBN SMUTJUNKIES THEATER
NOW STREAMING: Viktor Rom @ NAKEDSWORD