ChaosMen Amateur Guy, Vaughan Rafferty
Known Aliases: Hunter Gage
Years Active: 2015
BRIAN OCKERT / CHAOS MEN INFO:
Start Age: 20
Debuted: September 14, 2015
Height: 5'9″
Weight: 165 lbs
Cock: 7.5″ Uncut
Vaughan has done a lot of solos, cam work, and some contests. As of writing this, he is still circling around doing guy-on-guy stuff. He was somewhat local to me, and we both had a free day, so he just drove on over to the studio.
   Sadly that means we didn't wait for his pubes to come back, so there is some razor burn. I know you guys complain, but honestly, despite the popularity of body hair, 90 percent of guys, both gay and straight, have submission photos where they are shaved bare.
   If you can overlook the pubes, you will find a super sexy guy. He has an awesome 7.5 inch uncut cock, and he knows how to use it. All the camming has made him very comfortable, and he is great at showing us his hot tight body.
   Not sure he will be back. I think he liked how close he was to the studio, as well as the filming environment. I would love to have him back and we might be able to talk him into getting head!

EDGE: TEGAN & VAUGHAN RAFFERTY
Vaughan kept hitting me up for more work, but just could not bring himself to do guy-on-guy stuff.
   I am always hesitant to have guys back for a second oral only video, but Vaughan is a hot guy, and I thought he would look great tied up in the chair.
   Tegan was in town to do a video the next day, so I got him to do the honors.
   Some nice deep throating and gagging in this video! Tegan gets to test out a FleshJack on Vaughan, which he later got to use in a cam show for members that very evening.
   Tegan has to really jerk his cock fast, but he does pull a hot load out of Vaughan!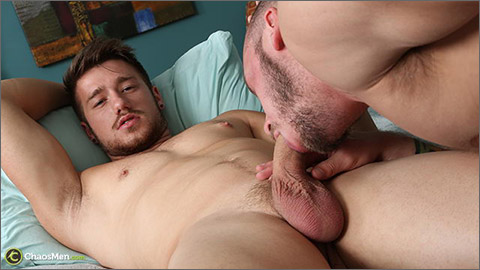 SERVICED: BJORN & VAUGHAN RAFFERTY
Despite having done video work elsewhere, Vaughan was very uncertain about getting head. Apparently he had stuck to just jerking-off alone or in a group. He waited a week before coming back for more.
   He needed the money for a new motorcycle, and was willing to let a guy suck on his cock.
   You can tell he is a bit incredulous about it at the start. But Bjorn dives in fast and it only takes a minute for Vaughan to realize he was going to like having his thick uncut cock serviced.
   He doesn't spend too much time watching the TV. I think he truly liked watching his cock get swallowed.
   Vaughan also got his cock sucked backwards while he was doggie style. Bjorn snuck in some rimming, to which I think Vaughan was not expecting. He stays hard though!
   Bjorn works like a dog, sucking and pumping his cock until a creamy load drools out of his foreskin!
CLICK HERE TO GO TO HIS CHAOSMEN BIO PAGE