Hung Uncut Gay Porn Star, Van Wilder
Known Aliases / aka: Damian Price (College Dudes), Van (Boys Halfway House), James Kickstand (Str8 Porn)
Years Active: 2011 – 2017
PRIDE STUDIOS INFO:
Hair Color: Black
Cock: 8″ uncut
Height: 5'10"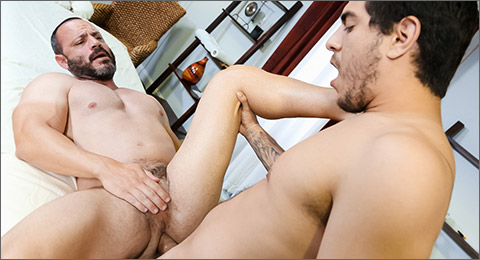 BIG COCK MASSAGE
Van has come to Joey because his lower back has really been bothering him and he needs a good massage. Joey has him lie face down on the table and begins working his magic hands all over Van's back and paying attention to his gluts. Joey then discovers that Van has quite a large cock between his legs and he begins massaging that too. Van doesn't resist so Joey has him turn over revealing his massive thick cock. Joey begins stroking it and sucking it. Van is really enjoying this massage and based on the hardness of his cock, you can tell! Joey then takes his clothes off, puts a condom on Van's cock, climbs on the table and lowers himself down slowly onto Vans big thick cock. Joey rides his enourmous cock like a champ for a while before getting down and bending over the table as Van fucks him from behind. He then lies on the table and Van fucks him until he cannot hold back and he pulls out and both shoot loads of cum at almost the same time.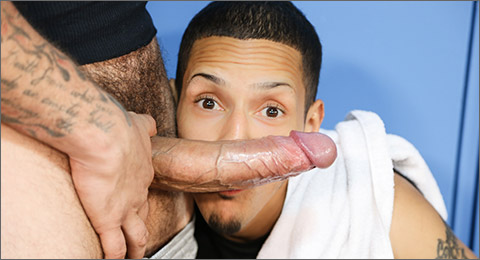 THAT'S A MONSTER COCK
Juan Carlos has followed Van back into the locker room and he is obviously staring at the large bulge in Van's shorts. Van notices and asks what he is staring at. Juan Carlos asks what the fuck do you have in there and with that Van whips out his massive cock. Juan is shocked by the size, but cannot help but grab it and start stroking it. He can't believe how great the thickness of Vans shaft feels in his hands. He then drops to his knees and tries his best to suck his cock deep. He can barely get half of it in his mouth because of the massive thick size. He tells Van, 'Dude that is one Monster Cock'! Van lies down on the bench as Juan continues sucking and gagging on his thick meaty cock. Van tells Juan to show him his ass and he starts to finger his hole spitting on it as he gets it ready for his huge cock. He tells Juan to sit on it first and Juan struggles as he lowers himself down on Van's monster shaft. It takes a while, but he is able to get about half of it inside him as he grinds on it. Van bends him over Doggy Style and continues to fuck him encouraging him to take more of the length with each thrust. He flips him on his back and fucks Juan deeper until he cannot hold back and he pulls out and shoots a big load all over Juan. Juan continues to milk the cock in amazement that it was just in his ass as the camera zooms in and we see Juan take a little taste of Van's cum.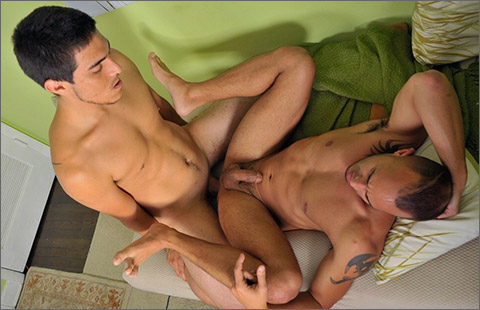 GET A PIECE OF THE ROKK
Well we have a very special surprise as Van Wilder decided to stop by the studio this week with an itch to show it off. We aren't about to complain when 19 year old, Miami native Van decides to drop by with his fat 8′ cock. So we got him a lucky newcomer to help out. Making his debut with us this week is Tony Rokk who is 27 and from Puerto Rico. Tony is in for a wild ride…but let's not get ahead of ourselves. We wondered what these two fit studs consider their guilty indulgence. 'Cheetos!' is Van's answer.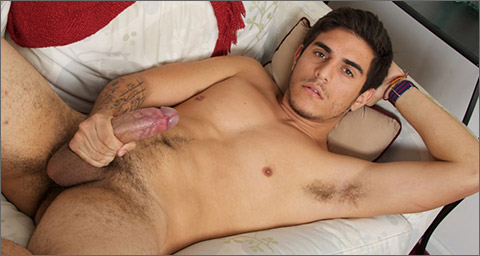 VAN WILDER in MORNING WOULD
This week we have a special treat for you as we finally get to showcase one of Miami's own, Van Wilder. Van is 21 and has a lot more than the average guy swinging between his legs and figured that out at about 14 years of age. He always had competitions with his childhood friends and once they started competing for girls the truth became apparent. Once the girls started taking that fat cock of his, the grape vine did the rest. Van admits having a dick as big as his can be a blessing and a curse. Some people love it and others are terrified of it. 'Once some feel it, they don't want to be anywhere near that 'thing' they say', Van laughs.
PRIDE STUDIOS
GIO CARUSO'S BAIT BUDDIES
COLLEGE DUDES
BOYS HALFWAY HOUSE
CLICK HERE TO GO TO HIS PRIDE STUDIOS DETAILS