American Mixed Race Handsome Gay Porn Star, Tyler Johnson
Known Aliases: Tristan (Chaos Men)
Years Active: 2007 – 2008
RANDY BLUE INFO:
I meet perspective models for this site in the strangest places. The other day I was out shopping with a friend of mine when we ran into this quiet little bookstore (no, not the type of bookstore you might be thinking of). My friend called out to the front desk for some help and the most adorable guy came to help us. His name was Tyler and flashed the sexiest smile. Talking with him for a few moments I could tell he was very smart and it was apparent that he was well read. I'm guessing he must read on the treadmill at the gym because his firm muscles were showing through the tight polo shirt he had on. I didn't think he would be up for doing a shoot but my friend blurted out, "why don't you put him on your site, Randy?" Tyler's eyes lit up when he asked what kind of site. I told him it was a gay porn site and he flashed his sexy smile again and said he would love to. Once he came in and we were getting ready for the shoot he admitted that he had always wanted to do porn because he figured he had something that guys would be really hot for. Well, the smile already got me, and when he stripped off his clothes I figured he was talking about the beautifully sculpted physique, with those rock hard pecs, six pack abs and strong legs. But it wasn't until he unleashed that beast between his legs that I really knew what he was referring to. His delicious, hearty cock swung between his legs as the perfect compliment to his perfect body. It took no time at all before he worked it up into a throbbing hardon. As he worked his piece of meat it started leaking precum like a broken faucet, and it seemed like it was his favorite delicacy because he couldn't stop licking it off of his fingers. The kitchen seemed like the perfect place for his overheated dining experience, and he rolled around the kitchen counter like it was his favorite place to get himself off.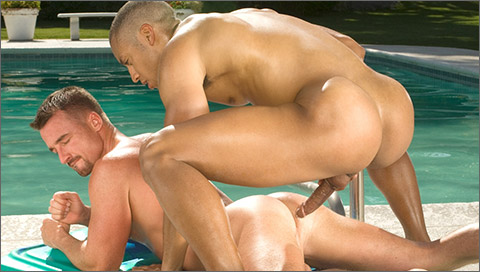 TRUNKS 5: Tyler Johnson fucks Ross Hurston
Tyler Johnson catches Ross Hurston's attention by showing off his fat round ass before jumping in the pool. Hurston meets him poolside and begins massaging his bulging crotch until his suit can no longer contain his 8+ incher. Hurston pulls up a seat cushion and gets on his knees before Johnson and starts to suck. Johnson catches a glimpse of Hurston's long fat cock and gets on his knees to return the favor. Things really heat up when Johnson shoves his cock in Hurston's ass and Hurston thrusts himself back and forth on the rock hard rod. Hurston lies down so Johnson can fuck him even deeper. Finally the both jack off together and shoot their hot loads.
HOT HOUSE
CHAOS MEN
RANDY BLUE
CLICK HERE TO GO TO HIS HOT HOUSE DETAILS