American College Jock Gay Porn Star, Tristan Hunter
Known Aliases:
Years Active: 2018 – 2021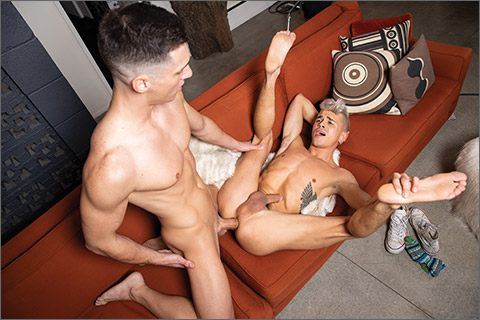 CAPITOL AFFAIRS: Tristan Hunter fucks Andy Taylor
Now that America has a new President, Tristan Hunter and Andy Taylor celebrate by getting naked on the couch. Tristan strips Andy out of his clothes and lays him back on the couch plant his face between Andy's ass cheeks. Tristan takes his time savoring Andy's hole, prepping it for when he slides his fat cock deep in Andy's ass. After getting his hole drilled bareback, Andy takes another taste of Tristan's cock that was inside of him. Now that he's tasted his own hole, Andy gets on top to let Tristan fuck up into him while he sits back and strokes his cock. Tristan keeps thrusting to new depths until he can't hold back any longer and shoots his load all over Andy's ass. Sliding back in, Tristan pounds up, in and out of Andy's hole until Andy loses it and dumps his cum all over his leg.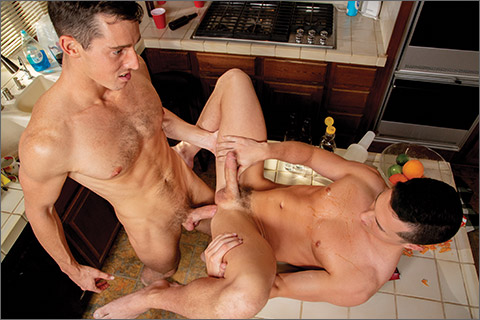 THE PLEDGE: Steven Lee fucks Tristan Hunter
Steven Lee and Tristan Hunter get their official invitations to the fraternity, and when they arrive, Trevor Miller is there to teach them what being a frat brother truly means. Trevor gets off on watching his pledges do exactly as he says. After commanding Steven to pour syrup on Tristan's ripped body and go down on Tristan's extra thick dick, Trevor reaches into his pants and grabs himself. Steven likes to please and does everything he's told to do by the frat leader. Not only is Steven pleasing himself and Tristan, he's gaining the favor of Trevor, who can get him everything he wants. Steven is craving more and bends Tristan over the kitchen counter to open his ass up with his tongue. When he can sense that Tristan is ready for his big dick, Steven slides inside his fellow pledge and pumps away with his raging raw hard-on, stretching Tristan wide. With Trevor still watching and beating off next to them, Steven picks up the pace and pounds a panting Tristan even harder. Steven hits just the right spot with his frenzied fucking and makes Tristan blow his load all over his own toned stomach. When Steven sees Tristan's thick jizz everywhere, he pulls out and adds to the mix with a massive load of his own all over Tristan's already dripping-wet body. Will their display of obedience be enough to convince Trevor to allow them into the brotherhood?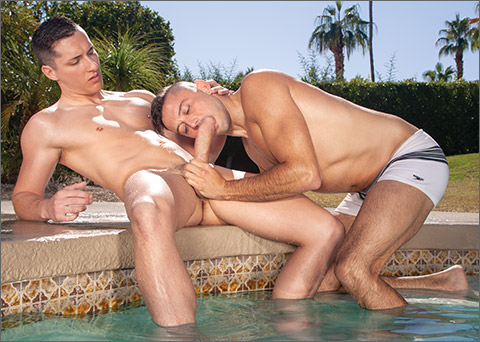 GET WET: Shane Jackson & Tristan Hunter flip-fuck
Tristan Hunter and Shane Jackson meet by the pool to catch some sun. After making out for a bit, the two studs hop in the water and Tristan makes his way underwater to suck Shane's cock. Shane is hungry for dick too and returns the favor under the surface, before leading Tristan to the edge of the pool to work Tristan's massive member with his mouth. Shane slowly works his way down Tristan's balls and eventually his smooth, tight hole. Shane uses his tongue to open Tristan's ass up with a deep and long rim job. Shane can sense that Tristan is ready for his dick and slips it inside the sun-kissed stud to pound him on the edge of the pool. Shane keeps the dick coming for Tristan until Shane decides he's ready for some cock in his ass too. Tristan lies back and lets Shane hop on to ride his cock deep. Shane eagerly bounces up and down on the big dick and jacks his own rod until he spills his load all over Tristan's thigh. Tristan reaches the edge and gives Shane what's he's craving when he feeds the hungry stud a nice big load.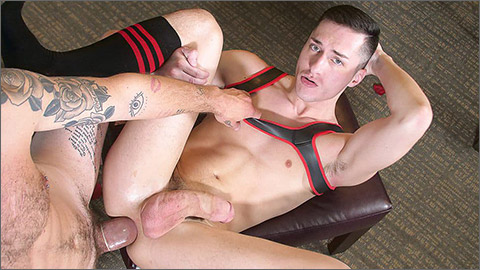 SURPRISE! IT'S VALENTINE'S DAY!
Tristan Hunter sneaks out of bed to decorate for Valentine's Day and surprises his uncut Euro boyfriend in sexy lingerie.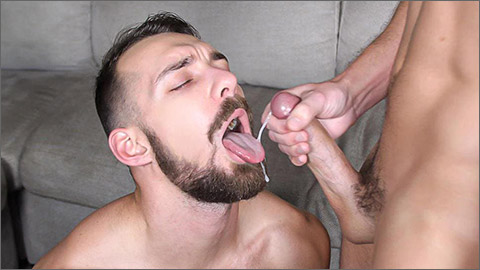 WRONG ADDRESS
Beefy twunk sends sex toy to new neighbor and uses it on him!
CLICK HERE TO GO TO HIS GAYROOM DETAILS
VIDEO ON-DEMAND: Tristan Hunter @ AEBN SMUTJUNKIES THEATER
NOW STREAMING: Tristan Hunter @ NAKEDSWORD