Sexy Uncut Muscle Gay Porn Star, Trenton Comeaux
Known Aliases / aka:
Years Active: 1991 – 1998
ZEUS STUDIOS INFO:
A killer good looking muscle bondage bottom and then lover of Serge Carravagio, Trenton asked us to shoot his fantasy: A new-age adventure hero captured by road warrior outlaws and sold into S/M slavery. In road warrior gear, Trenton endures multiple bondage positions and very tough SM including punching, flogging, and endurance punishment.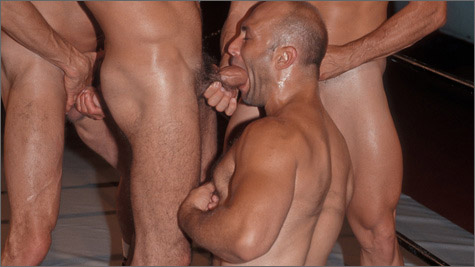 TAG TEAM: Anthony Gallo, York Powers, Trenton Comeaux, Nick Cannon
A simple training session turns into a full-scale sex bout as York Powers coaches Trenton Comeaux and Nick Cannon through their holds for newcomer Anthony Gallo. Coach Powers and Gallo can't keep their heavyweight hardons outside the ring as Comeaux and Cannon lose their trunks during a sweaty session of submission style wrestling. Comeaux's muscular torso is soon pinned to the mat by the threesome with Gallo lapping up the sweat from his exposed crack. After being skewered by Gallo's enormous meat, Comeaux is suspended from the ropes and, while sucking fat Cannon, is given a royal drilling by Coach Powers and Gallo. Gallo and Comeaux dock foreskins while Coach continues to assault Trenton's hole. All four finish the round on the mat with Gallo and Powers double penetrating Comeaux. The action pushes Powers over the edge into a screaming cum shot worthy of an instant replay with Gallo gasping for air as he shoots gobs. Both Comeaux and Cannon follow-up with bell-ringing loads.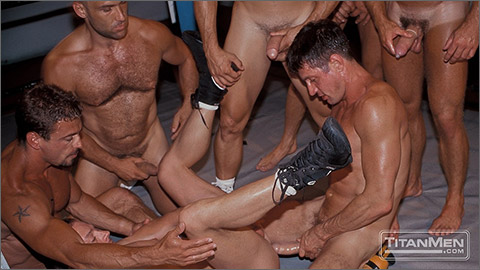 TAG TEAM: Anthony Gallo, York Powers, Paul Dawson, Eduardo, Trenton Comeaux, Joe Serrano

SPORTS & RECREATION
ZEUS STUDIOS
ALL WORLDS
CLOSE-UP PRODUCTIONS
CAN-AM PRODUCTIONS
PROJEX VIDEO
RED MOON VIDEO

CLICK HERE TO GO TO HIS TITAN MEN DETAILS

MEN MAGAZINE PRESENTS: TITAN MEN
DUDE November 2000 (Vol. 4, No. 8)
JOCK July 1991
NUMBERS March 1992
STALLION March 1993
FORESKIN QUARTERLY (FQ) #22, #33, #34
HOT MALE REVIEW (HMR) October 1998
OBSESSIONS March 1989
UNCUT May 1992, July 1993
ZIPPER r028
ADAM GAY VIDEO: 400 PORN STARS
ADAM GAY VIDEO: EROTICA v01 n03
TITAN MEN 2003 CALENDAR
TROUBLE! INTERNATIONAL LEATHERMAN: CALENDAR FOR 1996
ZEUS STUDIOS VIDEO CATALOG
VIDEO ON-DEMAND: Trenton Comeaux @ AEBN SMUTJUNKIES THEATER
DVDs & ON-DEMAND: Trenton Comeaux @ TLA VIDEO