Tattooed College Jock Gay Porn Star, Trent Diesel
Known Aliases:
Years Active: 2009 – 2013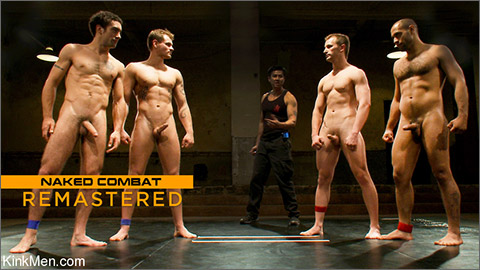 REMASTERED 2022: TRENT DIESEL & DJ vs CAMERON ADAMS & LEO FORTE THE TAG TEAM MATCH
In this epic tag team match, NK powerhouses Trent Diesel & DJ battle NK veterans Cameron Adams and Leo Forte. This is the match of the year where four ripped studs are going balls to wall for sexual domination. The stakes are high and not to mention the pride and bragging rights. It's nonstop action and the adrenaline are ready to explode. The victory fuck-fest is the hottest on NK history. Let's rumble!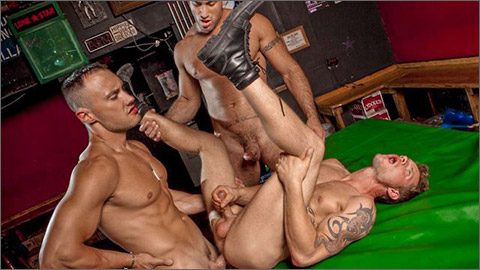 BRUTAL: Spencer Reed and Jason Adonis fuck Trent Diesel
Trent Diesel is a shit disturber with a twisted fetish. He's one hell of a fighter. Sure, he can really kick some ass but Trent also has another side— he loves to get his ass kicked. Trent will pick fights just to have aggressive sex with hot guys. Fucking and Fighting, Fighting and fucking is Trent's mantra. Late one night he follows Spencer Reed into the urinal and comments on the size of his member. "For a big guy you got a little cock". Spencer is not pleased but lets him off with a warning, so Trent does not relent. Spencer's buddy, muscle bound Jason Adonis has had enough and they exchange blows. Spencer and Jason hold Trent down on the pool table to teach Trent a lesson. "You think this cocks to small," says Spencer holding onto his large erect cock. "I'll show you what's small. Spencer shoves his fat cock into Trent's tight ass. Trent squirms is pain as Jason holds him down. Spencer rides him hard, they switch off and Jason fucks Trent hard with Trent enjoying every minute of it. Then Jason pulls out and forces his cock into Trent's mouth, he fucks his mouth with the same gusto forcing the cock in and out. Spencer then takes front position and fucks Trent's mouth as well swapping back and forth between the two big cocks. They force him back on the table and takes turns fucking him again till cum is flying from all other them. It may look like Trent lost the fight, but then again did he?
   Angelo Marconi has been training hard but its Ricky Sinz' style to push him that much harder. When Angelo makes an illegal move Ricky lays into him. Angelo gets pissed off and walks out. Draven watches this unfold from the distance reminding him of what his home life is like.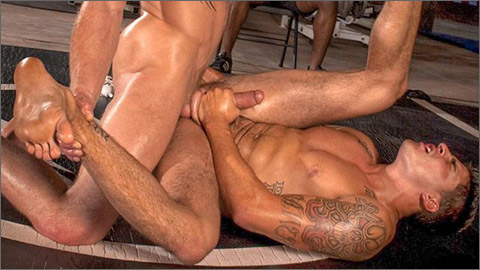 BRUTAL: Trent Diesel and Hugo Milano flip-fuck
Race Cooper is training two up and coming fighters, Trent Diesel and Hugo Milano. Race coaches them through a few moves and they kick, punch and grapple on the mat. Race stares at them as their hard sweaty bodies press against each other. Race's mind begins to wonder… he envisions Trent's ass grinding on Hugo's crotch. In his fantasy, Trent kisses Hugo deeply plunging his tongue into the Latin studs mouth. He kisses down his body pulls down his shorts and envelopes his thick hard cock between his wet lips. Trent sucks up and down Hugo's thick shaft tasting his salty sweaty musty man cock. Hugo moans in pleasure as his buddy sucks him hard and deep. Hugo grabs Trent hair and fucks him in the mouth. After getting Hugo's cock all wet Trent gets' up and shoves his cock into Hugo's mouth. Hugo sucks and tongues his cock till its drenched in spit. Trent can't wait to get at Hugo's hot hairy ass, so he bends over in a 69, and eats out his hot Latin buddy's hole. Hugo follows suit and soon they are rimming each other ass. Hugo wants more than just a rim job he pushes Trent down on all fours and shoves his cock up Trent's wet hole. Hugo pounds Trent's ass from behind. Trent loves the feel of this fat Latin cock moving in and out of his quivering hole. But now Trent wants his turn, he flips Hugo over in one quick move and, like that, he's on top! Trent takes his hard cock and slides it up Hugo's wide open hole, pounding him deep and hard. It's a struggle for dominance— Hugo flips Trent back onto his once again taking control pounding deeper until Trent can't take it longer… he shoots a big load that flies though the air hitting him in the mouth. Hugo pulls out and jerks his cock until he erupts all over Trent's cum stained torso. Hugo comes down hard on top of Trent and it's reality again as Hugo pins Trent to the mat. Race is a good trainer, but his imagination is even better a workout.

CATALINA
JET SET
MASSIVE STUDIO

CLICK HERE TO GO TO HIS RAGING STALLION DETAILS
VIDEO ON-DEMAND: Trent Diesel @ AEBN SMUTJUNKIES THEATER
ENDLESS UNLIMITED STREAMING: Trent Diesel @ NAKEDSWORD